DailyMail & ABC mainstreams cryptofascist 'Third Position' on grand ISIS takeover image, promote clash of civilizations
See ThirdPosition (Third_Position) on Twitter, i.e. 4 hrs ago: "Above all, we seek to awaken #White #RacialConciousness & to get #WhitePeoples to seek their own group interests. " Apparently Twitter Nipsters [Nipsters: The German Neo-Nazis Trying to Put a Hipper Face on Hate June 23 Rolling Stone] somehow got their scary ISIS map tweet carried by the DailyMail.
A lot of maps going around to spike fear of a clash of civilizations. In this case the UK Daily Mail magnified the meme Third_position was selling. These media products usually have some kind of watermark that indicates which group actually released it - disconcertingly missing from most "ISIS maps" appearing in Western media. In any case fascists & the Daily Mail just magnified tension, the main point here & worth flagging.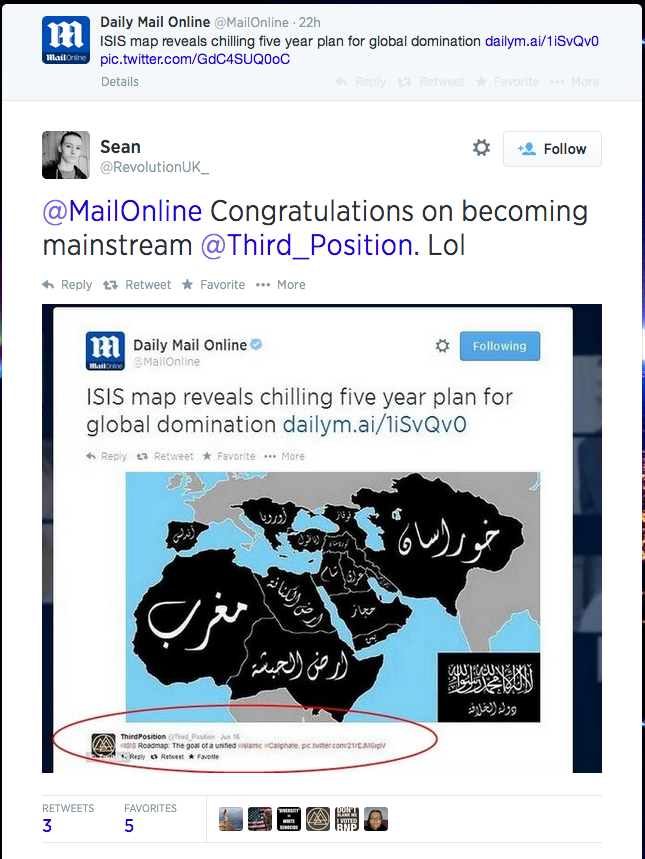 The discernable web history of this image is interesting too. Tineye.com matching finds it appearing June 13 with a different insert on the lower right and floating around Turkish news blogs. I would be interested if anyone else can trace when & where these images actually first appeared.
ABC News' Colleen Curry did a piece on this also embedding third_position without denoting it as a fascist twitter feed: See the Terrifying ISIS Map Showing Its 5-Year Expansion Plan - ABC News.
Sharina Shwartz attributed it to "Pro-ISIS social media accounts" on TheBlaze. This One Word on a Syrian Mural Says All You Need to Know About ISIS Insurgents' Ultimate Goal | TheBlaze.com
Another map pops up perhaps first June 11th on Radikal.com.tr, a somewhat sketch Turkish source: IŞİD: Yurttaşsız Devletin Büyük Oyunu - Sarphan Uzunoğlu - Radikal Blog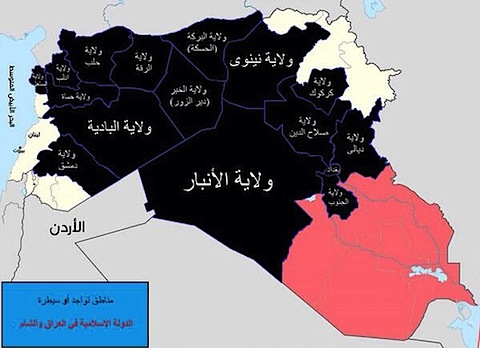 This is repurposed for the suddenly prominent Institute for War [ understandingwar.org ] , see Iraq Update: Jihadists Seize 2 More Iraqi Towns; Close To 30 Miles Of Baghdad; Iran Rushes To Help | Zero Hedge on June 13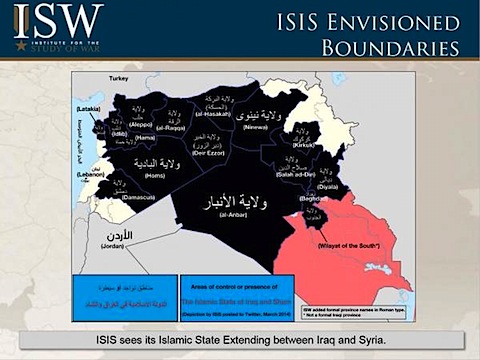 That report is dated June 10 here Mapping Al Qaeda's Grand Ambitions In Iraq And Syria | Zero Hedge
///
via John Hall | Daily Mail Online: ISIS militants outline chilling five-year plan for global domination | Mail Online & the lovable editors of 'sharia unveiled', somewhat biased against Arab kids on the West Bank they are...
However, in a map widely-shared by ISIS supporters on social networks, the Islamist group outlined a five-year plan for how they would like to expand their boundaries beyond Muslim-majority countries.
Caliphate: A map purportedly showing the areas ISIS plans to have under its control within five years has been widely shared online. As well as the Middle East, North Africa and large areas of Asia, it also reveals ISIS' ambition to extend into Europe. Spain, which was Muslim-ruled until the late 15th Century, would form part of the caliphate, as would the Balkan states and eastern Europe, up to and including Austria
/////
I was a bit surprised to not be able to trace these images into actual Arabic websites using reverse image searches, which suggests more work is needed to figure out where they are actually coming from. Are they being planted? Anyway I gotta call it a night -- the fascists amplifying these things is really a big deal.
Commenting on this Story is closed.