Libertarian Party candidate for MN Governor arrested, injured at Minneapolis' Lake Calhoun collecting signatures for ballot access; Parks apologizes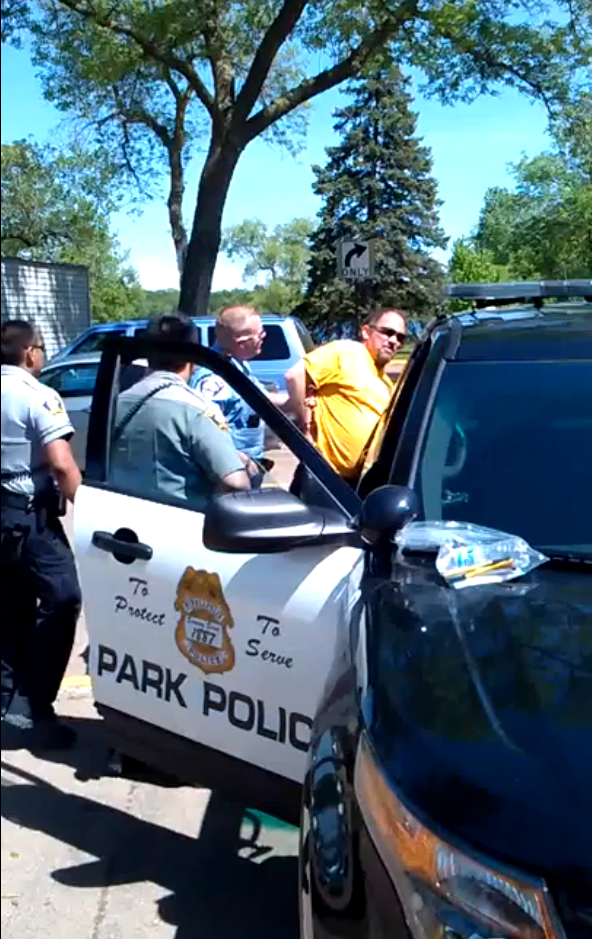 Today's local moment of maniacal fascism comes from the Minneapolis Park Police who arrested a candidate for governor from the Libertarian Party of Minnesota, Chris Holbrook. Minneapolis Park Police & regular city police arrested the candidate for noncommercial political activity. Basic facts are still unknown but emerging right now…
UPDATE 6PM Saturday: Wider coverage from major media on story: City Pages cites this post for a relevant city ordinance; FOX9 interviewed people at Lake Calhoun about MPD officer's demand for ID in detail: Libertarian candidate for Minnesota governor arrested - KMSP-TV // AP story carried as far as Texas: Police sorry for detaining Libertarian candidate. KARE11 also did video report: Mpls. Park Police apologize to libertarian candidate. Well done everyone who contacted the media about this story - it's precisely stories like this about democratic processes getting chomped by the state which need to reach a wider audience. Hopefully this won't happen any more!
UPDATE 1PM Friday: I heard about another incident of harassment towards ballot signature gathering -- NOT from the Libertarian Party crew. If anyone has more of this, try to get video & tweet @hongpong or email hongpong @ hongpong.com . Remember signatures are due Tuesday 5PM!!
UPDATE 2AM Friday: It seems from the next two videos (they are pretty short) that the Holbrook campaign posted on FB tonight, that it was what looked like an MPD officer who really instigated the situation, after the Park Police had essentially called upon the MPD 'district' officer to figure it out.
Park police earlier, waiting on MPD: https://www.facebook.com/photo.php?v=1379526958988516
Then the MPD officer got ticked off at Holbrook and arrested him, & the officer clearly understands it's a political, not commercial activity. Video: https://www.facebook.com/photo.php?v=1379527655655113 -
Video mirrored at http://youtu.be/dnz3TQ8SfIk:

Video Still here: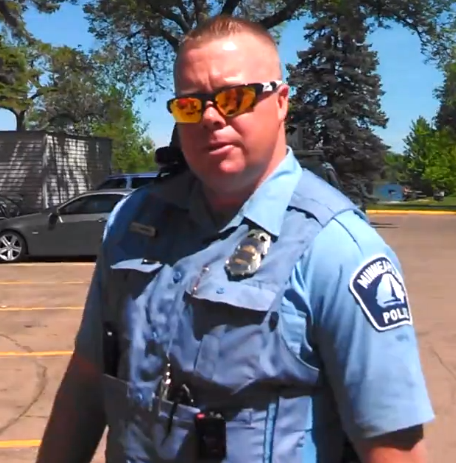 UPDATE 9:30PM: The Minneapolis Parks and Recreation Board says they've apologized, while Holbrooks is seeking medical attention according to the LP Facebook page. Parks statement via Chris Steller: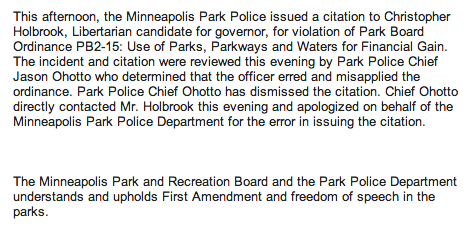 Verified by same email sent & posted by @Sen_B_Petersen as well (scribd).
VIDEO posted by Libertarian Party of Minnesota at: https://www.facebook.com/photo.php?v=654897927893344 copied to youtube: https://www.youtube.com/watch?v=ve2sP2a94xs
I sent this to my city council member:
I was rather shocked to see a video of the Minneapolis Park Police arresting a candidate for governor, Chris Holbrook of the Libertarian Party of Minnesota, on Lake Calhoun, posted a couple hours ago. URL here: https://www.facebook.com/photo.php?v=654897927893344

The Park Police state he "can't advertise in the park… you need a permit for it" but this is wrong. Minneapolis Ordinances Chapter 332.20: http://www.minneapolismn.gov/www/groups/public/@clerk/documents/webconte...

(1) Non-commercial door-to-door advocates. Nothing within this chapter shall be interpreted to prohibit or restrict non-commercial door-to-door advocates. Person engaging in non-commercial door-to-door advocacy shall not be required to register as a solicitor under this chapter.

This is a really major affront to the processes of democracy, specifically the onerous ballot signature access collection process which has to be performed in public places. I would hope that the City Council can make clear to the Park Police that petition signatures do not require permits, and indicate to Minneapolis' members of the Legislature and the Secretary of State's office that a candidate was unlawfully impeded from their Constitutional, statutory & ordinance recognized right to do noncommercial activity in public parks in Minneapolis. The independent candidates only have until next Tuesday to collect signatures and this is really just terrible.

Thank you for your prompt attention to this important matter.

..Dan Feidt, .. resident .
Thanks to "Iam B" on the thread for the cite on city ordinances.
I don't support various elements of the LP-MN platform but I strongly support them getting on the November ballot statewide, especially because they are adamantly fighting against drug war policies and cannabis prohibition. I definitely think Minnesota voters need options like Libertarians (and Independence and Greens etc) in order to pressure the prohibitionist corrupt Boomer Democrat level to drop their ever-profitable prohibition schemes. [I've also been working with MN NORML lately because dang it, it's time!]
Totally unacceptable. I have put a pretty good chunk of time in dealing with trying to get people on the ballot and stuff working for change in this system, and right in the home stretch of ballot signature collection the Minneapolis cops thrash Libertarians right here in the area. Not OK in any way.
Also the 2014 All-Star Game and 2018 Super Bowl are coming to Minneapolis as Rich Neumeister notes, could political speech be advertising without a permit? e will certainly see with all the dodgy deals cut (including with secret, undisclosed money flows) whether any freedom of speech will be able to withstand the silencing power of cold hard cash + police weapons. (Also: AP: more tax breaks!?)
@chris_steller sagely points out right away something I missed: in 2005 suppression against Jason Stone, a candidate for Minneapolis Park Board, see: Star Tribune: Minneapolis parks chief reverses flier ban (June 2005)
Star Tribune Letters: Stifling Free Speech
listserv items: [Mpls] Re: Jason Stone && [Mpls] An Ode to Jason Stone and Free Speech
Southside Pride background profile by Ed Felien
Minneapolis Park Board has pattern of problems with free speech | Twin Cities Daily Planet article by Chris Steller from 2009 Minnesota Independent helpful previous context.
VIDEO STILLS: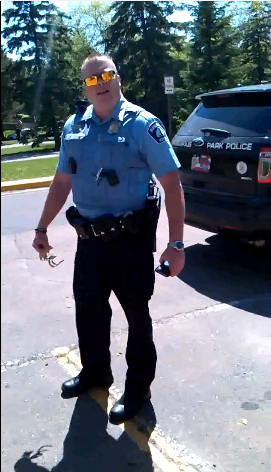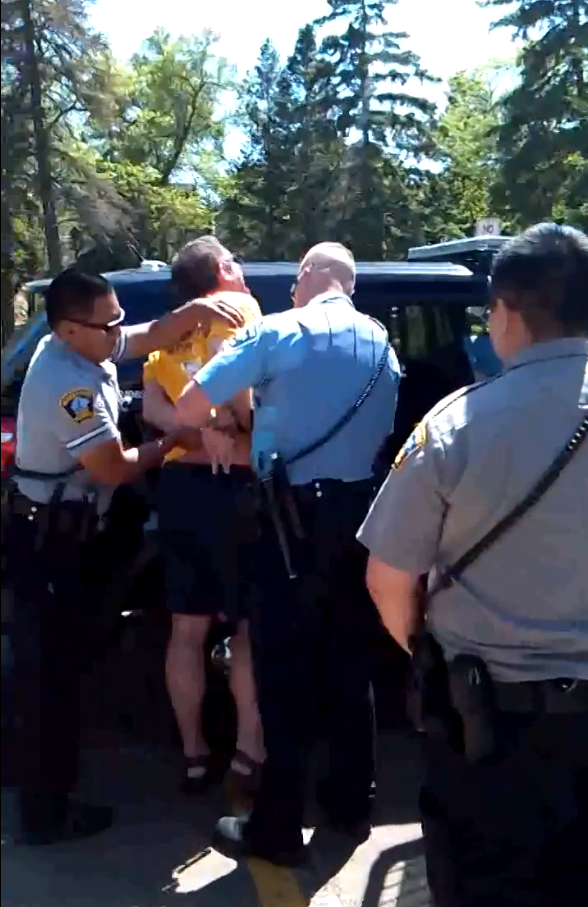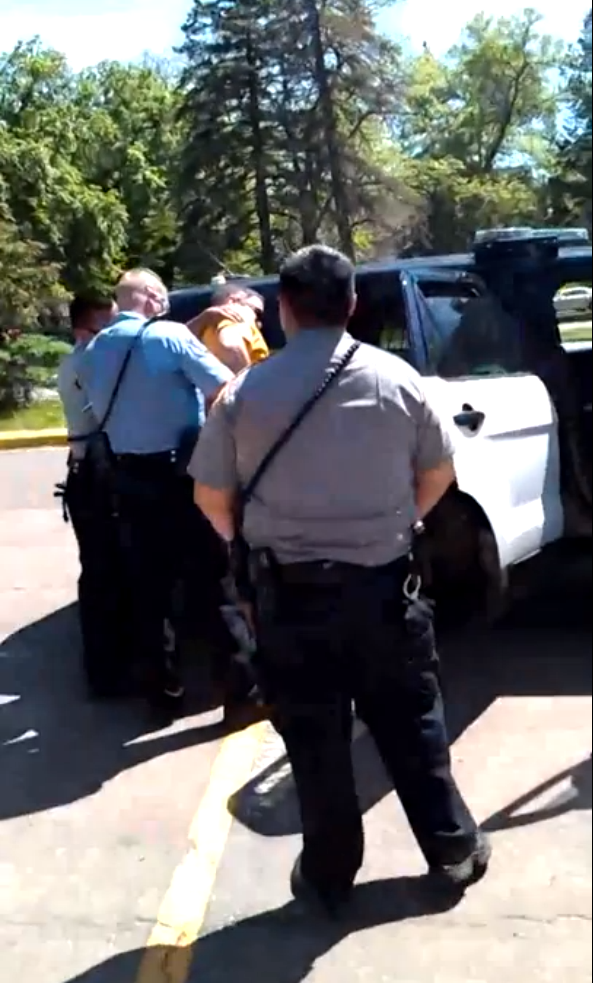 STILLS VIDEO SOURCE: https://www.facebook.com/photo.php?v=654897927893344
Fortunately there's a classic Atmosphere song "Between the Lines" (2001) relates well to overheated Minneapolis police on summer days & goes pretty damn well w. clips above::
Commenting on this Story is closed.