New Docs: For MN cellphone location data, police & attorneys submit administrative subpoenas; law enforcement spins vs warrant bill
Bonus data drops for Minneapolis video surveillance tech, the MN Violent Crimes Coordinating Council's strategic plans & so much moar!

Such subpoenas... does this count as "using" administrative subpoenas? Stay Tuned...
Most everyone has a pretty good idea of search warrants, those nastygrams which arrive borne by law enforcement & signed by a judge, authorizing very well-armed reductions in personal privacy within America's legal system. Less well-known are administrative subpoenas, which don't involve judges at all. In Minnesota, law enforcement agencies demand cell phone location data, including cell tower records and GPS data, from cell phone providers via administrative subpoenas, and virtually no one has any idea how large the scope of this shadowy scene really gets.
[A number of items surfaced from different data requests as email attachments, some new major items attached below. Including video intelligence system in downtown Minneapolis :]
A small but mostly positive reform to this nasty administrative subpoena situation comes from SF2466, requiring full search warrants with probably cause standards (more strict than 'reasonable suspicion') and notification for all cell phone location inquiries. Unfortunately, its House counterpart does NOT require warrants, but mere court orders. For background see RichNeumeister.com: Search warrants? We don't need no stinkin' search warrants. [More on Harris Kingfish/Stingray cell interceptors. Previously: Local cell phone spying KingFish stonewall: Minnesota law enforcement at BCA & Hennepin County refuse to disclose SIGINT cell phone snooping capabilities from NSA contractor Harris]
In an interesting development, assistant superintendent Drew Evans at the Minnesota Bureau of Criminal Apprehension claimed at the Minnesota Senate Judiciary Committee hearing late Thursday night, around 11:30PM or so, that I was wrong about administrative subpoenas used to try to get cell phone records, during the hearing for SF 2466 Status in the Senate for the 88th Legislature (2013 - 2014), "law enforcement cell phone tracking data search warrant requirement" - they would have to notify anyone they get location data on cell phones from, via warrants only, rather than the situation detailed below... (HF2288 only requires court orders, a lower standard...) Time to lay the JPEG down...
It's around the 3 to 4:30 mark in this video: Talking about "historical records" aka stale phone records: 4:00. Much of this is cryptic references to Harris Kingfish and possibly other cell interceptor tech. Also at one point Sen. Warren Limmer discusses how the legislators never find out about the tech upon which the laws are executed in a timely way.
If you listen from the start of the clip it seems like he is speaking on behalf of Minnesota law enforcement in general (not just the BCA). To try to be precise about electronic intelligence testimony split hairs, the accuracy of what he says depends on whether he is stating this for the BCA vs law enforcement:
"currently we get those records through a search warrant and so that is the mechanism that we get historical information. It's been referred to by one of the previous testifiers that we are using administrative subpoenas. We are not using administrative subpoenas to gather location information. The companies do not provide that information with an administrative subpoena, there is certain information that we get related to that, but we do not get location information right now from administrative subpoenas. ... we are always evaluating new technologies with regards to the Fourth Amendment. we only have interest in gathering information in a criminal investigation that will be used in a court of law, that will be admissible in a court of law. So every time we get a new piece of technology we are constantly doing an evaluation as to how to implement that technology in the confines of our current statute and our current criminal procedure and case law at that time.."
Perhaps, as these guys so frequently do in legislative & Capitol Hill hearings nationally, he was telling a decidedly 'oblique truth', that he only speaks for his own agency and DPS within BCA never sends these subpoenas, but it's not as if any county attorneys or county sheriffs association people corrected him (like James Franklin who was in the room but declined to add anything). The other agencies send administrative subpoenas all the time. And whether they actually obtain data, they are certainly "using" the strong threatening language on the subpoenas to try to get the records.
So basically... the claim that they will punish people for failing to provide cell location records is a 'color of law' bluff, a conceit or whatever verbiage encompasses "something the government claims to demand of you but actually doesn't have standing to." It is really hard to tell what statutes, state and federal, actually would make failing to turn over the location data enforceable, so I have to call this situation a fog. Still, it's a fog they stated doesn't exist...
Plz forgive the blurry quality here, these were quick late snapshots courtesy of Rich Neumeister's doc collection. Attached to this post is a sample of recent subpoenas from various law enforcement agencies including those freewheeling Department of Public Safety alcohol & gaming division cats, which I have heard has its own special subpoena power in statute.
Ramsey County: 10/11/2012 demanding "including ... locations":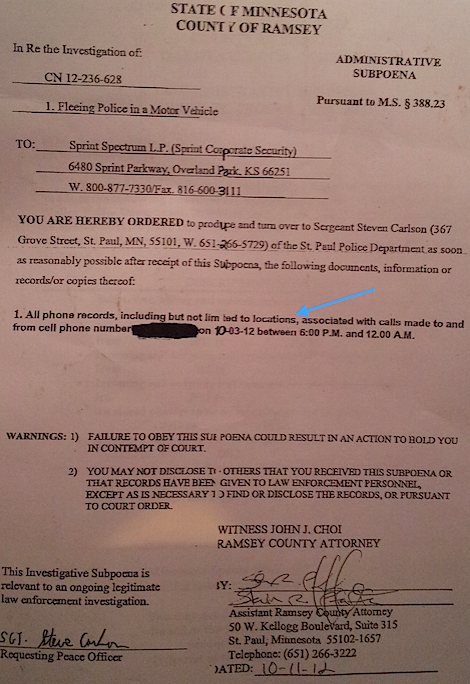 This is the Department of Public Safety Alcohol and Gambling Enforcement - sorry it's blurry. They apparently have special dispensation in statute. Two of these are almost the same: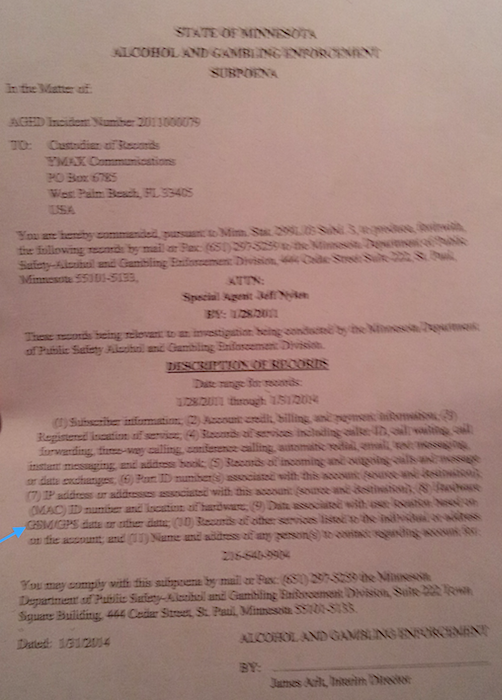 Dated 1.31.2014 this is really recent use of the legal tactic. You can deliver data to the non-BCA section of DPS: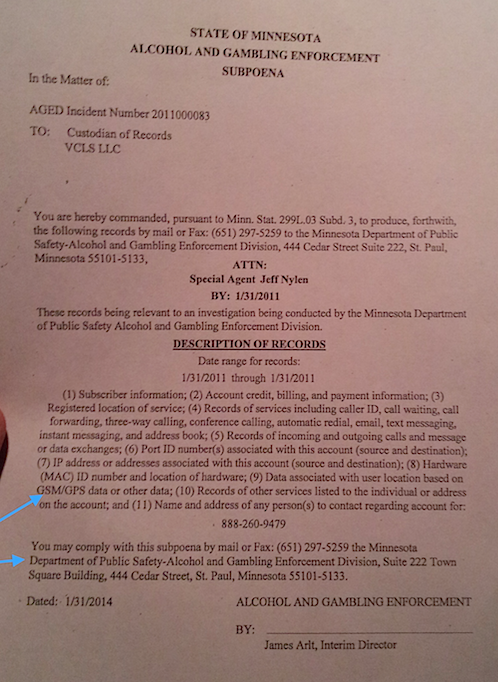 Dakota County: Let's take a close look at what James Backstrom's underling, (he's key player in MN county attorney world) has been signing off on: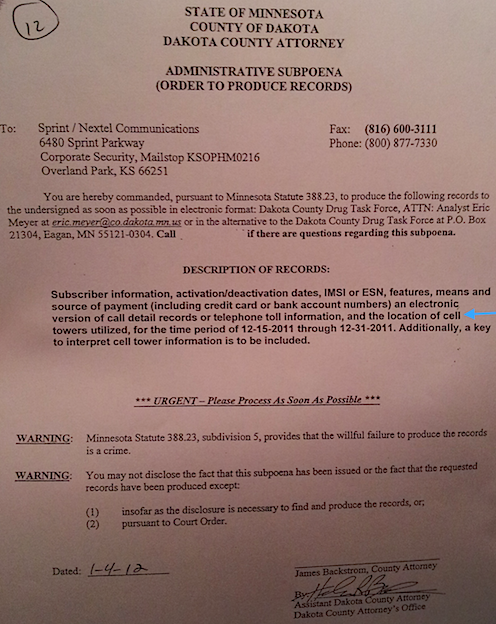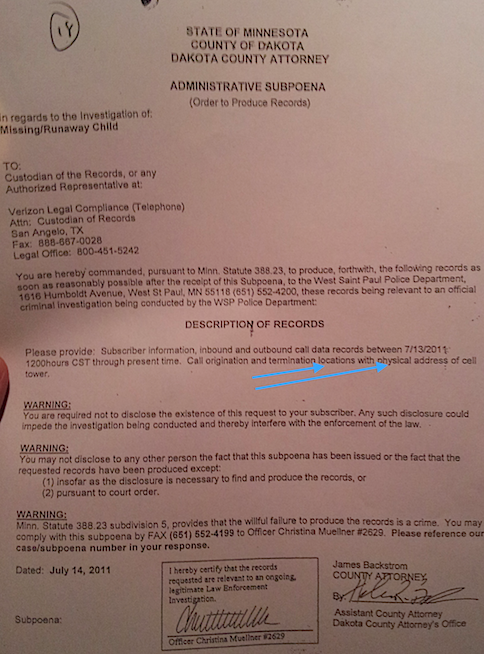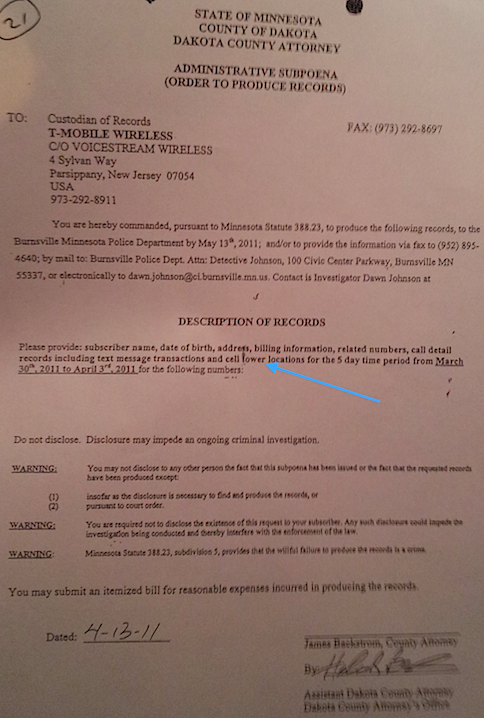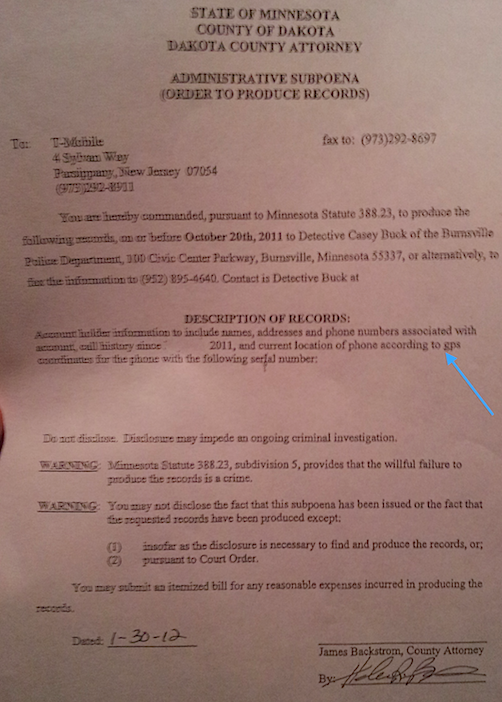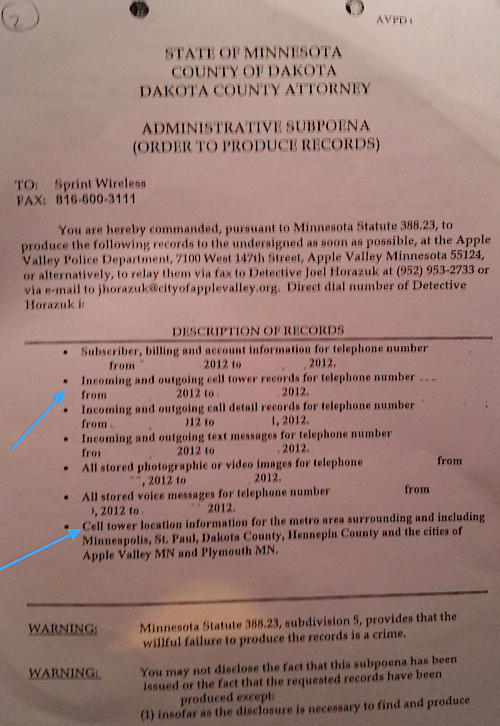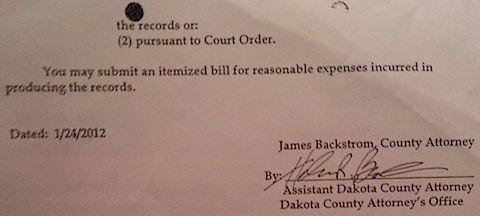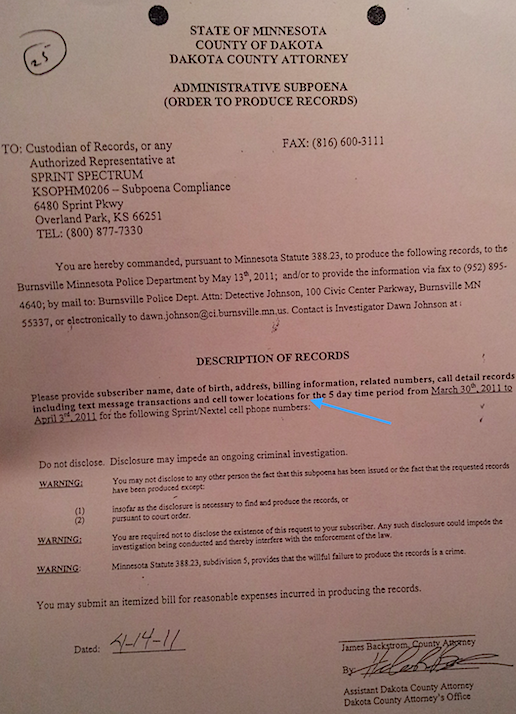 Plus Ramsey County: Derek Fitch signed off for John Choi at Ramsey County Attorney: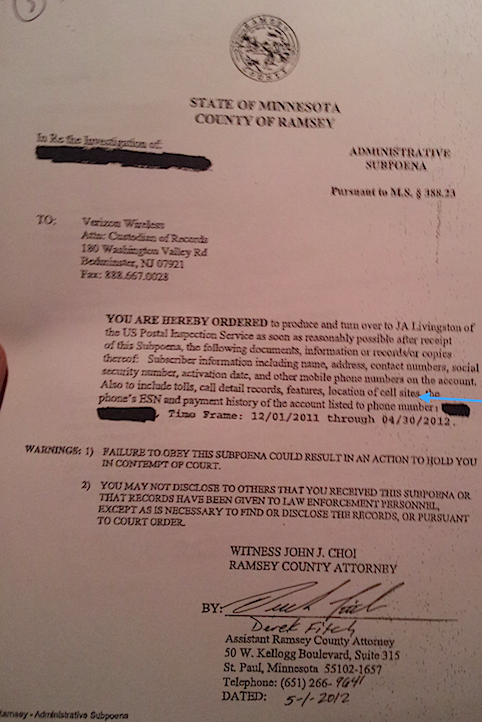 And a bonus since you read this far: prices for cellphone tower dumps!!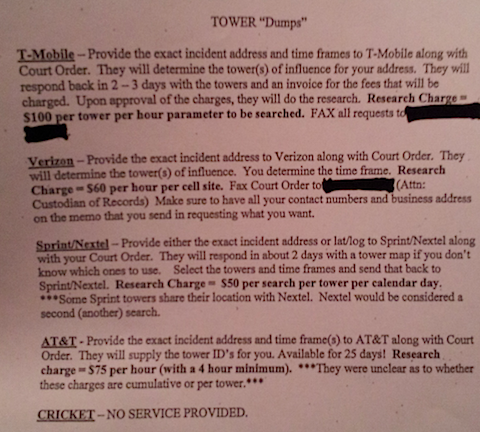 //////
Here is the quadrilateral of Fourth Amendment champs from last Thurs: myself, @Sen_B_Petersen @CaptainKurtis @richneumeister working on this circa 10:30PM.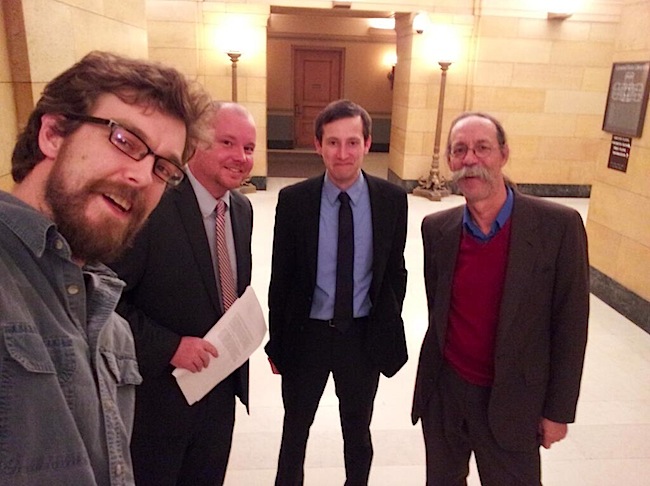 Get er done coming up soon: SF2466 warrants for police #mnleg @Sen_B_Petersen @CaptainKurtis @richneumeister #spying pic.twitter.com/CMFT2NBzyo

— Dan Feidt~hongpong (@HongPong) March 28, 2014
Fortunately the bill got through mostly unscathed, which will help protect the warrant standard in what is sure to be a sketchy conference committee situation. Unfortunately it will be routed also to Finance because of the possible financial implications of having to track how frequently these searches are done -- even though the House said it had no fiscal impact the Senate can 'think differently'.

Here is Part 1, where the bill advocates take care of biz late at nite: I start at 38min. Kurtis Hanna around 35min. Rich Neumeister & Chuck Samuelson from the ACLU-MN start around 20min. I was able to at least discuss a number of related issues including responsible disclosure of cell phone interceptors like Harris Kingfish, as well as compare law enforcement cell interception to the ol high school Etherpeek wifi packet sniffing situation... aww yeah.
What is an administrative subpoena? An administrative subpoena comes from an executive branch agency like the Hennepin County Sheriff's Department, and it gets signed off by the county attorney as well. There is no judicial branch check. Part of the key here is that administrative subpoenas frequently apply to 'business records' which can easily encompass all your 'cloud files', 'emails older than 180 days'...
See: We Don't Need No Stinking Warrant: The Disturbing, Unchecked Rise of the Administrative Subpoena | Threat Level | WIRED (8/2012) && the MN House overview info: www.house.leg.state.mn.us/hrd/pubs/adminsup.pdf, MN Statute: https://www.revisor.mn.gov/statutes/?id=388.23&format=pdf, and IPAD guidance policy: Responding to Subpoenas and Court Orders. Also: Inside Orders: Administrative Subpoenas and the Surveillance State | Privacy SOS
Basically the laws never got updated as technology advanced, which made it far easier for law enforcement to get into the kinds of 'papers', now known as 'cloud files', for example, that used to be pretty safe in your house, unless two branches of government got involved. Now it is just the one branch, they are at times concealing the general game from the other branches, as we participated in first-hand on Thursday.
Here is the index of Hennepin County administrative subpoenas for 2010, courtesy Rich Neumeister. Mirrored at http://www.scribd.com/doc/215425554/Hennepin-County-Attorneys-Office-Adm...
Hennepin County Attorneys Office Admininistrative Subpoenas 2010 - skim over this for an amazing view of flow of 1 year of operations. Hotels, video game providers, many cell phone providers on investigation list.
File: http://hongpong.com/files/mn-gps/Hennepin.CountyAO.Admin.Subpoenas.2010.pdf
//////
While indeed it is a frustrating thing to parlay with our formal state government, the good news is that one can have an impact with relatively short time investment, and it is possible to work in tactical alliance across various lines to hew in the schemes of intelligence-inspired law enforcement's top echelon in MN to attempt to dominate the rest of society unchecked. Lurking at the Legislature is not something I have the leisure to do very often, but it is rewarding to work efficiently on small chunks when it really counts.
With luck the bill won't get chopped to bits!! Contact your legislators to help protect the bill (SF2466 / HF 2288) from further watering-downs - get search warrants added back into it! :-/ ...
//////
Bonus data drops: New material on top echelon police strategy via data requests & research. These files have been sitting around too long & each deserve a separate post...
VCCC strategy plan for MN law enforcement in politics: The Violent Crimes Coordinating Council was created to oversee gang task forces but also played a role early in pressuring the legislature against medical marijuana, as I found while working on building an informative website for MnNORML over the winter. This stuff needs close attention. Among other things the "tactical plan" shows that the police organizations don't really know what their goals should be... but they should lobby anyway (and indeed try to build alliances among people like realtors??).
http://hongpong.com/files/mn-gps/VCCC-Tactical-Action-Plan--10-15-2013.doc - probably the most interesting
http://hongpong.com/files/mn-gps/6-12-13--VCCC-Minutes-DRAFT.docx
http://hongpong.com/files/mn-gps/10-14-13-VCCC-Minutes.pdf
http://hongpong.com/files/mn-gps/VCCC-Strategic-Framework.pdf
http://hongpong.com/files/mn-gps/VCCC-Strategic-Update-Notes--10-15-2013...
http://hongpong.com/files/mn-gps/vccc-synthetics-notes-7-17-13.docx
http://hongpong.com/files/mn-gps/vccc-TaskForce_3-bg-.pptx - overview
http://hongpong.com/files/mn-gps/vccc.2-8-12minutesFINAL.pdf
http://hongpong.com/files/mn-gps/vccc.2-12-14VCCCAgenda-DRAFT.doc
http://hongpong.com/files/mn-gps/vccc.2013-TF-Manual.pdf
http://hongpong.com/files/mn-gps/vccc.ForfeitureLetter.doc
http://hongpong.com/files/mn-gps/vccc.MedicalMarijuanaLetter.pdf
http://hongpong.com/files/mn-gps/vccc.NaloxoneLetter.doc
http://hongpong.com/files/mn-gps/vccc.SyntheticsAgenda9-12.docx
http://hongpong.com/files/mn-gps/vccc.SyntheticsLetter.doc
http://hongpong.com/files/mn-gps/vccc.SyntheticsSign-In9-12.xlsx
http://hongpong.com/files/mn-gps/mn.ca.atty.2014ForfeitureTalkingPoints.doc - county attorney talking points
Weird intel and police funding grant stuff:
http://hongpong.com/files/mn-gps/Illinois-TF-Study-2012.pdf - Illinois structure of task forces study
http://hongpong.com/files/mn-gps/doj.RSAT2013GrantProgramGuidelines.doc - grant guidelines
http://hongpong.com/files/mn-gps/dps.BTTF_Part%201_ExecutiveSummary.pdf - MN DPS juvenile sentencing study
http://hongpong.com/files/mn-gps/dps.map.2013.Drug.VCET.pdf - MN drug task force map
http://hongpong.com/files/mn-gps/ecops-socialpolicing-nps62-082713-05.pdf - DOJ ECOPS social media / police theory
http://hongpong.com/files/mn-gps/CICC-executive-summary_compliant.pdf - national council stuff
//////
Minneapolis video intel system: PIPS and BOSS surveillance tech. A powerpoint presentation on Police Executive Research Forum, a key central node of shutting down the network of Occupy camps in 2011, from Minneapolis Police Chief Harteau including Agent Vi, an Israeli video intelligence system running via the Downtown Improvement District. [video intel to socially control urban spaces from the West Bank to downtown Mpls - such globalization. wow.] Referencing the screenshots in Harteau's presentation, I found a bunch of marketing spam & user manuals for the tech. (also the 'secret' Broadway bridge location is on here!)
On Scribd: http://www.scribd.com/doc/214972518/Minneapolis-Chief-Harteau-tracking-tech-Presentation-MPD-DID
File: http://hongpong.com/files/mn-gps/Harteau-policeforum-MinneapolisPresenta...
PIPS BOSS3: Yr video surveillance Backend: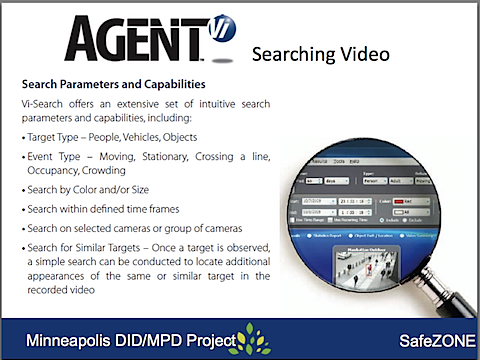 Another local connection: This place called Milestone Systems does certifications for Agent Vi, "securing your lifeblood". See Agent Vi Products Achieve Milestone Solution Certification - Security Sales and Integration - at 12400 Whitewater Dr #100, Hopkins, MN 55343
The related files including user & admin manuals for PIPS/BOSS:
http://hongpong.com/files/mn-gps/Maplewood-PD-ALPR-Report-Batch1.pdf - the partially redacted ALPR records for Maplewood PD scanners. Crazy!
http://hongpong.com/files/mn-gps/pips-20120914_alpr_lapd_pips_user-guide...
http://hongpong.com/files/mn-gps/pips-3823219745PL_PIPS.pdf
http://hongpong.com/files/mn-gps/pips-federalsignal_capabilities_0808.pdf
http://hongpong.com/files/mn-gps/pips-MotorolaALPRSpecSheet.pdf
http://hongpong.com/files/mn-gps/pips-SWC302PIPSTechnologyPricingsheet.pdf
http://hongpong.com/files/mn-gps/BOSS-18555-18584-Vineland-OPRA-Response...
http://hongpong.com/files/mn-gps/BOSS-18592-18621-Vineland-OPRA-Response...
http://hongpong.com/files/mn-gps/fs.WhitePaper-InteroperableCommunicatio... - federal signal
http://hongpong.com/files/mn-gps/fs.WhitePaper-InteroperableCommunicatio... - federal signal
http://hongpong.com/files/mn-gps/ATT.radio.pdf AT&T PIPS radio system
//////
Thanks for sticking through this big ol post. Get involved, take a little time & get reading, take action! Working on the monitoring of cell phones by law enforcement has huge implications & is definitely a good spot to start checking into these sorts of political tech/social control issues. For Twin Cities police brutality & related issues see also http://cuapb.org .
Disclosure: Some of these files came from material related to a project for the MN affiliate of National Organization for the Reform of Marijuana Laws, resulting in a nice new website ( mnnorml.org ) with its own special data stash for revealing many lesser known details of the law enforcement state to a skeptical member base & public! Thanks to resourceful collaborator @CaptainKurtis Hanna for data requests. This post is not in any way an official view of MN Norml.
This post is dedicated to Darryl Robinson, an inexhaustible champion for the public in all these state police situations.
Commenting on this Story is closed.