Keystone XL Spirit Camp coming up near Ideal South Dakota; St Paul Enbridge Tarsands hearing April 3rd; MazaCoin!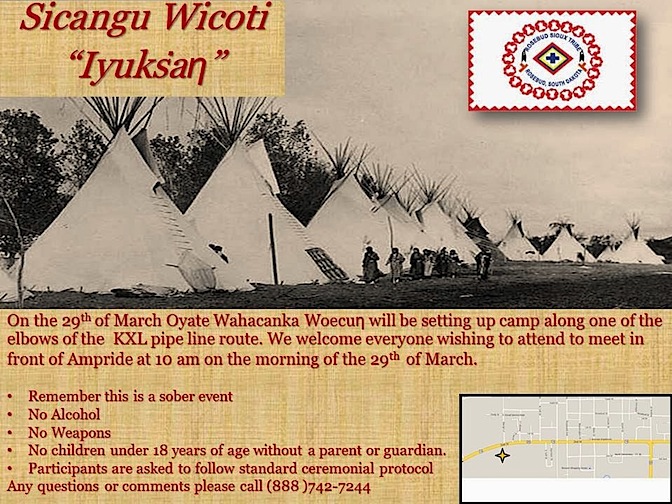 A quick compilation of links on exciting new tar sands pipeline opposition projects…
First a new piece from our friends at UneditedMedia.com who were on Pine Ridge recently: "Come and take a walk with me":

The night after the walk we all gathered in the local elementary school for a feed to commemorate Carter Camp's life. I sat and spoke to Vic about resistance, and the Lakota identity. He said that right now the battle is for the water. That pipelines like the Keystone XL are threatening their way of life.
"You know that we're indigenous peoples. We're of the land. It's our duty to protect our mother. And Earth, she's weeping right now."
The drums shook the floorboards as people waited in line for their bowl of buffalo soup. The gym had "Warriors" in big red letters on the wall.
He leaned close to me.
"We're the biggest threat to the United States Government. You know why?"
The people sat in bleachers eating and laughing. I shook my head.
"Because, we have another way to see the world," he points east, "Out there, they only see the world through a financial lens. And that's all they know. One way to see the world."
He shrugged.
"They think they're free, but that's not freedom. We're free because we know there's another way to live, and that's why we're dangerous."
---
Rosebud Sioux Tribe Hosting Spirit Camp to Oppose Keystone XL Pipeline: MSNBC's Ed Schultz to Attend

IDEAL, SOUTH DAKOTA — The Rosebud Sioux Tribe is hosting the Shield the People project this weekend near Ideal, South Dakota called the Rosebud Sioux Tribe Spirit Camp, which is an action to unite together in prayer for protection from the proposed Keystone XL pipeline, and ultimately to request President Obama deny the permit for the proposed pipeline.

The appearance on the Ed Show on MSNBC is part of an ongoing dialogue that will make known the Rosebud Sioux Tribe's and the Oceti Sakowin's opposition to the proposed Keystone XL pipeline.

Crews from the Shield the People Project, and the Ideal, Ihanktowan, and Rosebud tribal communities have erected tipis, and a fortified wall of 1,500 lb. grass bales to surround the spiritual encampment. A cooking tent has been put up also along with a tipi that will be manned twenty-four hours a day until either the proposed Keystone XL pipeline permit is denied or the ground gets broken with pipeline construction.

"We're trying to devise plans to protect the people from these things like KXL," stated Rosebud Sioux Tribal President Cyril "Whitey" Scott. "We've made an oath to protect you and we're going to do that," President Scott further added.

Tribal representatives from the Oceti Sakowin (7 Council fires), Nebraska, Montana, and South Dakota are anticipated to attend the Spirit camp opening. Representatives from the Cowboy Indian Alliance in Nebraska are also anticipated to attend.
via No to the Keystone XL Pipeline! tumblr.
See also Rosebud Sioux Tribe Hosting Spirit Camp to Oppose Keystone XL Pipeline. hashtag #edshow for the MSNBC host lurking onsite - but will Ed stick w security culture?? #edshow Camping Out Rosebud Sioux Tribe Hosting Spirit Camp to Oppose Keystone XL Pipeline : ndnstyl
See also: Native Americans: 'No Keystone XL Pipeline Will Cross Our Lands' | Humboldt Sentinel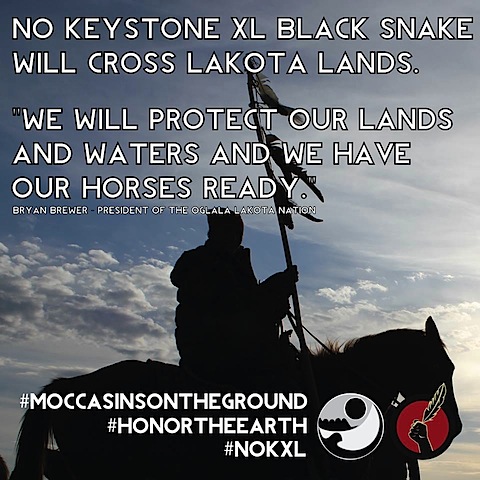 Honor The Earth video:
CENSORED NEWS: Oyate setting up camp on elbow of KXL pipeline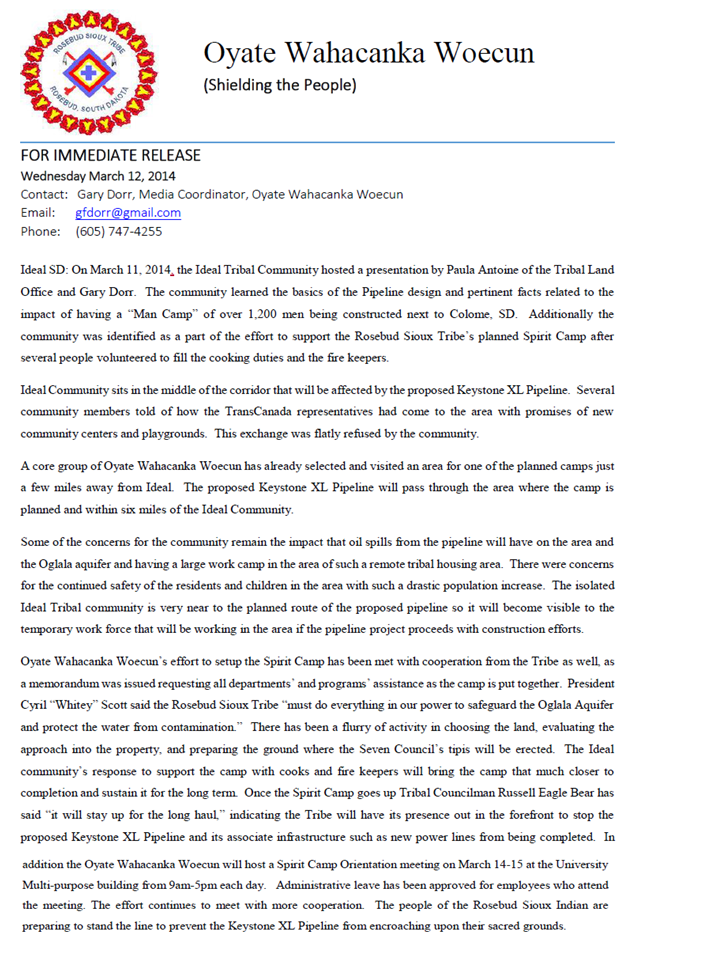 Sounds pretty awesome. Time to move the narrative along again!! Previously in Minnesota: Enbridge Blockade - Nizhawendaamin Indaakiminaan. Here are some videos I shot about a year ago at Enbridge Blockade in Leonard MN including with Tito Ybarra and Tom Goldtooth from Indigenous Environmental Network.
Also locally in MN via Mn350: Building a Climate Movement in Minnesota: "Please SHARE this photo far and wide so we can get some great turn out for the April 3rd rally/march/hearing to stop the Alberta Clipper expansion! Also, please consider TESTIFYING at the hearing so the Public Utilities Commission can hear as many voices against the pipeline as possible.
RSVP for the event and INVITE FRIENDS by clicking on this link: http://bit.ly/April3Rally "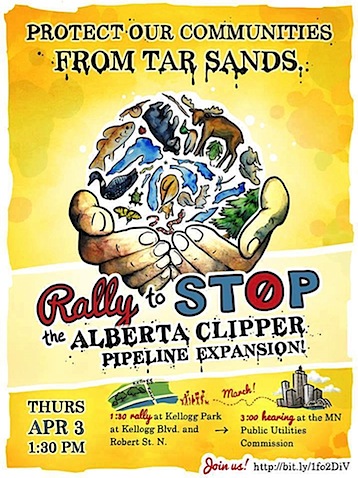 MAZACOIN: Last but not least, Mazacoin is the new semi-official cryptocoin of the Lakota Nation! For Al Jazeera interview w Payu Harris: http://mazatalk.com/payu-harris-founder-mazacoin-interview-al-jazeera/ and broadly: http://mazatalk.com/ & on Twitter: https://twitter.com/mazatalk - take that, fractional reserve banking!
We are all thawing out after this nasty winter -- and I am trying to reboot the narrative on this website. Onwards n upwards!
Commenting on this Story is closed.