"Capital Shield 2014": Military Defense Support of Civil Authorities exercise coincides with US Capitol incident
The US government runs a lot of exercises, which usually happens for ordinary training reasons. On the other hand, many researchers of geopolitics and covert politics note that exercises serve other geopolitical purposes -- for example demonstrating a military alliance with an ally state in front of its rivals. Some argue that exercises can be used as cover for covert operations. Hence wherever there is some dramatic event in the US, it's always interesting to see if there are any coincidental exercises.
In today's case the exercise called Capital Shield 2014 or CS 14 involves 34 agencies. Even if there isn't some cloak-n-dagger twist to this event, doesn't an active exercise sort of encourage more aggressive behavior by officials?
See previously: TC Indymedia Exclusive: Secret 'Trigger' & blueprint for emergency domestic military crackdown plan revealed | HongPong.com // The Military's Plans for Social Unrest: CONPLAN 3502, Civil Disturbance Operations and Martial Law | Public Intelligence // Defense Support of Civil authorities - Wikipedia, the free encyclopedia // http://www.defense.gov/news/homelanddefensestrategy.pdf // http://www.dtic.mil/doctrine/new_pubs/jp3_28.pdf . Defense Support of Civil Authorities is laid out in USNORTHCOM CONPLAN 3501, and the "Civil Disturbance Operations" crackdown plan is right next to it, USNORTHCOM CONPLAN 3502.
Capital Shield 2014: First Responders train in Nation's Capital | Article | The United States Army
WASHINGTON (Sept. 30, 2013) -- Emergency vehicles and first responders are once again in action in the National Capital Region and will be thru Oct. 3. They are participating in "Capital Shield 2014."

CS 14 is a joint training exercise in the NCR that is hosted by the Joint Force Headquarters - National Capital Region. It brings federal, state, local and municipal agencies together to realistically test interagency operability during a crisis impacting the District of Columbia, Virginia, and Maryland. It also trains and prepares the Department of Defense to provide defense support to civil authorities and employ appropriate force protection measures as requested.

"Because we are all regional partners it's nice to be able to pick up the Phone and KNOW the other person on the end of the line when you are in need of some help," said Fairfax County Fire and Rescue Battalion Chief Paul Ruwe. "It's a lesson learned from 9/11. We had good regional contact with the FBI Washington office, and that really helped after the attack on the Pentagon."

Ruwe is the Incident commander at the Lorton Training site, Lorton Va., and said the training site will be very busy over the next few days.

More than 38 participating agencies from DOD and Capital region response agencies will perform mock mass casualty rescues, Defense Support to civil agency technical rescues and law enforcement tactical responses. The goal of the exercise is to ensure government agencies at every level are prepared to coordinate action to protect the public in the event of an actual disaster in the National Capital Region.

FOR ADDITIONAL INFORMATION: Please visit the Capital Shield 2014 website at www.mdwhome.mdw.army.mil/capital-shield.
/////
IMG/caption: Chief Warrant Officer 4, Frank Pater, Battalion Senior CBRN Officer explains the days training events to role-playing "victims" at the Lorton Va. emergency training site, Sept. 30, 2013. The Joint Force Headquarters - National Capital Region is…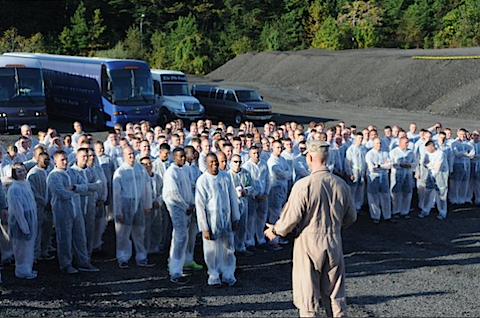 /////
Aha our old friend Defense Support of Civil Authorities (DSCA): Capital Shield
Concept of Operation

Exercise CS14 will be comprised of multiple FTX and CPX events both linked and de-linked through a scenario which will be designed to focus on testing JFHQ-NCR/MDW subordinate units, MDW Installations, and Component Services as a JTF on OPLAN 3600 requirements of CBRN response, Tech Rescue operations, Mass Casualty treatment, stabilization, evacuation and DSCA.

Purpose

Validate JFHQ-NCR/MDW, Service Components, National Guard, JTF CAPMED, and Interagency Partners consequence management operation through a FTX and CPX focusing on Defense Support of Civil Authorities (DSCA) scenarios.

Objectives

Annual Validation of OPLAN 3600 Emergency Preparedness in the NCR.

Execute Command & Control with Subordinate Units, Subordinate Garrisons, Service Components, NG, CapMed and IA mission partners.

Execute interagency interoperability, coordination, and situational awareness within the NCR.

Validate JRC/JRSOI procedures with MDW Subordinates/Installations, Components Services/Installations.

Validate BSI Capabilities for MDW Subordinate Installations & Component Service Installations.

End State

JFHQ-NCR/MDW is prepared to conduct Defense Support of Civil Authorities (DSCA) and BSI operations.
In an additional angle, the best early circulated footage of the attack is from Alhurra which is a US government-sponsored news service in the Middle East. See http://talkingpointsmemo.com/livewire/video-shows-police-chase-at-u-s-ca.... As noted by ABC News, Alhurra is sponsored by the Broadcasting Board of Governors, like "Radio Free Europe" , "Voice of America" & "Radio Free Asia". http://abcnews.go.com/blogs/headlines/2013/10/what-is-alhurra-network-th...
Commenting on this Story is closed.