More note on impending Syria Fail! Dempsey vs R2P interventionist hawks; Al-Nusra rebels caught with 2kg Sarin in May 2013, possible links to Libya Chemical Weapons stash, the Britam leaks & McCain Playing Portable Poker
Ugh, the Syria scenario is really dispiriting but I think much of the western political leadership may finally be backing down from another round of interventionism - let's hope! Here are a bunch of new notes - take em all with a grain of salt, and may they hopefully shed a bit of light on matters.
No matter how it turns out, it will be really hard to get the Middle East moving into a politically independent foundation, respectful of human rights and devoid of massacres and social 'sloshing' as mistrust escalates on all sides, with various specialists in destruction jumping in to make matters worse at every turn.
See also: Press Release mirrored here: Whistleblower ex-US Mil Intel agent Frank Ford flags VX WMD distribution in Iraq & Syria, smoking gun @ Carlyle Group chemical weapons network as new Obama target
//////
MCCAIN GAME: The terrible Sen John McCain should not even be quoted in papers let alone allowed in the government. Dan McCall at LibertyManiacs.com made this great McCain meme, along with many other fun political art pieces like NSA spoofs that - believe it or not - the NSA branding police have been trying to crush. Yes the NSA patrols against McCall's parodies as explained in interview on Corbett Report. (fb) See also Cryptome notes on this.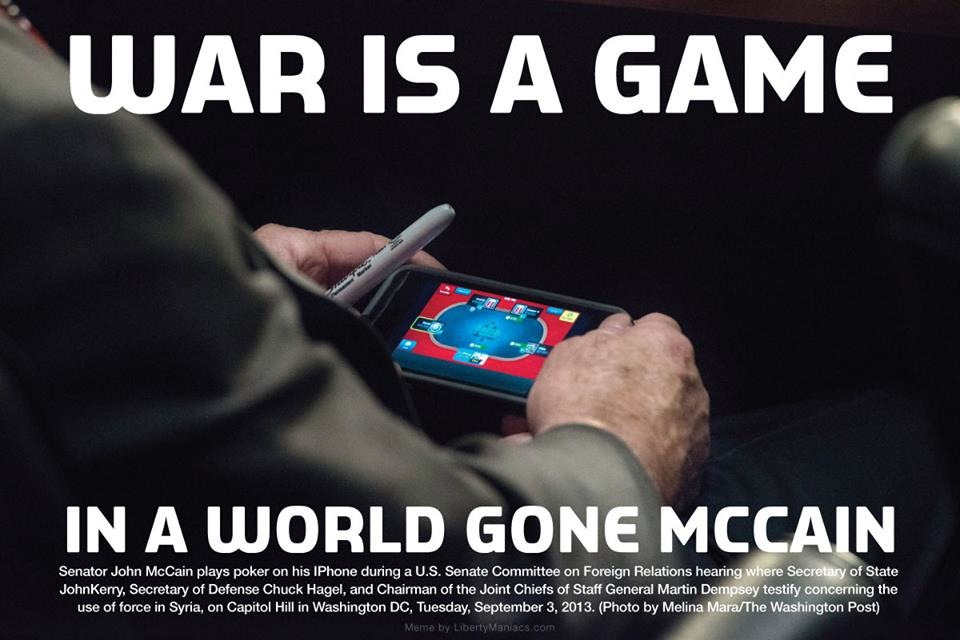 Satire: Raytheon: Delay on Syria Strike is a Threat to Freedom & Democracy Everywhere - Newslo
The Britam Defense Leak involving a Syria chemical weapons plan is denied, but perhaps one of those things like a Project Northwoods about the Syrian Chemical Weapons scenario: (Northwoods was an infamous JFK-era doc from the Joint Chiefs suggesting a fake attack involving Cubans and hijacked planes.)
Britam Defence, David Goulding and Philip Doughty | Mail Online - http://www.dailymail.co.uk/home/article-2311199/Britam-Defence-David-Goulding-Philip-Doughty.html PUBLISHED: 12:59 EST, 18 April 2013 | UPDATED: 12:59 EST, 18 April 2013
An article on 29 January reported allegations on the internet that the US Government had backed a plot to launch a chemicals weapons attack in Syria and blame it on the Assad regime.

The reports made reference to an email said to have been from David Goulding, the Business Development Director of Britam Defence, to company founder, Philip Doughty. The email had been published on the internet after Britam's computer system was illegally hacked in Singapore. It referred to a proposal that Britam would deliver chemical weapons to Syria for enormous financial reward and suggested that the directors were willing to consider the illegal proposal.

We now accept that email was fabricated and acknowledge there is no truth in any suggestion that Britam or its directors were willing to consider taking part in such a plot, which may have led to an atrocity.

We apologise to each of them and have agreed to pay substantial damages.
A Look into the Britam Defence Data Leak Files && britam defence hacked, confidential documents leaked, site offline - cyberwarnews.info
A British defence company has been breached and as a result a heap of documents have been published online and now the site has gone offline.

The attack is on britam defence (http://www.britamdefence.com/) and has been claimed by a hacker using the handle JAsIrX who uploaded the leaked information to various file sharing websites and released it via a single pastebin post with the a message about the release (see bottom).

The documents come in 6 parts and total over 423MB compress zip files and inside the compress files appears to be a common layout of three main folders named !!Syria, Iran and Iraq.

Inside these appear to be documents like passports, incident reports about drunk employees which are labelled private and confidential as well.

A quick look into the files shows shocking plans for chemical warfare attacks where they have planned to lure victims to kill zones. The file can be found in the Iran folder under OPLAN (Ruhayyat) 1433H-1.doc.
Also on Britam: U.S. Was Offering `Enourmous` Sums of Money for Chemical Weapon Attack
More possible chemical weapons false flags from previous months: video "Chemical Weapons False Flag against Syria Update http://youtu.be/DbMdll58lis posted on August 3rd 2012.
Also worth noting this! Iraq uncovers al-Qaeda 'chemical weapons plot' BBC News June, 1 2013, and this RT report on the Turkish authorities discovery of Sarin in a Jabhat al Nusra safehouse http://youtu.be/vet0PV-XPlw in May 2013.
Reported by RT in May and firmly in the memory hole right now: 2 kilograms of sarin captured with rebels in Turkey?! WTF

Published on May 31, 2013 RussiaToday: Suspected Syrian militants have reportedly been detained in Turkey with a cylinder of highly poisonous sarin gas found in their possession. Those arrested are believed to be members of the Al-Qaeda linked Al-Nusra Front. Earlier this month, UN investigators voiced suspicion the nerve agent was being used by opposition fighters. RT's Middle East correspondent Paula Slier reports.
Obviously RT has a Russian perspective here but indeed as we will see this is not the only clue floating around about Al-Nusra & chemical weapons.
/////
Chomsky misquoted? LOCAL - Chomsky accuses Turkish daily of fabricating parts of interview
Not sure deal here - eh: High Probability Of A Major Attack On The Financial System | InvestmentWatch - anyone heard of x22report?
//////
DC alternative journalist Wayne Madsen is not always correct but this particular narrative just smells really damn likely right now. R2P is "responsibility to protect" interventionist faction of Beltway, the newest iteration of "cruise missile liberals" more-or-less. Go get em Wayne:
SOURCE: http://www.waynemadsenreport.com/articles/20130901

September 1-2, 2013 -- Special Weekend Report. Washington, DC (WMR) Obama caved under last-minute pressure from Dempsey

WMR's White House sources report that on the evening of Friday, August 29, President Obama was on track to launch a sustained 72-hour cruise missile and drone attack on pre-selected air defense and other strategic military targets in Syria.

Obama had been convinced by his national security adviser Susan Rice, UN ambassador Samantha Power, and deputy national security adviser Ben Rhodes, all "Responsibility to Protect" advocates, that he could trump congressional approval for his attack by claiming that humanitarian operations do not require approval under the War Powers Resolution or Article I, Section 8 of the U.S. Constitution.

Many of Washington's insiders went to bed Friday night firmly convinced that Obama would give the final order to attack Syria sometime during the early Saturday morning hours of August 30. However, the Chairman of the Joint Chiefs of Staff, General Martin Dempsey, made a hurried trip to the White House during the early morning hours of Saturday to make one last final plea to hold off on any attack.

WMR has learned from White House sources that Dempsey told Obama that the president's plan would not work. "If you do this, the plan will fail and you'll get in deeper. And without congressional approval, you'll be screwed," Dempsey told Obama.

Dempsey's warning about Congress had merit. Already, 210 House members signed a letter to Obama warning him not to attack Syria without congressional authorization. In addition, a head count showed that some Democrats would join Republicans in voting for impeachment if a bill were introduced.

Dempsey's argument prevailed and Obama decided to hold off on any attack until Congress reconvenes after Labor Day. Obama decided he would seek a congressional vote to authorize a military strike on Syria. However, in overriding Rice, Power, Rhodes, and Secretary of State John Kerry, who all favored a military strike, Dempsey incurred the wrath of the R2P faction that dominates the National Security Council. State Department sources began spreading the word that Obama would still attack Syria without congressional approval. The Pentagon, on the other hand, pointed out that none of the National Security Council "heavies," Rice, Power, or Rhodes had any military experience and that Kerry was channeling the wishes of his good friend Senator John McCain, who has consistently supported Al Qaeda-led rebels in Syria and Libya.

Obama is faced with another grim reality. Some within the Pentagon ranks are so displeased with Obama's policies on Syria, they have let certain members of Congress of both parties know that "smoking gun" proof exists that Obama and CIA director John O. Brennan personally authorized the transfer of arms and personnel from Al-Qaeda-linked Ansar al Sharia Islamist rebels in Libya to Syria's Jabhat al Nusra rebels, who are also linked to Al Qaeda, in what amounts to an illegal "Iran-contra"-like scandal. The proof is said to be highly "impeachable."

The developing scandal involves Turkish, Qatari, Lebanese, and Croatian firms and front operations; Qatar Airways Cargo; ousted officials of the Mohamed Morsi government of Egypt; small Turkish and Jordanian air service companies contracted by the CIA; Saudi intelligence chief Prince Bandar bin Sultan Al Saud; the September 11, 2012 attack on the CIA annex in Benghazi; and "black" carve-out contracts with the U.S. Air Force.

[pic http://www.theage.com.au/ffximage/obama_narrowweb__300x512,4.jpg ] Barack Obama, right, dressed as a Somali Elder during his visit to Kenya, near the borders with Somalia and Ethiopia. Obama plays the role of Al Qaeda arms provider.

Obama's, Brennan's, and then-CIA director David Petraeus's knowledge of the operation was so intimate, Petraeus visited GOP presidential nominee Mitt Romney in October of last year to plead with him not to bring up the covert operation in the third presidential debate. Romney acceded to Petraeus's request.
/////
Fluoride for the Win: Frankly at this point in the demented charade, the possible Sodium Fluoride - aka fluoridated water precious bodily fluids casus belli - angle is now my favorite. Naturalnews is not always dead on either, but it's too damn appropriate I say.
See: NaturalNews: Bombshell: Syria's 'chemical weapons' turn out to be sodium fluoride used in the U.S. water supply and sold at Wal-Mart. Breaking in UK Independent: Revealed: UK Government let British company export nerve gas chemicals to Syria - UK Politics - UK - The Independent Sept 2 2013.
//////
Max Blumenthal has good points Sept 2 posted: OpEdNews - Article: Dubious Intelligence and Iran Blackmail: How Israel is driving the US to war in Syria
GlobalResearch: Dangerous Crossroads. A War on Syria, Prelude to a World War III Scenario? | Washington's Blog
//////
I am borrowing another excerpt from Madsen which includes a possible connection between major CIA pointman on the Caucasus and indeed Islamic fundamentalist network logistical support over the years (interesting in the pre-2001 interval eh) . Graham Fuller keeps popping up as a major figure in all of this, perhaps he will turn out to be something like the Oliver North of 9-11 itself - not to mention the sponsor of the Boston bombers' uncle Ruslan. Once the angles with Fuller surfaced, did anyone notice how fast mainstream press attention drained away from their backgrounds??!!!
SOURCE: http://waynemadsenreport.com/articles/20130830 - August 30-September 1, 2013 -- Partner of Boston bombers' "Uncle Ruslan" right hand man to 3 CIA directors

The murky world of the CIA's past and current support for radical Islamist groups on three continents has emerged in newly-released documents from the CIA that show that Graham Fuller, the agency's one-time top interlocutor with the Saudis, Afghan mujaheddin, and Muslim Brotherhood, was a right-hand man to three CIA directors.

Fuller, a business partner of Ruslan Tsarni (Tsarnaev), the uncle of the accused Boston Marathon bombers, served as a close adviser to CIA directors William Casey, William Webster, and Robert Gates, according to recently declassified internal CIA memoranda. Since retiring from the CIA, Fuller has been engaged in supporting the Chechen Islamist guerrilla groups fighting Russia as well as the Republic of Georgia, which has become a base for anti-Russian and anti-Syrian military activities, which includes, the transport of chemical weapons to Syrian rebels from the Pentagon-operated Richard G. Lugar Center for Public Health Research in Tbilisi, which, although a biological weapons research laboratory, also warehouses chemical agents, according to U.S. intelligence sources familiar with the facility. The Tbilisi facility was the major source of chemical agents used by Syrian rebels to attack civilians outside of Damascus in a "false flag" terrorist operation coordinated by the CIA and Mossad.

Throughout the 1980s, Fuller was front and center at many of the acts of violence in the Middle East and South Asia, from Lebanon and Syria to Iran, Iraq, Afghanistan, and South Yemen. One CIA memo describes how Fuller was also heavily involved in the early part of the CIA's stirring political activities in the Balkans during the collapse of Communism in eastern Europe. A May 22, 1985, memo from George Kolt, the CIA's National Intelligence Officer for Europe, invited Fuller to a June 11, 1985, dinner at CIA Headquarters at which the former U.S. ambassador to Bulgaria, Robert Barry, discussed at the Confidential level "The Strategic Importance of the Balkans for the United States." [......]
I'm leaving the rest of the story off for now out of respect for an indie journo making a run at this ... and moments after plugging this in, Wayne's site is having Varnish caching issues. It's all got to be cross checked - someone could be feeding him knowingly bad info for their own purposes certainly - I think we have a substantial amount of paydirt on our hands here.
Also Outrage is not a strategy: http://www.michaelyon-online.com/syria-outrage-is-not-a-strategy.htm
Anyway hope people can find this useful, or at least less useless than the mainstream spams...
Tags for More note on impending Syria Fail! Dempsey vs R2P interventionist hawks; Al-Nusra rebels caught with 2kg Sarin in May 2013, possible links to Libya Chemical Weapons stash, the Britam leaks & McCain Playing Portable Poker