Mysterious Parastoo apparent Iranian hacker group claims UAV flight inside USA; Redhack Turkish hackers on the Move, accused "cyber terrorist organization"
A few linxors on hacker stories both Turkish and Iranian. Pretty mysterious, not sure what to make out of it… Another post via Cryptome.
SOURCE: Parastoo Claims Launch of Second UAV in US

FOR IMMEDIATE RELEASE
FROM : PARASTOO
TO : DOD
RE : http://en.wikipedia.org/wiki/Iran_Air_Flight_655
HANDLE: OP655, PRE-RELEASE

PARASTOO IS SPEAKING. 

YOU NEED TO BE INFORMED THAT WE HAVE SUCCESSFULLY LAUNCHED A SECOND 
UAV FLIGHT ON U.S SOIL. THE RESULTS OF THIS OP WILL BE PUBLISHED 
TIMELY AFTER OUR RELEASE REGARDING THE JFK OP, DURING THE UPCOMING 
SO-CALLED GENEVA-2. OP655 TOOK PLACE OVER A DESERTED AREA IN 
MARYLAND, FAR FROM CIVIL OR MILITARY BASES FOR THE PURPOSE OF THIS 
DEMO.

BOTH UAV USED IN THESE OPS ARE MADE IN U.S POWERED BY iDIRECT SYSTEM, 
WHICH WE MENTIONED IN OUR PREVIOUS MESSAGES. U.S NAVY USS VINCENNESE 
WAS INSIDE IRANIAN TERRITORY WHEN FIRED MISSILE TO A CIVILIAN PLANE 
RESULT IN 299 DEATH AMONG THEM 66 CHILDREN. LATER, THE CAPTAIN 
RECEIVED A MEDAL FOR HIS HEROIC OPERATION. 

TO HONOR THAT EVENT WITH A PROPER MEDAL BASED ON OUR STANDARDS, OP655 
FULL RELEASE WILL HAVE A BONUS: TECHNICAL DETAILS OF RQ-170. 

BESIDES THE GENEVA-2, WE HAVE SET DATES FOR FUTURE RELEASES ACCORDING 
TO A LIST OF DATES IMPORTANT RESISTANT FIGURES HAVE BEEN TARGETED AND 
ASSASSINATED BY THE ONLY REGIME WHO GET TO ENJOY A 6-DECADES DURABLE 
"LICENSE TO KILL" [1] WHILE SUCKING UP FINANCIAL BLOOD OUT OF U.S 
CITIZENS [2], WHO HAVE TO DEAL WITH THEIR OWN HONORABLE MEDAL 
CARRYING OFFICIALS LIKE JAMES CLAPPER WHO JUST EMBARRASSED HIMSELF 
ONCE AGAIN [3].

WHILE YOU ARE ENJOYING WATCHING A BIT OF UAV FUN FLYING OVER MONSTER 
FLEETS [4] WE WOULD LIKE TO REMIND YOU NO MATTER WHERE YOU ARE,EVEN 
INSIDE PROTECTED CUBES IN MARYLAND OR THE MOST NUCLEAR-POWER 
DEPENDENT AREA -- VIRGINIA, YOU ARE NOT ANONYMOUS. EXPECT US.

03 JULY 2013
P.

1:http://www.telegraph.co.uk/news/worldnews/middleeast/israel/
7254807/Mossads-licence-to-kill.html

2:http://www.spacedaily.com/reports/Israel_seeks_5B_in_US_loans_
to_buy_arms_999.html

3:http://www.techdirt.com/articles/20130701/12494623683/james-
clapper-admits-he-lied-to-congress-even-his-excuse-is-
misleading.shtml

4:http://f.lui.li/get_680_c87d.html

And via here: f.lui.li/get_680_c87d.html loaded this video, looks like a UAV watching an aircraft carrier apparently.
In late November 2012: Anti-Israel hackers leak nuclear watchdog email addresses • The Register
Troll-Hackers? Is This Nuclear Agency Under Cyber Threat by Familiar Iranian Hacker Group? | SiliconANGLE
The Hacker News - Security in a Serious way: Parastoo - Hackers break into International Atomic Energy Agency servers - The Hacker News
Full release from 25 Nov 2012: Parastoo Hacks IAEA && PARASTOO - 1 - Pastebin.com
Feb 26 2013: Parastoo claims hack of contractor linked to nuclear data | Washington Free Beacon: "Parastoo also stole more than 450,000 credit card records from some of IHS's largest commercial clients, including Pepsi and BMW."
Feb 28 2013: Iranian Hacker Bullies VP Joe Biden, Credibly Threaten to Commandeer US Drones, Leak IHS Jane's CBRN Documents | SiliconANGLE - note that some of the released material may have a trojan according to this.
Some absolutely shocking threats and claims have emerged from a fairly new hacking group on the scene. DefCon's "y3ti" tipped us off to the group that calls themselves Parastoo that first emerged at the end of last year. Their latest chilling release confirms their earlier claims with an incredible stash of sensitive intelligence that was announced on a series of Iranian activist sites and later found on world-wide filesharing sites. The bounty is big, the targets are bigger, and the list of items they have hacked is staggering. Among this data and the statements– nuclear intelligence, military information, satellite images, national infrastructure intelligence, and a thinly veiled threat on the vice-president of the United States Joe Biden.
March 9 2013: Parastoo IAEA Mossad via Cryptome. This may be related?

IN TECHNICAL PART OF OUR LAST MESSAGE WE TALKED
ABOUT HOW PARASTOO GOT INTO C4ISR SYSTEMS BELONG
TO NATO AND USED A VSAT-BASED ATTACKS TO CONTROL
AND "PARASTOOJACK" A DRONE , LONG TIME AGO .
NOW THAT WE SLOWLY ARE WORKING THROUGH THE ROUTE
AND PARASTOOS , CYBER RESISTANCE GROUPS , AND
PEOPLE WHO ARE TIRED OF IMPERIALISTIC SHIT
BEING FED US AS POLITICS FOR A LONG TIME , IN
OUR NEXT MESSAGE WE WILL RELEASE A VIDEO OF HOW
THE ATTACH TO IDIRECT-CONTROLLED C4ISR SYSTEM
HAPPENED AND HOW PARASTOO BROKE INTO A FIPS 140-2
SECURE SATCOM ON THE MOVE . IT DEMONSTRATES , IN
A LIMITED WAY THAT PUBLIC WWW CAN HANDLE , WHAT
DID WE MEAN BY "AN EASY SPORT" IN OUR LAST MESSAGE .
IDIRECT DAYS ARE OVER FOR A LONG TIME , AND NOW
WE ARE CLOSING ITS FILE FOR GOOD , GIVE A BIT DATA
ABOUT THE JFK TEST AND TRY TO SPEAK "SERIOUSLY" TO
VICE PRESIDENT OF ANOTHER COUNTRY . DO NOT SUPPORT
ZIONIST-LED PLOTS. IT IS "SERIOUS" .

/////
On the Turkish front, #occupygezi and protesters have been supported by Redhack, an apparently older Turkish communist-sympathetic hacker group with sturdy skilz at defeating Turkish government websites.
RedHack_EN (RedHack_EN) on Twitter - English language outlet. Turkish: RedHack ★ (TheRedHack) on Twitter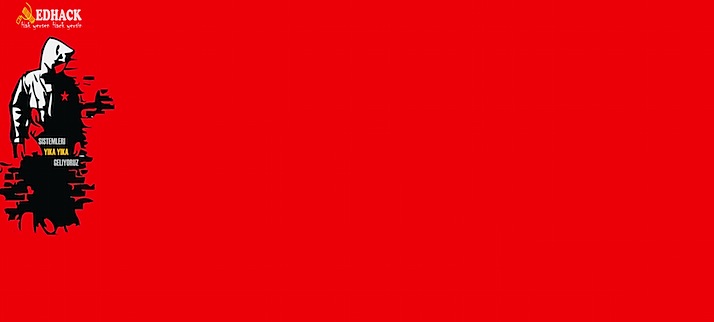 #RedLeaks RedHack Belgeleri.. Kizil Hackerlar - 1997-2013
RedHack - Wikipedia, the free encyclopedia
Documentary about Redhack: RED! Movie Turkish (İngilizce Subtitled) - YouTube - trailer here. lots of RedHack related video clips here.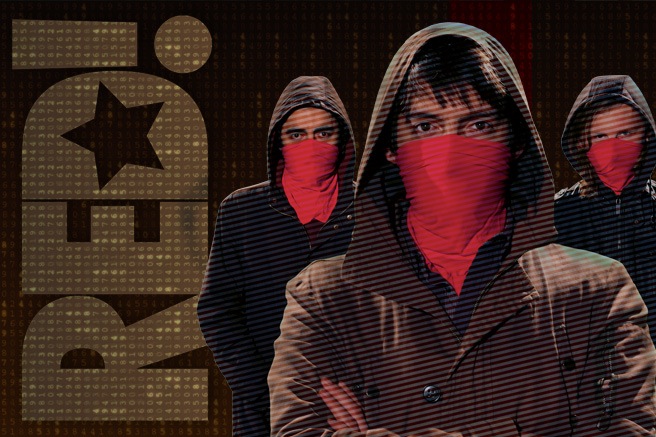 Red!, the world's agenda hacktivizm issues of weight and center of each year is increasing cyber-activism. It carries out actions in particular RedHack'in Anonymous'un and Turkey. At the same time contributing to the documentary ICT, academics, lawyers and politicians hacktivizmin through politics, explores the relationship between ethics and law. BSM-Independent Film Center, Red! founded an independent film exhibition and distribution network. Film screenings held across Turkey. documentary Who, Dr. Free Uçkan / Author-scholar Gökhan Ahi-IT Law Expert Professor. Dr. Aslı Tunç-Head of the Department at Istanbul Bilgi University Media Alper Stone-ODP Co-Chairman Dr. Rabun Kosar - Bogazici university for Data Processing Center Manager Özgür Murat-Lawyer -Attorney Bilgütay Durna Ilhan Cıhaner-MP - Former Republican Attorney General Ayhan Erdoğan-Attorney Asst. Assoc. Dr. Erkan Saka-Istanbul Bilgi University, Department of Communication
RED! « Independent Cinema Center: The movie RED! produced by BSM – Independent Cinema Center, focuses on two subjects that gain globally more and more attraction every year: cyber activism and hacktivism. In the movie, these subjects are principally treated through Anonymous and RedHack. At the same time, the movie examines the relations between hacktivism and politics, ethic and law.
This documentary does not conceal being biased. It approachs cyber activism and hacktivism from a class struggle perspective. Considering the cyber world as a new battlefield, the movie examines how the cyber struggle can be linked to the class struggle.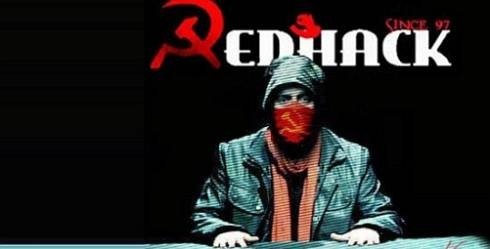 REDHACK Voice of the oppressed! - Tumblr
July 4 2013: RedHack Identified as "Cyber Terrorist Organization" - Bianet / English - Bianet
July 5 2013: Turkish Police Name RedHack a Cyber Terrorist Organization
July 4 2013: Redhack members face virtual terrorism charges for pro-Gezi tweets
A report recently prepared by the National Police Department into the recent nationwide Gezi Park protests has stated that members of the Socialist hacker group RedHack (Kızıl Hackerlar) committed virtual terrorism by inciting people to commit criminal acts in the tweets posted on the account "@TheRedHack" during the protests.

The National Police Department launched a large-scale investigation into the online activities of Redhack during the Gezi Park protests and determined the identities of the members of the group from their IP addresses. The Sabah daily reported on Thursday that the National Police Department is seeking legal action against Redhack.

The police department stated in its report that Redhack posted many tweets that invited people to attend the protests and incited people to commit crimes during the Gezi Park protests. The police department also included some tweets posted on the Redhack account in the report. A tweet posted on June 14 states, "People from around the country will be on the streets as of 2.00 p.m." In another tweet posed on June 15, Redhack stated: "We are protesting for a fair, non-exploitative and classless world, for brotherhood and freedom. If they are so brave, they can stop us." In other tweet, again posted on June 15, Redhack stated: "They [Justice and Development Party (AK Party) government] provides people with free transportation or food for their rallies, but they give us tear gas, police batons and police attack car. Do you continue to be silent?"

According to the Sabah report, Prosecutor Muammer Akkaş will launch an investigation into Redhack based on the police report. The prosecutor will reportedly investigate members of Redhack on charges of virtual terrorism.
RedHack | Cyber War News - a great many lulz on this category:
Turkish Police Informant Files Leaked By Red Hack - July 16 2012. "only way we will stop publishing these files is if so called gov't sponsored "lamers" stop attacking journalists."
As you may be all aware, our actions are continuing non-stop since February. From that time our first action was against Ankara Security Headquarters and as a result seven innocent people got arrested and they are still imprisoned. The only evidence against them is a PlayStation Cd's. The dominant powers then decided to transfer the investigation about us to a prosecutor who once managed the Sivas case to drop due to time-frame elapsed, where 33 intellectuals and artists got killed by mob of bigots. Despite this we didn't stop and we were investigated by National Intelligence Agency (MIT) and complaint was made to Interpol. For disinformation reasons various news was made about us. We still did not stop. Ministry of Interior was hacked twice, 95% of police forces in Turkey were hacked, and other Ministry sites were hacked time to time. Lately we were declared "terrorists" after Ministry of Foreign Affairs was hacked where we have leaked document. All of a sudden cyber teams established against us have mushroomed up. Those couldn't stop us with help of imperial powers such as USA, EU, Russia or China created "cyber counter-guerrillas" and created sites to vilify us. Also the government, that sees us as terrorists supported these people to attack other countries. They have tried various games to alienate people against us.

Very recently attacks started against opposition journalists that makes objective news and lawyers specialises on internet. With the helping hand of the government those fake sites published personal details of these freedom defenders and very harsh/degrading threats were made to them. Just today another dirty "cyber government" attack was made against Birgun (OneDay) newspaper. This must be the very "Cyber Army" that was established against us by establishments such as TUBITAK, TIB and BTK. One of their employee quite recently announced that they will use a different approach against us, this must be it. They will brand those fighting for the truth as a terrorist but will unleash their lamers against journalists, lawyers. This must be their so called "different approach".

As these conditions were set by them and freedom defender's details are published with the help of government, we have taken a decision. Since they are attacking those people fighting for freedom, we will not let them walk alone. Starting from the beginning, we will publish all the leaked documents we have managed to gather, uncensored.

We will only stop when they cease to treat these lamers with double standard and treat them as equal as us.

Tomorrow we will start to publish an uncensored police informants file of 70mb.

Since we are a "terrorist" and those who publish details of innocent people are heroes, then we will act with the language they understand. We won't play the inoffensive any longer.

The choice is yours; either put the leash on these corrupted lamers that lacks knowledge of code or face the consequences.

Lastly, we will not let those take sides with us be alone. We have plenty of jokes and they are funny but they are all real.

We don't ACQUIT We HACK!

We won't embarrass those trust us and walks with us, we won't leave them alone halfway through this struggle.

If we get arrested one day, we will defend our actions. Because bourgeois terrorists cannot judge us.

RedHack (Red Hackers Association)

Central Committee

14th July 2012

Hacking for the People!
Also recently June 29th 2013: RedHack Erases Public Debt and Renames Primary School in Instanbul | 40 Oz of Bad Karma
Google Translate- RedHack, Provincial Supervisor hacked
Intelligence documents about bomb plots leaked: This time the 'bomb' mails
Istanbul Special Provincial Administration Hacked by REDHACK - Hackers News Bulletin
Anyway, classic stuff. Bonus points to redhack for a much more well crafted public image than Parastoo!
/// UPDATE 3AM: On another LulzCluster altogether, keep an eye on https://twitter.com/op_nsa for another wave of possible NSA data drops. For apparently new hawt NSA hax0rd0x See http://pastebin.com/bBuS9aH5
http://pastebin.com/raw.php?i=bk3yqHue for supposed new NSA leak pastebins including email addresses at nsa.gov and suspiciously obscure British domains, one can only hope MI6 municipal council weasel-moles are flushed trololol!
Also: Hello to @redhack_en posting this story: https://twitter.com/RedHack_EN/status/353780921373171712 A good day to you from Minnesota, Cheers! ///
Commenting on this Story is closed.