The New 21st Century COINTELPRO Mobius Strip: Undisclosed Participation, "OTHERWISE ILLEGAL ACTIVITY," Federal & State Informants, drug ops auditing in MN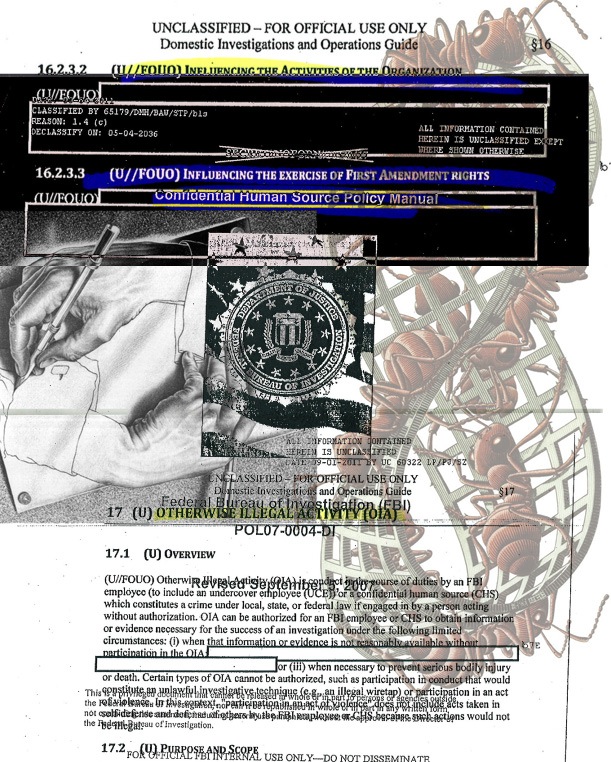 A quick update on a number of different fronts developing around 21st century Cointelpro operations. This material includes the important bureaucratic fault line of authorizing "otherwise" illegal government operations, an important topic of research... Granted, Season 3 of the X-Files is playing over my shoulder, a product of a more skeptical decade. Yeah, the truth is out there - and at least here we get tiny, but real, slivers of crucial folds in the origami.
The FBI file and the Minnesota State Auditor files aren't really smoking guns, but they clearly show us interesting & almost totally unknown new levels of the modern 21st century COINTELPRO system. Four apparently new documents about the obscure and rather deliberately shadowy world around the insertion of informants into political organizations, information with implications for any political movement that might get "spammed" by fake realities generated by people working as informant handlers, or also in the state level documents, outstate drug buys, interesting examples of cash, firearms and drugs floating around. The "upper" FBI reality described here certainly has implications for the "lower" state-level drug operations, paid informant & prosecution world - thus they make an interesting contrast for one post!
From two different sources, parts of the FBI's Unclassified / For Official Use Only (FOUO) Domestic Investigations and Operations Guide [DIOG] apparently revised September 5 2007, and from the other set of requests, Minnesota State Auditor Rebecca Otto's office checks in on the processes of outstate drug task forces engaged in asset forfeiture, drug buys, firearms stuff. When various audited processes turn out to be fails, some corrective actions are recommended. I'm also throwing in a motion for discovery on certain types of informants that could be promising - the next step down this line.
This is a continuation of: 2010 Oklahoma City Bombing Conspiracy Notes for April 19; Eric Holder's Trentadue Mission; SPLC Cutout @ Elohim City; CIA, National Geospatial Intelligence Agency roles | HongPong.com. See also our friends who made A Noble Lie: Oklahoma City 1995 - writeup.
The topic of the FBI file is certain to make almost any careerist in the world of "that Law thing" squirm because it is a form of documentation showing the entire edifice is one MC Escher-style mobius strip of fake morality, crimes truly authorized on paper -- heavily censored paper, but this is indeed clearly one such paper without any doubt.
Other parts of a similar DIOG file, with the same front page, was published by the ACLU in 2011(included below), but I think we got some new pages here. It's usually hard to find the precise chunks or "twists of the mobius strip of officially sanctioned crime" but fortunately I think we all got at least a few entirely fresh pages via a lucky FOIA. (I'm not totally certain the FBI drop is truly partly-new, but I haven't found key matching pages elsewhere. Plz let me know if you do!)
Group readings of this file [with a toast for every LOL] should be a mandatory drinking game / CLE for every single bar association and law review, because they show that the entire conceit is one big clusterfail, and I would dare any lawyer to make a coherent argument to the contrary.
This new relatively short FBI FOIA, I'm suspecting right now, hit some new paydirt because there are certain subtypes of FBI informants that are described with certain keywords, which could include people violating confidences, including within the media, clergy, doctors, lawyers etc. It opens up a line of inquiry that one Utah attorney Jesse Trentadue, has apparently stumbled into in his long-rolling FOIA lawsuit spurred by the suspicious murder of his brother in a federal prison (see KennethTrentadue.com for more).
At least we get some look at the terrain of specially labeled, high level FBI informants, the Gerald Fords of the world if you will [aka the Warren Commission snitch]. I can't think of another source that quite nails the different categories of FBI informants like the motion posted below, filed in the lawsuit which already has produced this (not to mention hard proof the CIA have at least some formal records of something related to the Oklahoma City Bombing still censored from our reach).
Mother Jones covered his case including the CIA angle in 7/2011: Did the FBI Bury Oklahoma City Bombing Evidence? | Mother Jones. Also: Trentadue OKC Lawsuits Expand To CIA, Add Demand For Videos via @intelwire. This new document also references the decidedly low-profile realm of private companies operated as FBI fronts. Not too bad!
On the Minnesota side, these drug task force audits are in fact publicly requestable records but not released on the interweb by default (part of the reason that very very few people are aware of the state auditor Otto's overall respectable role in the scheme of things).
Let's dive in - look for your favorite weird angle including FBI-controlled front businesses, "otherwise" illegal acts, and creating synthetic detours in authentic First Amendment Expression! Show to your favorite law-and-order acquaintances for some high-quality cognitive dissonance! :-D
[Partially] NEW FBI FILE:
FBI Illegal Informant Procedures - Confidential Human Source Policy Manual by
RELEVANT (but not particularly new) DOJ files:
Here is the ACLU 2011 file - I really think we got something similar but different:
FBI Confidential Human Source Policy Manual by
Cited as relevant see page 17 as marked, 23 as paginated PDF - AG Use of FBI confidential human sources authorization - includes Media Snitches (violating media confidentiality). The new Trentadue motion demands quantities, not names!
DOJ AG Use of FBI confidential human sources by
MINNESOTA FILES:
West Central Drug Task Force Audit
West Central Drug Task Force Audit by
Paul Bunyan Gang & Drug Task Force Audit
Paul Bunyan Gang & Drug Task Force Audit by
Lakes Area Drug Investigation Team Audit
Lakes Area Drug Investigation Team Audit by
OTHER NOTES:
Among the other small angles to consider here, the role of Executive Order 12333 from Ronald Reagan indeed turns out to be crucial in understanding the formal institutionalization of the FBI as a bureaucracy which can operate illegally, in the realm of intelligence. It was pointed out in Al Martin's The Conspirators: Secrets of an Iran-Contra Insider that EO12333 was an important greenlight of sorts, as it led the way for "legalizing the illegal systems" of the "Iran-Contra" world particularly those involving drug and weapons trafficking through private shell companies (and EO12333 does talk a lot about front companies operated for intel functions).
Also I am adding part of a post from Bob McCarty about this case and this particular request, which shows a pretty good avenue into further inquiry. We could expect at least a few more interesting crumbs out of this line of research - certainly, stuff worth looking at. [A whole series of McCarty posts on Oklahoma City and the Trentadue inquiry I haven't even looked at!]
SOURCE: Brother of Murder Victim Seeks Details of FBI's 'Sensitive Informant Program' | BobMcCarty.com
Salt Lake City attorney Jesse Trentadue filed a motion Monday asking a federal judge to determine whether he is entitled to limited discovery into the FBI's "Sensitive Informant Program."

In his motion, Trentadue described the program as one used by the bureau "to recruit and/or place informants on the staffs of members of the United States Congress and perhaps even federal judges, in the national media, within other federal agencies as well as the White House, on defense teams in high-profile federal and/or state criminal prosecutions, inside state and local law enforcement agencies, and even among the clergy of organized religions."

Trentadue's interest in the program stems from questions that have surfaced during his ongoing investigation into the death of Kenneth Trentadue, his brother who died in 1995 under suspicious circumstances while in custody at the U.S. Bureau of Prisons Federal Transfer Center in Oklahoma City, months after theOklahoma City Bombing.

With his latest legal maneuver, Trentadue hopes to convince Judge Clark Waddoups to compel the FBI to provide all documentation outlining what he describes in the motion as an"unlawful and unconstitutional domestic spying program."

The maneuver comes almost four weeks after the FBI answered a federal court complaint Trentadue filed under the Freedom of Information Act to obtain copies of the manual the FBI uses to recruit and place"sensitive informants." Citing national security concerns as the basis for their response, FBI officials answered that complaint by saying they "can neither confirm nor deny the allegations [of the Complaint] regarding its confidential informant program."

Shown below, Trentadue's definition of a "sensitive informant" is, perhaps, the most interesting aspect of his motion:

"…the term 'Sensitive Informant' is defined as anyone acting, directly or indirectly and with or without any compensation, on behalf of the FBI as a member of, person associated with or otherwise a participant in or observer of the activity or activities of an entity, organization, group, governmental agency or unit, association of organizations or individuals, public official, member of Congress, judge, cleric and/or religious or political organization AND who does not disclose or reveal to such entity, organization, group, governmental agency or unit, association of organizations or individuals, public official, member of Congress, judge, cleric and/or religious or political organization his or her FBI affiliation.

"A Sensitive Informant is, in other words, some one who is acting, directly or indirectly, on behalf of the FBI as an undisclosed participant in or observer of the activity or activities of an entity, organization, group, governmental agency or unit, association of organizations or individuals, public official, member of Congress, judge, cleric and/or religious or political organization.

"The term 'Sensitive Informant' likewise includes what the FBI's current terminology refers to as a 'Confidential Human Source' including any and all sub-categories of Confidential Human Sources such as, but not limited to, what the FBI refers to as a 'Privileged Confidential Human Source,' who is someone reporting confidential information to the FBI in violation of a privilege such as an attorney reporting his client's confidential communications, a physician reporting upon his patient's medical or mental condition, a cleric informing on a member of his or her church or other religious organization, etc.

In his motion, Trentadue requested the judge order FBI officials to answer 11 critical questions about the scope of their "Sensitive Informant Program" prior to a yet-to-be-scheduled hearing during which, according to Trentadue, FBI officials have said they will file a motion for summary judgment to prevent him access to the information he seeks.

Looking only for numbers of Sensitive Informants and not for specific names from the FBI, Trentadue's questions target the time frame, "since January 1, 1995." In short, he wants to know whether or not the agency has had Sensitive Informants inside a variety of government and non-governmental organizations.

Among the government organizations mentioned in his queries were the state and federal court systems, the U.S. House of Representatives and U.S. Senate, federal agencies other than the FBI, federal prosecutors' offices, and law enforcement agencies at the municipal, county and state levels.

Among non-governmental agencies, he listed management positions inside news organizations, including but not limited to, the following: Associated Press, ABC,CBS, CNN, FOX, MSNBC, NBC, NPR, PBS, Reuters or Scripps-Howard;Boston Globe, Chicago Tribune, Los Angeles Times, Miami Herald, The New York Times, The Wall Street Journal and/or Washington Post; The Daily Beast, Mother Jones, The New American, Newsweek, TIME and/orU.S. News & World Report.


Curiously, he also asked whether the FBI has had a Sensitive Informant(s) who was a cleric or member of the clergy in any religious organization.

Though I doubt the FBI will answer Trentadue's questions, I'm convinced the attorney will continue fighting until he learns the whole truth about his brother's death and, perhaps, about the Oklahoma City Bombing, too.

To appreciate the full scope and breadth of Trentadue's latest effort, I suggest you read the motion. It's one of more than two-dozen posts I've published in my series, Untold Stories of the Oklahoma City Bombing. Included in the series are more than a dozen posts aboutTrentadue's pursuit of the truth.
Hopefully not a problem to copy the post as this is a relatively important issue. Anyway I will leave it there for the moment as the hour is late. Informants and protected illegal operations -- truly the can of worms is enormous. The FBI's informant systems across many elite sectors remains to be sniffed out further - and the curious goings-on of obscure rural Minnesota drug task forces also suggests more research is needed.
The other problems with informants, the political spam and the psychological wreckage they leave in their wake -- along with indeed the damage to their own psyches -- will hopefully get further attention, as we have a few other key facts bubbling up. Good luck to everyone on finding more info - regardless of political orientation it's really important to nail down as much of this stuff as possible, before you get spammed by yet another informant!!