Federal Homeland Security TSA VIPR Team & #VikingsDrone: Suspicious drone & Feds spotted at Vikings/Packers game
Things are a little strange at the Vikings/Packers Game today. A drone has been photographed hovering around the Metrodome fan plaza on the west side, and a Homeland Security / TSA "VIPR" team has been hanging around as well, indicating the federal government is shifting into "protecting" the major Spectacles at taxpayer expense.
My friend Nathan Hansen noticed the #VikingsDrone and the VIPR team, documenting & posting them on twitter @nathanmhansen. [Note: awhile back I did a 'lil client design work for Hansen.]
//// UPDATE 12:15PM Monday: According to @TCRover, a branch of the Pioneer Press, the drone was NOT operated by the government but rather some production company. The pic they say is from the crew flying it earlier: See https://twitter.com/TCRover/status/285560684245315585/photo/1 . Nonetheless we still need to deal with the impending prospect of government & contractor drones filling our airspace - and indeed this story has prompted others to discuss other sightings near government sites. //// 2:20PM update: It's annoying that they tried to tweet @ me last night but it never turned up in my timeline so I didn't find out until today. I would have much preferred to straighten it out immediately! Also, here's what's going on with drones in Oklahoma... Follow my friend @axxiom for more. ////
PHOTO sources: yfrog Fullsize - http://twitter.yfrog.com/h41hxevhj // yfrog Fullsize - http://twitter.yfrog.com/o0mkqkobj // yfrog Fullsize - http://twitter.yfrog.com/oemubbyj // VIPR Team: yfrog Fullsize - http://twitter.yfrog.com/odjd2ybj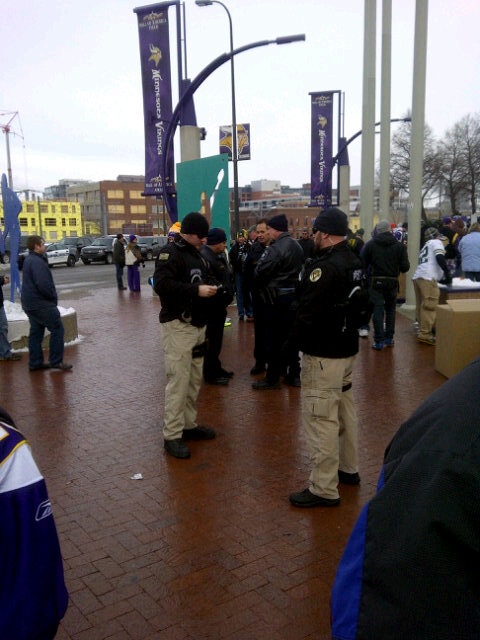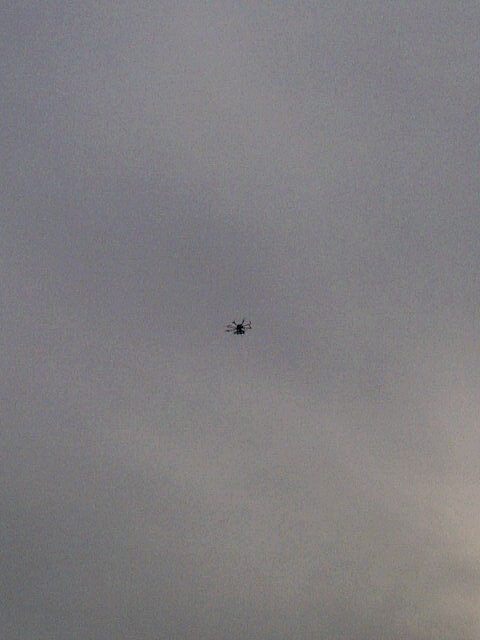 You can see the four rotors pretty well on these pics. It is comparable to the sports photography drone linked below as well - I figured it might just be a civilian hobbyist drone or some weird sports media project drone until the VIPR team was found by Hansen.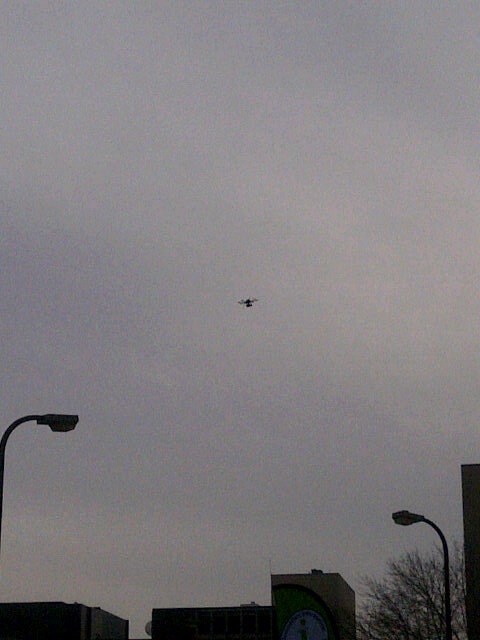 I am just delighted that the national government had to borrow more money at interest from the Federal Reserve System in order to send out these guys and their fancy flying spy robot to the Vikings/Packers game. We get the twin benefits of national debt slavery AND a surveillance state with nothing useful to do!
Our friends at WTFNews cranked out a quick post on this already: Unidentified Drone Spotted at @Packers-@VikingsFootball @NFL Game » WTF RLY REPORT
Let's Ban This Drone Operation in Minneapolis: Already Minneapolis activist Kurtis Hanna has suggested a petition to get drones banned on the city charter. (come to think of it, wouldn't it be good to get something like the White House petition site for the Mpls Charter Commission?) I will include some info below on this.
The Department of Homeland Security and the National Football League have a burgeoning relationship. Previously when I wrote up a post on the relatively new and totally off-the-radar Homeland Security Investigations division (basically their own militant version of the FBI, intended to reach BATF-level org status) they did a drill black helicopter landing on the Super Bowl field. [yes really - HSI is so new I must have been the first person to satirize its absurdities on the whole interweb!] See April 12 2012: Meet the new Boss in Town: ICE spawns... HSI Homeland Security Investigations, for great justice & cocaine cowboys | HongPong.com
The Super Bowl and World Series are also both declared National Special Security Events, which activates a fat block of overtime for many federal police agencies, much like the Republican & Democratic National Conventions. (However, since rioting at sports events is closer to the booze-soaked Id of the American public than more 'political' street upheavals, it doesn't meet the same heavy hand from federal & local police agencies) NSSEs generally feature Homeland Security, FEMA and the Secret Service operating at a high tempo, another thing that HSI & TSA are getting involved with as a 'filler force' if you will.
For Super Bowl NSSE info see: Super Bowl XLVI, NSSE & Big Sis - YouTube // www.secretservice.gov/press/pub0202.pdf on Bowl XXXVI // this crazy PDF: rnc08report.org/engine/uploads/1/Day-2-Breakout-2-NSSE-Carillo-Lowry-Lumley.pdf // Infowars » Indy Super Bowl: National Security State Protects Sports Fans from Prostitutes // National Special Security Events: 8. NSSE Fill-in Fact Sheet // Article Detail - Domestic Preparedness via LLIS.gov // etc
Federal VIPR teams: been popping up in all sorts of places. Here's the Wiki page. Wiki notes GAO attributes their existence to a Reaction to the shady Madrid train bombings. VIPR is trying to get at pro sports & local transportation (the Hiawatha light rail has a station close to where they were photographed) and wherever else they can normalize their presence. In this case the VIPR deployment apparently includes at least a half-dozen uniformed officers and at least one drone.
Additionally there was strange audio interference right before a commercial break in the first half, kind of like the sound a cell phone makes when its microwave signal induces noise in a speaker or electronics. However, I don't think game-day satellite transmissions go straight over-the-air from the Metrodome, as there aren't really satellite dishes around there I've noticed. Thus it seems unlikely to me that the one spotted drone would have glitched the transmission. Perhaps unrelated but also something you don't usually see. I blame Wisconsin FalseFlag types for this noise, whoever that might be :-P
SEE ALSO:
The drone does look similar to the one in this story. New use for drones: Sports photography - CBS News
Oh this is great. Perhaps the best link I've found in this. "PUT [VIPR] TEAMS TO WORK FOR YOU" VIPR teams and pipelines!! A "no cost resources for expanding and enhancing your security". Free oil goon security? Screw that: www.dleg.state.mi.us/mpsc/gas/download/2011SS-2-4-VIPR_Handout.pdf
May 2012: TSA VIPR Team Spotted at… Detroit Music Festival?? « TSA Out of Our Pants!
CNN Jan 28 2012: TSA rail, subway spot-checks raise privacy issues - CNN.com
VIDEO Blackburn Questions TSA Officials on VIPR Teams - YouTube
VIDEO TSA VIPR Teams in Greyhound Bus Station Tampa FL 02/16/2010
TSA deploys 'VIPR' teams throughout Tennessee to set up illegal security checkpoints on interstates - NaturalNews with a bunch of other links including: TSA-style full body pat-downs coming to an NFL stadium near you (Sept 2011) etc
6 USC § 1112 - Authorization of Visible Intermodal Prevention and Response teams | LII / Legal Information Institute. So they are doing this about the Hiawatha light rail officially I would guess. This would also signify that Metro Transit would have some record of the situation if "consult" in Sec.4 has occurred
(a) In general

The Secretary, acting through the Administrator of the Transportation Security Administration, may develop Visible Intermodal Prevention and Response (referred to in this section as "VIPR") teams to augment the security of any mode of transportation at any location within the United States. In forming a VIPR team, the Secretary—

(1) may use any asset of the Department, including Federal air marshals, surface transportation security inspectors, canine detection teams, and advanced screening technology;

(2) may determine when a VIPR team shall be deployed, as well as the duration of the deployment;

(3) shall, prior to and during the deployment, consult with local security and law enforcement officials in the jurisdiction where the VIPR team is or will be deployed, to develop and agree upon the appropriate operational protocols and provide relevant information about the mission of the VIPR team, as appropriate; and

(4) shall, prior to and during the deployment, consult with all transportation entities directly affected by the deployment of a VIPR team, as appropriate, including railroad carriers, air carriers, airport owners, over-the-road bus operators and terminal owners and operators, motor carriers, public transportation agencies, owners or operators of highways, port operators and facility owners, vessel owners and operators and pipeline operators.

(b) Authorization of appropriations

There are authorized to be appropriated to the Secretary to carry out this section such sums as necessary for fiscal years 2007 through 2011.
Process for City Charter Amendment for banning these drones: Sent along by Kurt Hanna who thinks that "10,791 valid signatures of Minneapolis residents who are registered voters in order to qualify for the ballot" based on the figure of 215,806 voters voting last time. Citizen petition timeframe link. BUT: How much time do we have to gather these signatures?
Some more info: Via Minneapolis City Charter: http://library.municode.com/HTML/11490/level2/SUHITA_CH.html

(1) The methods available for amending a home rule city charter are contained in Minnesota Statutes, Section 410.12 et seq., which provides as follows:

(1) 410.12 AMENDMENTS. Subdivision 1. Proposals. The charter commission may propose amendments to such charter and SHALL DO SO upon the petition of voters equal in number to five percent of the total votes cast at the last previous state general election in the city.Proposed charter amendments must be submitted at least 12 weeks before the general election. Only registered voters are eligible to sign the petition. All petitions circulated with respect to a charter amendment shall be uniform in character and shall have attached thereto the text of the proposed amendment in full; except that in the case of a proposed amendment containing more than 1,000 words, a true and correct copy of the same may be filed with the city clerk, and the petition shall then contain a summary of not less than 50 nor more than 300 words setting forth in substance the nature of the proposed amendment. Such summary shall contain a statement of the objects and purposes of the amendment proposed and an outline of any proposed new scheme or frame work of government and shall be sufficient to inform the signers of the petition as to what change in government is sought to be accomplished by the amendment.The summary, together with a copy of the proposed amendment, shall first be submitted to the charter commission for its approval as to form and substance. The commission shall within ten days after such submission to it, return the same to the proposers of the amendment with such modifications in statement as it may deem necessary in order that the summary may fairly comply with the requirements above set forth.

Subd. 2. Petitions. The signatures to such petition need not all be appended to one paper, but to each separate petition there shall be attached an affidavit of the circulator thereof as provided by this section. A petition must contain each petitioner's signature in ink or indelible pencil and must indicate after the signature the place of residence by street and number, or their description sufficient to identify the place. There shall appear on each petition the names and addresses of five electors of the city, and on each paper the names and addresses of the same five electors, who, as a committee of the petitioners, shall be regarded as responsible for the circulation and filing of the petition. [........]

(1) Subd. 3. May be assembled as one petition. All petition papers for a proposed amendment shall be assembled and filed with the charter commission as one instrument. Within ten days after such petition is transmitted to the city council, the city clerk shall determine whether each paper of the petition is properly attested and whether the petition is signed by a sufficient number of voters. The city clerk shall declare any petition paper entirely invalid which is not attested by the circulator thereof as required in this section. Upon completing an examination of the petition, the city clerk shall certify the result of the examination to the council. If the city clerk shall certify that the petition is insufficient the city clerk shall set forth in a certificate the particulars in which it is defective and shall at once notify the committee of the petitioners of the findings. A petition may be amended at any time within ten days after the making of a certificate of insufficiency by the city clerk, by filing a supplementary petition upon additional papers signed and filed as provided in case of an original petition. The city clerk shall within five days after such amendment is filed, make examination of the amended petition, and if the certificate shall show the petition still to be insufficient, the city clerk shall file it in the city clerk's office and notify the committee of the petitioners of the findings and no further action shall be had on such insufficient petition. The finding of the insufficiency of a petition shall not prejudice the filing of a new petition for the same purpose. (Back)

(1) Subd. 4. Election. Amendments shall be submitted to the qualified voters at a general or special election and published as in the case of the original charter. The form of the ballot shall be fixed by the governing body. The statement of the question on the ballot shall be sufficient to identify the amendment clearly and to distinguish the question from every other question on the ballot at the same time. If 51 percent of the votes cast on any amendment are in favor of its adoption, copies of the amendment and certificates shall be filed, as in the case of the original charter and the amendment shall take effect in 30 days from the date of the election or at such other time as is fixed in the amendment.
An amusing side question: is this "magick" security theater? Security Theater of course works most "effectively" at materializing psychological phantoms with an audience at a Spectacle. This is the perhaps the principle Stimulus Effect intended by Homeland Security & its general orientation around 'visuals' which is not that different than Ceremonial Magick, which is [arguably] anything that generates a certain sense-impression in the mind of Observers.

Another old backstory: In 2010 some people noticed they were using government photos of MN National Guard riot control gear from the deployment at the 2008 Republican National Convention under the NSSE system for recruitment propaganda on the Metrodome. RNC '08 Report: Our News: National Guard advert on Metrodome, proposed site of 2012 DNC, depicts soldiers deployed against protesters during 2008 RNC. Your tax dollas at work!
Commenting on this Story is closed.