"Warning shot will not be fired" by MPs trained in Martial Law in America: Military Police training: heavily patrolled domestic detention facilities, dissident/sniper warrantless searches - CONPLAN 3502 Civil Disturbance Operations training @ Ft McClellan
b. Use of Deadly and Non-deadly Force (4) (b) Warning shot will not be fired.
or better yet:
(3) In an occupied building, when the dissident's/sniper's location is unknown, all suspected rooms must be searched. The action element should try to have occupants submit voluntarily to the search of their rooms. At the same time, occupants should be questioned in an attempt to pinpoint the sniper's location. If occupants will not submit voluntarily and there is probable cause to believe that the dissident/ sniper is located in the room, a complete physical search of the room or rooms should be conducted. Use of the patrol dog will help in conducting such searches.
Another planning layer for emergency domestic military operations has been published: The 2006 US Army Military Police training manual for Civil Disturbance Operations does not concern itself with warrants in the 'search' section, indicating a certain level of Constitutional disregard in the military's planning for emergencies in what the document calls CONUS, or Continental United States.
The excellent PublicIntelligence is where this just popped up (first I saw of it anyway): U.S. Army Military Police School Civil Disturbance Operations Course | Public Intelligence - Direct PDF link (115 pages).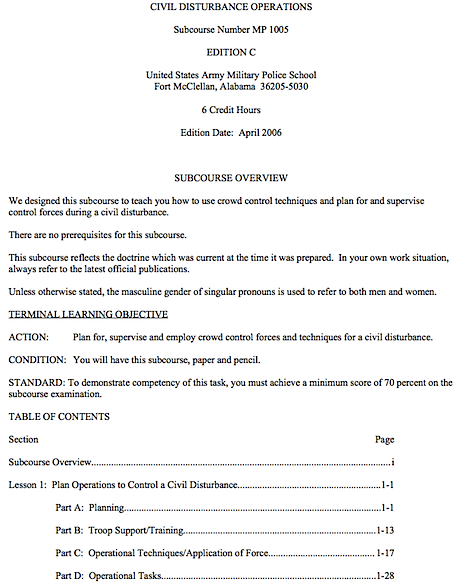 ///////UPDATE JULY 11: Just talked with Alex Jones for an hour on this stuff. Here's the crib notes & PDFs you'll want to see.
/////// UPDATE July 7 AM: My interview with Darren McBreen on Infowars Nightly News: http://www.youtube.com/watch?v=fNw_m7gfqXM // Prisonplanet stories by Kurt Nimmo and "Army Manual Outlines Plan To Kill Rioters, Demonstrators In America" by Paul Watson.. Also I put it on Reddit One & Two
///////
I've only had time to read a bit of it so far, but it ties in very closely with another level of this planning framework, USNORTHCOM (Northern Command) CONPLAN 3502 Civil Disturbance Operations, which is the 21st century replacement for GARDEN PLOT, the Pentagon's plan used between the 1960s and 2002 for domestic riot control & emergency operations in such settings as the LA Riots.
In 2010 I found presentation files on a US Army Corps of Engineer server - for full story please see TC Indymedia Exclusive: Secret 'Trigger' & blueprint for emergency domestic military crackdown plan revealed. Having seen first hand domestic military operations at the 2008 Republican National Convention & 2009 G20 Pittsburgh, the growth and use of domestic military capacity for crowd control is a more-than-hypothetical situation -- and the subsequent obfuscation of those operations by political officeholders and appointees is quite terrifying in its implications.
This Civil Disturbance Operations Subcourse training manual ties right into material cited in the CONPLAN and supporting documents, including many of the same riot control weapons. An earlier version of a very similar manual can be found via that link.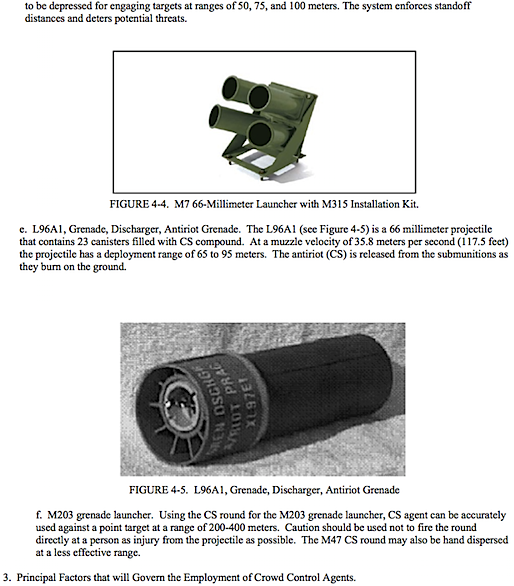 Plus this one has quizzes!!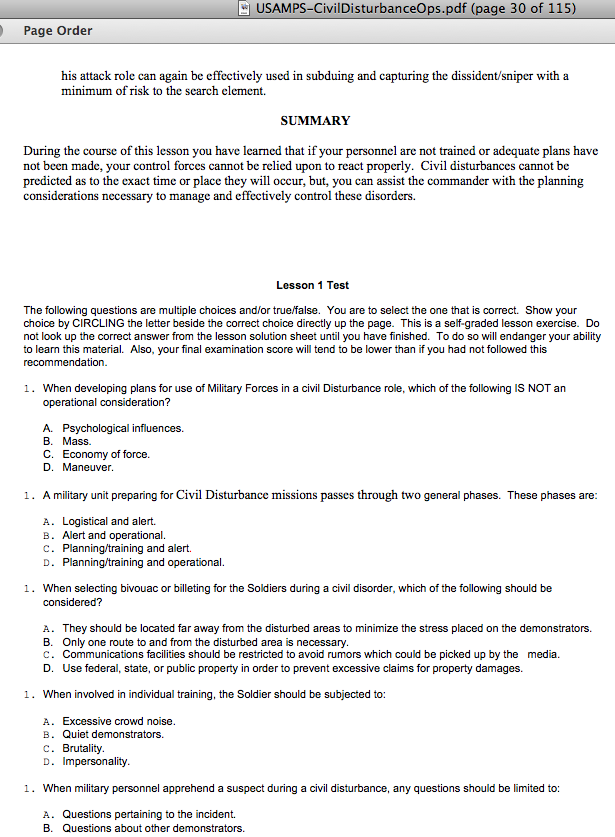 Billeting - I swear I heard something about revolutionaries complaining about billeting earlier... Something everyone makes a big deal out of this time of year....
There is a lot of stuff about formations -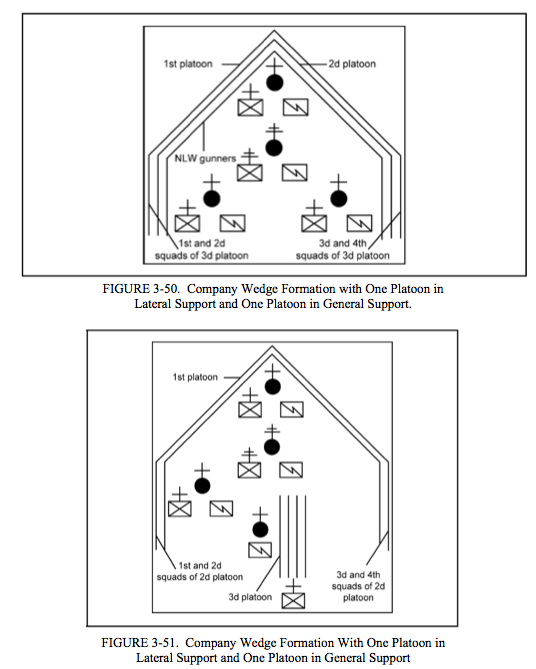 P 62: Handy tip that rioter-impressing safe-port position is a PSYOP and tiring!
(a) The safe-port position is extremely useful in making a show of force before rioters. The above mentioned carrying position is the primary method of carrying weapons in the control force formation. It allows the Soldier to control both ends of the weapon while moving in and out of the formation and advancing the crowd.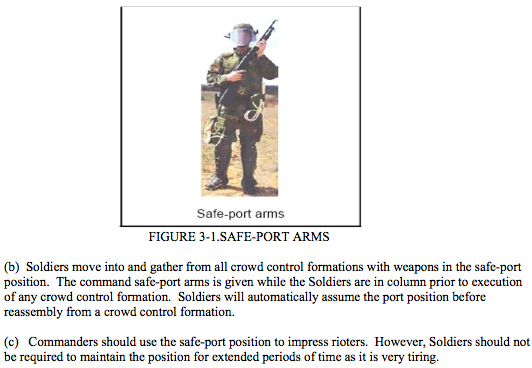 All the stuff about gathering intel against rioting/unlawful Americans is nice and creepy and they definitely aren't saying anything about the Defense Intelligence Agency or National Geospatial Intelligence Agency.
[.............]
b. Collection.

(1) Military information elements having counterintelligence resources will maintain the ability to collect civil disturbance threat data during the period in which there is a distinct threat of actual civil disorder requiring the use of federal military forces.

(2) On activation by the Department of the Army, military intelligence elements having counterintelligence capability will:

(a) Establish and maintain contact with suitable local, state, and federal authorities.

(b) Collect civil disturbance data concerning incidents, and estimate the capability of civil authorities to control the situation. This can be achieved through direct contact with civil authorities.

(c) Report collection results to the Department of the Army in accordance with current plans.

(d) Keep appropriate commanders informed. (e) Provide intelligence support to the Personal Liaison Officer Chief of Staff of the Army.

(f) Recommend methods of overt collection, other than liaison, if required, to the Department of the Army for approval.

(3) Military intelligence elements may employ methods of collection other than liaison only on order of the Department of the Army.

(4) Covert agent operations are not used to obtain civil disturbance data on persons or organizations without specific advance approval of each operation by the Under Secretary of the Army.

(5) Basically, the following vital elements of data will be required for sound planning and operations once approval has been received:

(a) Objectives of elements which are a distinct threat to cause or are causing civil disturbances.

(b) Times and locations of disturbances.

(c) Cause of disturbances.

(d) Existence of persons, groups, or organizations which have distinctively threatened or are creating disturbances.

(e) Estimated number of persons who will be or are involved in civil disturbances. (f) Assembly areas for crowds.

(g) Presence and location of known leaders and persons who are a distinct threat to cause civil disturbances.

(h) Organization and activities planned by the leaders who are a distinct threat to cause civil disturbance.

(i) Source, types and locations of arms, equipment, and supplies available to the leaders who are a distinct threat to cause civil disturbance.

(j) Use of sewers, storm drains, and other underground systems by the elements who are a distinct threat to cause or are causing civil disturbances.

(k) Identification of new techniques and equipment not previously used by elements that are a distinct threat to cause civil disturbances.

(l) Attitude of general masses towards: (a) Groups causing civil disturbances. (b) Civil law enforcement authorities. (c) Federal intervention to control the disturbance.

(m) Possible threat to public property including private utilities. (n) Communications and control methods employed by elements referred to in paragraph 1 above.

PART C - Request for Federal Support/Training 1. Request for Federal Support.

a. Providing military support to state and local governments to assist them in quelling a civil disturbance or riot requires close coordination through a host of state and federal agencies. It requires a though briefing of Soldiers at all levels on what they can and cannot do with respect to law enforcement. Civil authorities must be briefed on the restrictions placed on federal forces by the Constitution of the United States, federal statutes and laws.

b. Under the Constitution of the United States and United State Codes the President is empowered to direct federal intervention in civil disturbances to:

(1) Respond to state request for aid in restoring order (2) Enforce the laws of the United States. (3) Protect the civil rights of citizens (4) Protect federal property and functions.

c. The Secretary of Defense retains approval for federal support to civil authorities involving the use of DOD forces, personnel, and equipment. The Secretary of the Army is the Department of Defense executive agent is the approval authority for federal emergency support in response to natural or man-made disasters (except weapons of mass destruction [WMD]). The Directorate of Military Support (DOMS) plans and executes the DOD domestic support mission to civil authorities. The DOMS is the DOD primary contact for all federal departments and agencies during DOD involvement in most domestic support operations. DOMS is also the staff agency responsible to the Chief of Staff, Army and Secretary of the Army for recommending to them appropriate measures necessary to cope with civil disturbances and terrorism and to transmit the approved recommendations to Department of Defense agencies for execution and to supervise the execution. The missions and functions of DOMS are outlined in AR 500-50. Additional roles of responsibilities of various agencies can be found in FM 3-19.15

Prior to activating federal military forces there is a sequence of steps that must occur. When data begins to show that a disturbance may develop into a situation that will require the help of federal forces, several actions are introduced at the federal level while state and local law enforcement agencies attempt to contain the disorder. Such actions may include increasing the readiness posture of forces named to help the jurisdiction concerned.

d. As the situation worsens and the state employs its National Guard, the U.S. Attorney General would send his personal agent to the scene of the disorder. This agent is named as the Senior Civilian Representative of the Attorney General (SCRAG) and is the organizer of all federal activities in the area of the disorder, including contact with local civil authorities. At the same time, the Chief of Staff of the U.S. Army would send his personal liaison officer (PLOCSA) to the scene along with members of the Department of the Army Liaison Team (DALT) that serves as his planning staff.
[.........] CROWD CONTROL PAGE 35+
c. Techniques for Crowd Control. There are numerous techniques designed to provide the commander with flexibility of action in accomplishing crowd control. He must select a combination which will produce the desired results within the framework of the selected crowd control option. The most common techniques appropriate for military usage are discussed below.

(1) Observation. This consists of deployment of persons or teams to the periphery of a crowd for the purpose of monitoring its activity. It includes gathering data on crowd size, location, mood, and reporting on the developing situation. This technique includes posting persons on strategic rooftops and other high terrain overlooking the crowd. This latter measure provides additional security to control force personnel should they become committed to other crowd control operations. Such a team may be composed of an expert marksman, a radio operator, and an observer equipped with binoculars. Care must be taken to assure that committed control forces are aware of the locations of such teams to prevent their being mistaken for sniper elements.

(2) Communication of Interest and Intent. In certain situations, effective communication with crowd and mob leaders and participants may enable the commander to control the situation without resorting to more severe actions. When planned and organized demonstrations, marches, or rallies within the disturbed area are announced, the control force commander in coordination with local authorities should meet with organizers of the activity in order to communicate the interest of the control forces. The following matters, as appropriate, should be discussed.

(a) Parade or demonstration permits. (b) Location of demonstration and routes of march. (c) Time limits for the activity. (d) Provision of marshals by activity organizers. (e) Prevention of violence. (f) Safety of all concerned.

(3) The task force commander and local authorities should also communicate to the activity organizers

their intent to cope with violence, unlawful actions, and violations of restrictions imposed on the activity. It is intended that, by this communication between activity organizers and control force personnel, the demonstration, rally, or parade will occur without incident through the mutual cooperation of all concerned. The intentions of control forces will not be effective if delivered as an ultimatum. A limited, begrudging dialogue with activity organizers reduces the opportunity for authorities to learn the plans of the demonstrators. It must be remembered that if this communication is not effected, the activity organizers might well hold the demonstration in defiance of local authorities, thereby creating a potential for violence that might not have existed if this technique had been employed.

d. Channelization. Pressure can be brought to bear on the dissident leadership to channel the crowd into an area which will minimize the disruption when the following requirements are met:

(1) When communications have been established with the dissident leadership.

(2) When the intent and nature of the crowd activity is known.

e. Diversion. When communication exists with the dissident leadership, consideration may be given to efforts to divert the leadership of the crowd itself from its stated or obvious objective. The diversion should support the objectives of the control force either by reducing the strength of the crowd situation or motivating the crowd to seek an area more easily controlled by the control force.

f. Cooperation. Decreasing the potential disruption of the crowd activity may be accomplished by an active attempt on the part of the control force to obtain cooperation of the dissident leadership. Whenever there is an attempt by the crowd leadership to seek permission and cooperation of the local government, every effort should be made to maximize this cooperation by demonstrating an attitude of facilitation. This may be accomplished by helping the leadership to organize a peaceful demonstration while establishing guidelines which will minimize the impact of the demonstration on the community.

g. Selection of Force Options.

(1) The commitment of federal military forces must be viewed as a drastic last resort. Their role, therefore, should never be greater than is absolutely necessary under the particular circumstances which exist. This does not mean, however, that the number of Soldiers used should be minimized. The degree of force required to control a disorder is often inversely proportionate to the number of available personnel. Doubts concerning the number of Soldiers required should normally be resolved in favor of large numbers since the presence of such large numbers may prevent the development of situations in which the use of deadly force is necessary. A large reserve of Soldiers should be maintained during civil disturbance operations. The knowledge that a large reserve force is available builds morale among military and law enforcement personnel and helps to prevent overreaction to annoying acts by unruly persons.

(2) In selecting an operational approach to a civil disturbance situation, the commander and his staff must follow the "minimum necessary force" principle; for example, crowd control formations or crowd control agents should not be used if the area filled with manpower would be sufficient.

(3) Every effort should be made to avoid appearing as an alien invading force and to present the image of a restrained and well-disciplined force whose sole purpose is to help to restore law and order with a minimum loss of life and property and due respect for those citizens whose involvement may be purely accidental. Further, while crowd control personnel should be visible, tactical, or force concentrations which might tend to excite rather than to calm should be avoided where possible.

(4) The normal reflex action of the well-trained combat Soldier to sniper fire is to respond with all firepower available. In a civil disturbance, this tactic endangers innocent people more than snipers. The preferred tactic is to allow a special reaction team (SRT) who is trained for this type of mission, to enter the building from which sniper fire starts. Keeping with the controlling principle that the team must use only the minimum force necessary to fulfill the mission, the commander may select any one of the following options for arming his Soldiers:

(a) Riot Shield. In the hands of a well trained soldier, the riot shield can be utilized as both a defensive and offensive weapon when contact is made with an aggressive crowd. The primary use of the riot shield is for defense of the line. However, each riot shield holder must be proficient in its retention. The Soldier holding the shield must be trained to react when a demonstrator grabs the top of the shield by slapping with his strong hand and gives the following command" Get back", "Get away" "Stop". If a rioter grabs the bottom of the shield the Soldier should be trained in forcefully dropping to one knee and pinning the rioters' fingers to the ground.

(b) Baton. The baton is most effective in a crowd control operation and is considered the primary weapon for crowd control operations. The baton is considered to be an offensive weapon with reduced lethality and unlike the rifle, the loss of a baton to the crowd does not create a serious threat. Soldier must be trained with the riot baton to the point its various techniques are automatic to them. This training must also include the vulnerable points on the body so they can avoid areas that may cause permanent injury or death when struck.

Currently there are two types of riot batons, wooden and expandable. The most common one is the 36 inch hickory riot baton with thong. There is also the 24-inch to 36 inch expandable riot baton, which has been added to the nonlethal capabilities set. Each Solder within the control force need to be proficiently trained in all techniques for blocking and striking. Improper use of the riot baton by an untrained Soldier has the potential for creating a greater problem than what already exist.

(c) Shotgun. The 12 gage shotgun is a pump action shotgun currently in the nonlethal capabilities set (NLCS) inventory. The pump action shotgun is chambered to take up to 3-inch shells. The 3- inch chamber allows for the use of M1012 and M1013 NL munitions. This shotgun also provides a visually distinct alternative to the standard military issues weapon.

(d) Rifle. The rifle, if capable of automatic fire, must be modified to prevent automatic operation. Keeping with the controlling principle of using only the minimum force necessary to fulfill the mission. If the Soldier are equipped with their long weapons and are in the front lines of the formation, the weapon should be carried across their back from left to right with the muzzle of the weapon pointed down and the butt of the weapon pointed up. The weapon should be cleared and the magazine in the proper ammunition pouch.

(e) Non lethal weapons and munitions. Nonlethal weapons and munitions are an additional asset afforded to the commander in civil disturbance and are preferred over lethal force. The showing of force with nonlethal weapons and munitions may assist in crowd dispersing, separate, or leave the area with minimal causalities. This nonlethal capability set (NLCS) is a well-rounded, versatile package of both equipment and munitions. NLCS are dived into four distinct categories: personnel protection, personnel effectors, mission enhancers and training devices

(f) While each of the above options represents an escalation in the level of force, they are not sequential in the sense that a commander must initially select the first option, or proceed from one to another in any particular order. So long as the option selected is appropriate, considering the

existing threat, the minimum necessary force principle is not violated.

1. The rifle and rifle with bayonet attached have extremely limited offensive use as both may constitute deadly force. The primary value of the rifle or the rifle with bayonet attached is the psychological impact on the crowd. While the use of fixed bayonets can add considerably to this effect, the danger of intentional or accidental injury to demonstrators or fellow control force personnel prevents such use except with extremely violent crowds.

2. Fire by selected marksmen. Fire by selected marksmen may be necessary under certain circumstances. Marksmen should be pre-selected, trained, and thoroughly instructed. They may be placed on vehicles, in buildings, or elsewhere as required.

3. Full firepower. The most severe measure of force that can be applied by Soldiers is that of available unit firepower with the intent of producing extensive casualties. This extreme measure would be used as a last resort only after all other measures have failed or obviously would be impractical, and the consequence of failure to completely subdue the crowd would be an imminent overthrow of the government, continued mass casualties, or similar grievous conditions.

4. Shotgun. The riot shotgun is an extremely versatile weapon; its appearance and capability also produce a strong psychological effect on rioters. It is particularly suited to certain applications in civil disturbance operations. When used with No. 00 buckshot ammunition, it is an excellent point target weapon extremely effective at limited range. By varying the nonlethal munitions' M1012 and M1013 the weapon can be employed with considerably less possibility of serious injury or death. This provides the commander with a desirable flexibility in selecting the ammunition most appropriate under the existing conditions

(g) The measures described in paragraphs 1 through 5 below, may be applied in any order as deemed suitable by the responsible commander as long as his application is consonant with prescribed confrontation management techniques outlined earlier.

(1) Proclamation. A public announcement is considered an excellent medium to make known to a crowd the intentions of the control force commander. In some cases, such an announcement makes further action unnecessary. An announcement puts the population on notice that the situation demands extraordinary military measures, prepares the people to accept military presence, tends to inspire respect from lawless elements and supports law-abiding elements, gives psychological aid to the military forces trying to restore order, and shows to all concerned the gravity with which the situation is viewed. In making a proclamation, a commander may consider imposing a time limit. However, the situation may change, and not imposing a time limit may leave the commander other options as he sees fit, as long as the proclamation is specific in its instruction.

(2) Show of Force. A show of force is effective in various situations in civil disorder control operations. A show of force may as simple as Soldier dismounting from buses or trucks in plan sight of the demonstrators, but must be far enough away to prevent a provoked attack of thrown objects. When a crowd has gathered in a large area, show of force can take the form of marching a well-equipped, highly disciplined control force into their midst. When persons are scattered throughout the disturbance area in small groups, a show of force may take the form of motor marches of Soldiers throughout the area, saturation patrolling, and the manning of static posts or similar measures.

(3) Employment of Crowd Control Formations. Crowd control formations are used to contain,

disperse, block or break up a non conforming crowd; these crowd control formations are more effective in urban areas than they are in open fields or parks. When this method is utilized in urban areas, it is easy to disperse or split the crowd into small groups, isolate instigators, or funnel a crowd into a desired area. The use of such formations is part of the show of force and has a strong psychological effect on any crowd.

(4) Employment of Water. Water from a high pressure hose may be effective in moving small groups on a narrow front such as a street or in defending a barricade or roadblock. Personnel applying water should be protected by riflemen and in some cases by shields. In the use of water, the factors discuss below should be considered.

(a) Water may be used as a flat trajectory weapon utilizing pressure, or as a high trajectory weapon using water as a rainfall. The latter is highly effective during cold weather.

(b) The use of a large water tank (750 to 1,000 gallons) and a power water pump mounted on a truck with a high pressure hose and nozzle capable of searching and traversing will enable Soldiers to use water as they advance. By having at least two such water trucks, one can be held in reserve for use when required.

(c) In using water, as with other measures of force, certain restraints must be applied. Using water on innocent bystanders, such as women and children, should be avoided; ways to escape must be provided; and the more severe use, flat trajectory application, should be used only when absolutely necessary.

(d) Fire departments are normally associated with lifesaving practices rather than maintenance of law and order. In order to maintain this image, fire department equipment will not be used for riot control and crowd dispersal.

(e) Use of Crowd Control Agents. Crowd control agents are extremely useful in civil disorder control operations because they offer a humane and effective method of reducing resistance and lessen requirements for the application of more severe measures of force. Task force commanders are authorized to delegate the authority to use crowd control agents and other forms of non lethal force at their discretion.

2. Establish Area Control.

a. General. Acts of violence, such as looting, arson, and vandalism, are greatly reduced when the physical and psychological influence of lawlessness is defeated. In establishing effective area control, commanders must recognize the problem of widespread looting and arson that has accompanied most large urban disorders. Performance of this task consists of reducing or eliminating those conditions which contribute to the outbreak or continuation of lawlessness in the disturbed area.

(1) Looting. When dealing with persons involved in looting, extreme care and adherence to the principle of minimum force must be observed. Looting may start at any time or place as an isolated incident and spread quickly throughout the affected areas. Looting is not limited to any particular sex or age group; it includes the very old, the very young, women, and children. For example, many children may be looting without any idea of how serious their actions are. In the control of looting, unit leaders must recognize that deadly force is not authorized.

(2) Anti-looting. Unit commanders must be familiar with anti-looting measures which can be taken by civil authorities, such as boarding up broken or unbroken windows, covering windows with photo-

luminescent particles, and by the prompt posting of looting penalty proclamations. Anti-looting actions that can be taken by military forces include the establishment of foot and motor patrols, the posting of fixed guard posts, and the lighting of likely areas for looting. Guards at fixed posts will be briefed not to leave their posts to pursue individual looters on foot, but to remain on post and prevent looters from approaching their areas of responsibility. All guards must be briefed that looters will not be fired upon nor will deadly force be used to catch looters.

(3) Protected or Sensitive Commercial Establishments. A main consideration in the conduct of civil disturbance operations is to prevent liquor, drugs, weapons, and ammunition from falling into the hands of rioters. Therefore, liquor stores, drug stores, sporting good shops, pawn shops, and hardware stores are main targets for looters and must be kept under close observation by means of foot and motorized patrols. Normally, businesses of this type must be identified in advance and included in emergency plans.

(4) Arson. Arson is generally defined as a crime of purposely setting fire to a building or property. Acts of setting fire to buildings, property, etc., often follow disturbances. Certain situations may arise in controlling arson where the use of deadly force is authorized and necessary.
[.........] PAGE 40
(2) Imposed Restrictions. Except in the unlikely event of martial law, federal military forces will not have the authority to impose restrictions such as a curfew on the civilian population. Certain restrictions, however, may be imposed by civilian authorities to help in the control of lawlessness. Military leaders should be prepared to recommend which restrictions are of substantial value in comparison with the burden of enforcement. The most commonly used restrictions include:

Curfew. The curfew is a control measure which has proved highly effective in many civil disturbances. Its purpose is to restrict the unauthorized movement of personnel on streets and public places during specified periods of time, especially during the hours of darkness. Joint planning with civil authorities regarding the imposition of a curfew should provide for:

(a) Coordination of the initiation, enforcement, and termination of a curfew.

(b) Public announcements of the beginning and ending of curfews. Civilian authorities make these announcements through local mass media, pamphlets, and public address systems to ensure maximum exposure.

(c) Curfew exemptions and guidance on who should receive them, including written authorization or passes.

(d) Provision for the apprehension and disposition of curfew violators.

(3) Sales Restrictions. Restrictions on the sale, transfer, and possession of sensitive material such as gasoline, firearms, ammunition, and explosives will help control forces in minimizing certain forms of violence. Limiting the availability of weapons to the potential sniper or terrorist may reduce the likelihood of such violence. The effective enforcement of these restrictions, however, requires extensive planning and the commitment of adequate manpower to this effort.
So much for the Second Amendment SUCKAZ....
[.........] PAGE 22+
f. Army Detention Facilities.

(1) The Army will not operate facilities for confinement, custody, or detention of civilian personnel apprehended for violation of local or state laws as long as civil confinement facilities, operated by the Department of Justice, state, or local agencies are sufficient to accommodate the number of persons apprehended.

(2) When it appears that available local facilities are insufficient, due to the large number of persons apprehended or detained, and this fact can be verified by the person or agency responsible for the facilities, temporary confinement/detention facilities may be operated with prior approval from DA, specifically, the Chief of Staff, U.S. Army. These facilities will be operated only until custody of the persons detained can be transferred to and assumed by civil authorities. They will not be used for the confinement of persons charged or convicted under civil jurisdiction.

(3) Temporary confinement/detention facilities can be developed from local federal facilities provided they are adaptable to the requirements of custody and control. Such facilities should be established, if possible, within the affected area; this will conserve time, transportation, and escort personnel.

However, if no suitable federal property is available within the affected area, they can be located elsewhere on any property under federal control as long as the persons to be detained are apprehended in the affected area. Whenever such temporary facilities are established during civil disturbance control operations, the Army is responsible for providing those personnel, facilities, and supplies necessary for the custody, control, health, comfort, and sustenance of persons detained.

(4) Officers and key NCOs specifically trained and experienced in confinement operations are required to operate such facilities. Guards and support function personnel operating under the direct control of such officers and NCOs need not be specifically trained or experienced in confinement operations as long as they are under close and continuing supervision of trained responsible personnel. Whenever females are detained, they must be held in physically separate detention facilities and under the control of selected female guards operating under the supervision of trained and experienced confinement personnel.

(5) Temporary detention facilities should be constructed and arranged to provide for adequate custody, control, and safety of detainees. It is advisable to use existing permanent-type buildings. Where sufficient permanent structures are not available, only that amount of new construction required for temporary custody, control, and administration of prisoners should be accomplished. Temporary field- type facilities provide compartments to assure effective control.

(6) The same operational procedures that apply to the operation of installation confinement facilities and treatment of detainees apply to these temporary facilities except that those policies and procedures establishing training, employment, mail and correspondence, and administrative discipline requirements will not apply. Detailed guidance in procedures for confinement of detainees is contained in EPW Operations, FM 3-19.40.

g. Special Equipment. Certain items of equipment available to military and civil police forces can do much to limit injuries to civilian and military personnel and destruction of property. These items increase the psychological effects of a show of force and offer additional protection and versatility to civil disturbance forces during the operations.

(1) The 12 gage shotgun is a pup action shotgun currently in the non lethal capabilities set (NLCS) inventory. The pump action shotgun is chambered to take up to 3-inch shells. The 3-inchchamber allows for the use of M1012 and M1013 NL munitions. This shotgun also provides a visually distinct alternative to standard military weapons that may be desired based on mission considerations.

(2) The shotgun, as in the case of other firearms used in civil disturbance operations, is fired only on the orders of a qualified superior officer when lesser measures of force are not effective, or when the individual Soldier has no other means of protecting his life.

(3) The M7 is a 66-millimeter vehicle-mounted NL grenade-launching device that is mounted on a HMMWV. It is a indirect fire support system that can deliver the M99 blunt trauma grenade that creates a sting-ball effect. The M315 installation kit is used to install an M7 discharger on the turret ring of appropriate HMMWV variants. An adjustable bracket allows the launch angle to be depressed for engaging targets at ranges of 50, 75 and 100 meters. The system enforces standoff distances and deters potential threats.

(4) The M1012 is a single projectile round made of hard rubber that is shaped like a bomblet and designed to be fired at a single target. With the muzzle velocity of 500 feet per second, the M1012 as the effective range of no closer that 5 meters and no further that 30 meters. Engagement inside of 5 meters could result in serious bodily injury or death. Beyond 30 meters the kinetic dissipates to the point where the round becomes ineffective.

(5) The M1013 is a multiple projectile round with .23 caliber hard rubber pellets that is designed to be fired at and employed with the purpose of affecting multiple targets. With a muzzle velocity of 900 feet per second, the M1013 has an effective range of no closer than 5 meters and no further that 30 meters. Engagements of less than 5 meter can result in seriously bodily injury or death. Beyond 30 meters the kinetic dissipates to the point where the round becomes ineffective

(6) The midsize riot control disperser (M37) is the size of a standard fire extinguisher that uses compressed air to force the RCA out to a range of 30 feet. It has the capacity to employ 18 burst of RCA into a hostile crowd while maintaining excellent standoff capabilities. The M37 can be refilled and is rechargeable. It can be refilled with CR solution (liquid agent) or CS (dry agent). For the purport of training the M37 can be filled with water and CS can be substituted with talcum power.

(7) The Squad riot control agent disperser (M33A1) is designed to provide crowd control and protection at the squad level. It is capable of projecting a ballistic stream of RCA's beyond 25 feet in up to 25 half- seconds burst. It consists of a frame and harness assembly, compressed-gas cylinder (agent container assembly) air pressure assembly, gun and hose assembly, multi-jet spray unit, and check valve assembly. The M33A1 can be refilled and is rechargeable. For training purposes, CR can be substituted with water and CS and be substituted with talcum power.

(8) The above mention items are but just a few of the non lethal weapons and munitions available to the commander and unit to utilize during a response to the civil disturbance, and can be utilized to train and prepare Soldiers. Additional non lethal weapons and munitions as well as protective gear can be found in FM 3-19.15.

3. Vehicles. Armored vehicles and transport vehicles add to the readiness of the crowd control force. The use of these vehicles increases flexibility, reduces troop commitments, and provides protection for personnel. In considering the use of vehicles, however, it must be remembered that they should be secured by foot elements.

a. Armored Security Vehicles (ASV) can be used in several ways to keep the effects of civil disturbances at a minimum.

(1) Their use adds a considerable psychological effect to riot control formations while providing added protection for Soldiers. They provide a readily accessible barrier for Soldiers to crouch behind if necessary, and excellent protection for those inside.

(2) Their use as mobile command posts offers the added advantages of security, communication, and mobility.

(3) They are well adaptable to roadblock operations providing the advantages listed above, while at the same time providing an excellent barrier.

(4) Their use for patrolling an area of violence adds to the psychological effect, and allows Soldiers to maneuver in close to snipers in order to make an apprehension.

b. Standard military transport vehicles can be modified with sandbags, armor plating, wire screening, or similar materials to give some protection against sniper fire and thrown objects. They provide mobility and communication capability for area coverage. Soldiers should be deployed with ample vehicles to provide sufficient flexibility to handle all situations in an area of civil disturbance. TOE allowances should probably be increased for this purpose.

3. Other Equipment. In addition to the special equipment discussed above, certain other items should be available for use in operations within the disturbance area.

a. Armored vests and protective masks are required for anti-sniping operations and at other times when violence is expected. Flexibility is an important consideration. For example, the limitation on visibility must be considered when requiring the use of protective masks, and the limitation on mobility when wearing the armored vests.

b. Successful conduct of the overall operation may depend on other items. Auxiliary lighting should be available to include hand-portable lights, vehicular-mounted searchlights, spotlights, flood-lights, flashlights, flares (with caution toward fires), and vehicle headlights. Prefabricated wood or metal barriers, or suitable materials, such as wire or ropes, may be used to block off an area; signs should be provided to supplement these barriers. Evidence equipment, including movie and still cameras with telescopic lenses, and recording devices should be obtained and placed into position.

c. Other items of equipment should also be provided. Helicopters should be used for observation, communication relay, illumination, resupply, reserve displacement, and numerous other tasks. Adequate firefighting and fire protection equipment are vital in civil disturbance.

d. Provisions should be made for appropriate communications equipment for use at the scene and between the scene and the operations headquarters. Every available means of communications to include public address systems--both hand-portable and vehicle-mounted--should be used.

PART E - Operational Tasks

1. General. In any civil disturbance operation, certain tasks must be accomplished to reach the ultimate objective of restoring and maintaining law and order. To do this, action must be taken to gain control of the situation. Control forces must perform certain tasks that will develop a physical and psychological environment which will permit law enforcement personnel to enforce the law and maintain order. The importance of having a high degree of flexibility and selectively in the response cannot be overemphasized. It is just as important that the tasks selected be completed only after a careful evaluation of the situation. This evaluation must consider the particular uniqueness of the situation. In this respect, the commander selects those tasks that are most likely to reduce the intensity of the given situation. Therefore, not all tasks will apply in all situations, but control force commanders and unit leaders must identify those tasks which must be performed and then develop plans and procedures for their accomplishment. The operational and integrated tasks listed below are discussed in detail in the paragraphs and lessons to follow.

a. Operational Tasks. (1) Isolate the area. (2) Secure likely targets. (3) Control crowds or mobs. (4) Establish area control. (5) Neutralize special threats.

b. Integrated Tasks.

(1) Gather, record, and report information. (2) Apprehend violators. (3) Maintain communications. (4) Maintain mobile reserves.

(5) Inform the public. (6) Protect the fire service operations. (7) Process detained personnel.

2. Isolate the Area.

a. This task includes the restriction and sealing off of the disturbed area. The objectives of sealing off the disturbed area are to prevent the disorder from spreading to unaffected areas, to prevent escape of persons bent on expanding the disturbance, to speed up the exit of the uninvolved, and to exclude unauthorized personnel from entering the affected area. In order to prevent the disturbance from expanding in size and strength, it is critical to prevent the inflow of extra demonstrators or curious onlookers into the disturbed area.

b. When military forces are committed to helping the civil authorities in controlling civil disturbances, the situation will be beyond the capability of local law enforcement agencies and a scene of major disorder should be expected. This disorder may be characterized by small, dispersed groups which are looting, burning, and generally causing havoc in the area, or it may be characterized by large groups participating in varying degrees of illegal conduct. The initial action taken by military forces to control the disorder is critical and should include the immediate isolation of the disturbed area.

c. The initial commitment of control force personnel may be required to clear a building or an area in order to isolate the persons creating the disturbance from those not yet motivated or actively involved. The primary emphasis should be on identifying what area and who has to be isolated.

3. Isolated Techniques. There are several techniques to use when isolating a disturbed area.

a. Barricades and Roadblocks. Barricades and roadblocks are physical barriers which deny or limit entry into and exit from the disturbed area. They can be used to totally deny passage of people and vehicles or to permit certain designated categories of persons and vehicles to pass. They must be positioned so as to prevent their being bypassed, surrounded, or cut off from support. In many cases, it may be impractical to physically seal an area due to the physical and geographical considerations, such as in the case of a college campus or a suburban area.

b. Barricades Against Personnel. Civil disturbance operations contingency planning should provide for the availability of portable barricades which slow down the passage of personnel. Concertina wire is a suitable material for rapid construction and effectiveness, although wooden sawhorses, ropes, and other field expedient devices may suffice. Concertina wire should be used sparingly and only under serious circumstances as it is indicative of violent disorders.

c. Roadblocks Against Vehicles. The erection of effective roadblocks which cannot be easily breached by vehicles requires large, heavy construction materials. One item that can be stockpiled in advance is 55- gallon drums to be filled with water or earth on site. Other materials include sandbags, earthworks, trees, or heavy vehicles. Several roadblocks placed at intervals of 25 to 50 feet provide sufficient depth to prevent breaches by heavy or high-speed vehicles.

d. Construction Considerations. The construction of barricades and roadblocks should provide cover from small arms fire where this threat is likely. Provisions should be for night illumination of approaches to the position; however, care must be taken not to silhouette the personnel manning it. Construction materials which would chip or shatter upon impact by thrown objects should be covered with canvas or sandbags to prevent injuries from flying fragments. Warning signs should be placed in front of the position directing authorized personnel not to approach the position. One technique of providing a quickly erected barrier is the use of vehicles parked bumper to bumper; however, this procedure may subject the vehicles to damage by a hostile crowd. Another device which may be effectively used both as a barricade and a part of a formation is the use of a locally built frame of wood or metal with wire covering.

e. Perimeter Patrols. Perimeter patrols should be established to prevent entry or exit from the disturbed area, particularly by persons or groups trying to bypass barricades and roadblocks. These patrols operate along the outer operational boundary of the disturbed area. Perimeter patrols can be integrated with area patrol routes within the disturbed area.

f. Pass and Identification Systems. Unit, installation, or municipal contingency planning should include a pass and identification system providing for the entry and exit of authorized personnel to and from the isolated area. Procedures should be established for press personnel, emergency medical personnel, public utility work crews, and for any other personnel who have a legitimate purpose for entering and exiting the isolated area. Consideration must be given to those persons residing within the disturbed area who must travel to and from work. An effective pass and identification system requires careful and detailed planning as a contingency measure.

g. Public Utility Control. Ensure that civil authorities have established a means for controlling public utilities to include street lights, gas, electric, water, and telephone services so that they may be turned on or off to support the tactics employed by the control forces.

4. Secure Likely Targets.

a. General. Certain buildings, utilities, and services are critical to the economic and physical well-being of a community and require security to prevent disruption of essential functions. In addition, certain facilities and buildings have become symbolic targets to radical or extremist elements and should be identified and afforded protection with the priorities established. Among the likely targets to be attacked are control force command posts, billeting areas, and motor parks. Another potential problem in civil disturbance operations is the threat posed by dissident elements intent on doing bodily harm to control force personnel and civilian dignitaries in the disturbed area. When such threats exist, military personnel may have to be committed to security operations. In particular, security must be placed on armories, arsenals, hardware, and sporting good stores, pawnshops, and gunsmith establishments, or other places where weapons or ammunition are stored. To conserve manpower, consideration may be given to evacuating sensitive items, such as weapons from stores and storing them in a central facility. Priorities for physical security must be established to prevent waste of available forces on less important facilities or those which have their own physical security forces. The degree of security necessary to protect various buildings and utilities is determined by considering the following: [..............]
It goes on.... Again the page is here. I'll leave it here to get this posted now. Check it out and be sure to get a handle on CONPLAN 3502 and other aspects of domestic military operations planning frameworks -- when similar emergency/disaster scenarios happen (i.e. Katrina) you see military personnel acting like this...
REX-84 under Iran Contra was 'then', and 'now' a literal US Army war to save the criminal banks from angry mobs is basically what's planned. Under this plan a nation ripped off & crippled by LIBOR peta-scale financial scams leaves forces like the military on the hook for defending the organized ring of criminals operating banks, i.e. "services ... critical to the economic... well-being of a community". What is the Pentagon supposed to do about the fact that the critical infrastructure is often operated by the criminally insane -- the very people who have pushed the US most of the way to the point where terrifying emergency plans like those above spring to life? X-(
Commenting on this Story is closed.
Tags for "Warning shot will not be fired" by MPs trained in Martial Law in America: Military Police training: heavily patrolled domestic detention facilities, dissident/sniper warrantless searches - CONPLAN 3502 Civil Disturbance Operations training @ Ft McClellan