TCIMC Exclusive: Contracts for IntelliDrive MnDOT Military-Industrial/U of M plan to GPS-track all cars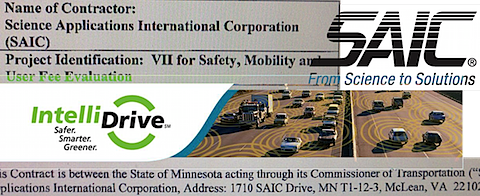 Minnesota taxpayers give intelligence contractor SAIC a cost-plus contract to evaluate MnDOT's GPS tracking program!

By Dan Feidt for Twin Cities Indymedia – Key info about Minnesota's elusive "GPS Mileage Tax" test program has finally turned up. It's actually part of a federal program called "IntelliDrive", as shown by new documents obtained on Wednesday. The Minnesota Department of Transportation has entered into a pilot program called the "Mileage Based User Fee Policy Examination" which includes a contract with the huge low-profile military-industrial intelligence contractor SAIC of McLean Virginia, a system intended to pass all GPS data from everyday travel into centralized vehicle databases. The University of Minnesota has a main leading role, along with the Battelle Institute, URS Corporation, Mixon-Hill in Kansas and the local Pierce Pini & Associates. The MnDOT data practices "handler" at headquarters in St Paul didn't like it when these documents were photographed, and they denied a request to simply copy the mileage tax project contracts onto a USB flash drive, which is the only reason we don't have the complete material at hand right now.
With these incomplete documents, it's still perfectly clear that this plan is intended to make Minnesota's roads into a mere part of a national IntelliDrive road monitoring grid - broadcasting tracking devices would be intended for all vehicles.
Some legislators already made an attempt this week to cancel funding for this mileage tax pilot project, as the Star Tribune reported, and they don't seem to want more information to reach the public before the end of Minnesota's regular legislative session this weekend. After all, you could just tax mileage by having drivers report odometer readings every year. Tracking every vehicle's location at every moment is obviously not necessary unless the goal is about controlling the vehicles and collecting real-time information on everyone's activities. Will the Democratic Dayton Administration and legislators continue to support spending more cash they don't have on this totally unnecessary total vehicle tracking 'trial balloon' program?
Below the Fold: Behavior modification as "consumer satisfaction" contract deliverables; Contact info for Military-Industrial SAIC contractors building Minnesot'a branch of the IntelliDrive vehicle tracking system; University of Minnesota and SAIC contract info. The latest version of the big tracking system is all here. SAIC: All your 10,000 Lakes Plates GPS Coordinates are belong to us :-D
So what is the point of all this?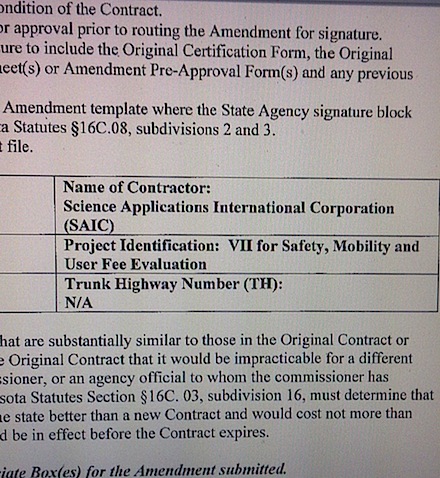 Basically the program is obviously intended to convert Minnesota roadways into spaces managed by something called "IntelliDrive". It looks like SAIC and the rest of them are cashing in on these programs. The official agenda of IntelliDrive is provided below: implementing trackers on cars and fixed points to make a complete grid of everywhere you go. None of this is really about "mileage" measurement, which again is available via the good ol Odometer.
Overall the program is intended to convert our roads into "IntelliDrive" managed spaces, which means radio transmitters and/or GPS chips in cars, and many receivers tracking your location at all times. SAIC's role seems kind of "meta": the intelligence contractors control whether the project is evaluated positively or not. The SAIC contract's criteria for "satisfaction" are quite strange.
Another detail: Preliminary rules for government personal data handling under the Minnesota Data Practices Act have been created for this pilot program.
An 2007 study on public opinion about the mileage tax was conducted by the Dieringer Research Group on behalf of MnDOT's Value Pricing Program was done (PDF here). Negative citizen impressions included (p39):
␣ Sounds a little bit sketchy with a "Big Brother" impression. – Metro High Efficiency participant

␣ Big Brother is really watching. – Duluth General Public participant ␣ I disbelieve that it would be tamper proof. There are websites devoted to cracking/

hacking anything – Metro Peak Commuter participant

␣ I do not support any implementation of equipment by the government on my privately owned vehicles. I can not support this type of system based on this type of subversive invasion. – Mankato High Miles participant
All of these are perfectly obvious concerns, especially since the DOJ Solicitor General has recently declared the federal government should always be able to plant law enforcement GPS systems on anyone's cars at any time without a warrant. With the IntelliDrive tracking apparatus, law enforcement would merely have to tap into remote databases run by SAIC or whoever. No more bulky special GPS trackers for Internet gadget geeks to pick apart.
**************
U of M MnDOT Contract No. 89261 Work Order No. 235: "Mileage Based User Fee Policy Examination"
MnDOT and the Regents of the University of Minnesota (via the Office of Sponsored Projects Administration at 450 McNamara Alumni Center) agree to furnish the Mileage Based User Fee Policy Examination project as a whole. They seem to be the masters of the project as a whole.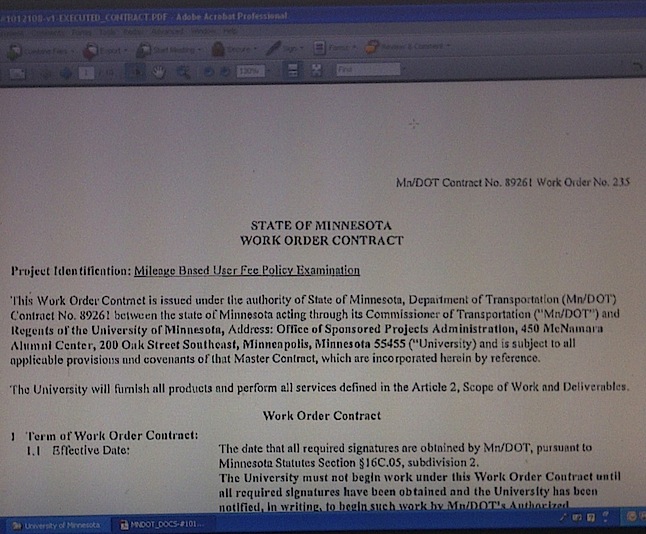 Also the University of Minnesota apparently provided some electronic device in order to ensure the programs were not overlapping – could that be the car transmitter element? The U of M's ITS Institute would seemingly be involved - see the advocacy of MnDOT Commissioner Tom Sorel on ITS at a conference in April. Here is TechPlan, the policy program with the Humphrey School.
********
SAIC MnDOT Contract No. 92809 - also listed as CFMS Contract B230(unknown): "VII for Safety, Mobility and User Fee Evaluation"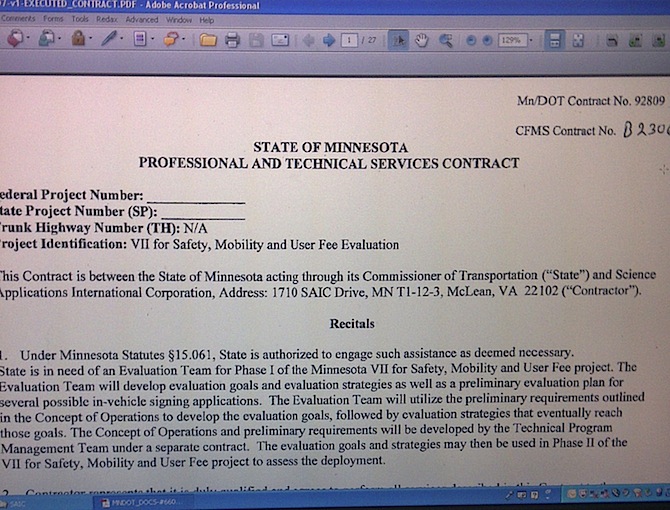 The major intelligence contractor SAIC – Science Applications International Corporation of McLean VA, is the "Evaluation Team" for the project. It has the title "VII for Safety, Mobility and User Fee Evaluation". It describes a main "Concept of Operations" (a military planning term) to be developed by a separate Technical Program Management Team contract. The Evaluation Team, SAIC, then determines how well the program is evaluated. VII seems to have meant "Vehicle Infrastructure Integration" and a fact sheet at this page recently vanished. The google cache is at the end of the article,
The contacts in the SAIC contract are: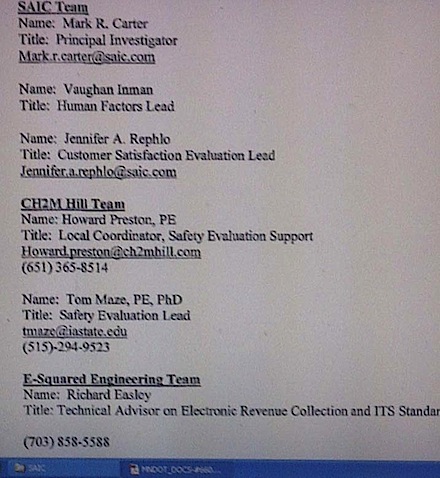 SAIC Team:
Mark R. Carter - Principal Investigator - mark.r.carter@saic.com
Vaughan Inman - Human Factors Lead
Jennifer A Rephlo - Customer Satisfaction Evaluation Lead - Jennifer.a.rephlo@saic.com
CH2M Hill Team:
Howard Preston, PE - Local Coordinator, Safety Evaluation Support - Howard.preston@ch2mhill.com - 651-365-8614
Tom Maze, PE, PhD - Safety Evaluation Lead - tmaze@iastate.edu - 515-294-9523
E-Squared Engineering Team:
Richard Easley - Technical Advisor on Electronic Revenue Collection and ITS Standards (unknown..) - 703-858-5588
The SAIC Evaluation Plan includes the following impressive recategorizations of behavior manipulation as what else, Customer Satisfaction!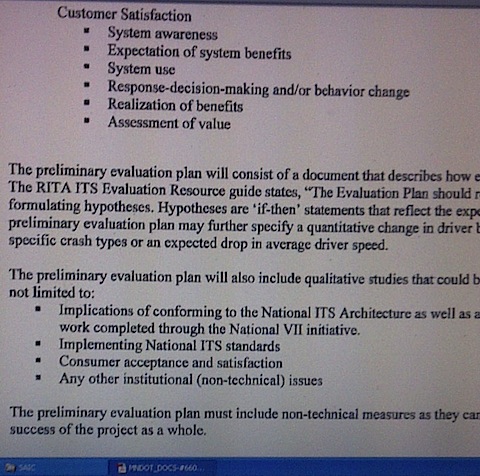 Customer Satisfaction:
System Awareness
Expectation of system benefits
System use
Response-decision-making and/or behavior change
Realization of benefits
Assessment of value
********
There is reference to the "RITA ITS Evaluation Resource Guide" (probably this) including "quantitiative change" in what appears to be driver behavior. Also it includes "implications of conforming to the National ITS Architecture" and the "National VII initiative" and "National ITS standards".
It appears a later Amendment to to the executed contract with SAIC, says the system called VII changed its name to "IntelliDrive" - a servicemarked name. MnDot "is currently developing their Intellidrive (formerly VII) for Safety Mobility and User Fee system in conjunction with the larger IntelliDrive national effort. As of June 30th 2009, Phase I was completed which included a concpet of operations, preliminary requrirements, a Phase II implementation scope of work and the preliminary evaluation plan. Mn/DOT expects The Contractor [SAIC] to conduct a final evaluation in Phase II to begin in 2010."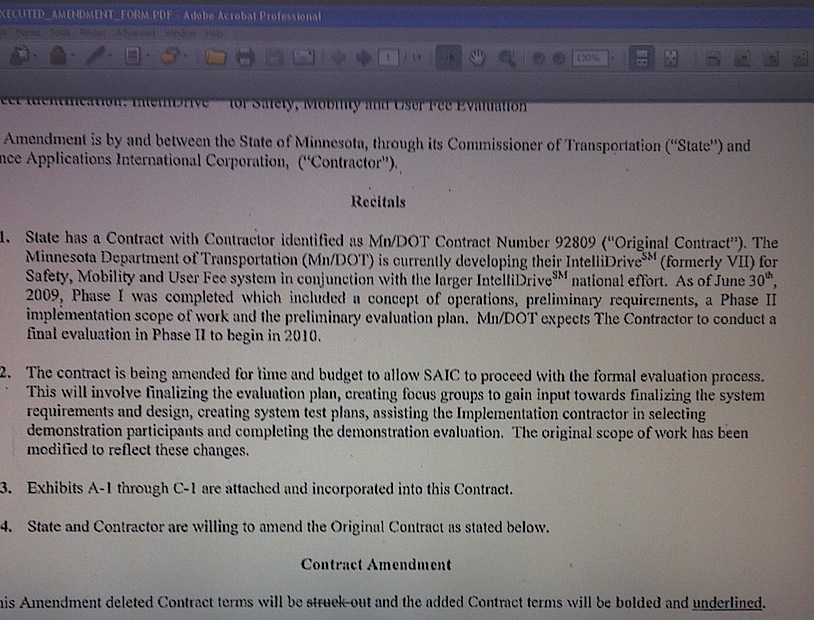 ********
Mixon Hill contract: MnDOT Contract 92808: VII for Safety, Mobility and User Fee Technical Program Agreement with Mixon Hill, Incorporated.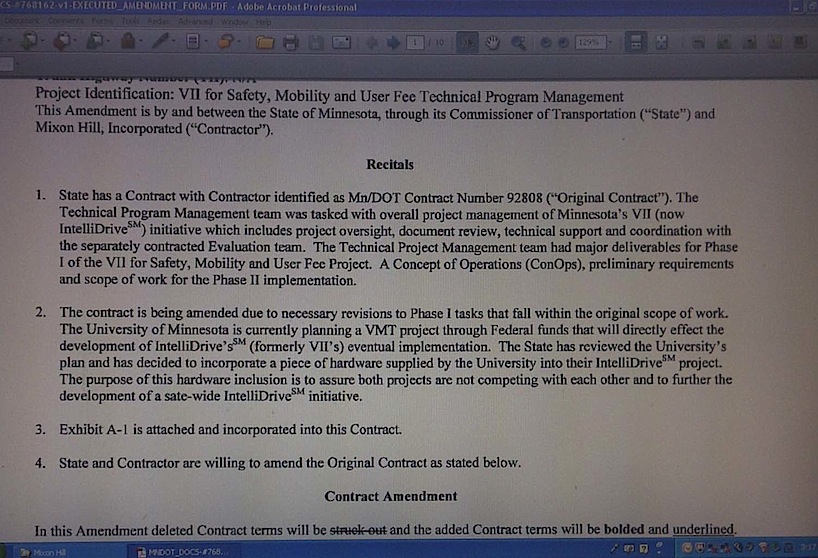 "The Technical Program Management team was tasked with overall project management of Minnesota's VII (now IntelliDrive) initiative which includes project oversight, document review, technical support and coordination with the separately contracted Evaluation team. The Technical Project Mangement team had major deliverables for Phase I of the VII for Safety, Mobility and User Fee Project. A Concpet of Operations (ConOps), preliminary requirements and scope of work for the Phase II implementation.
The contract is being amended due to necessary revisions to Phase I tasks that fall within the original scope of the work. The University of Minnesota is currently planning a VMT [Vehicle Mileage Tax] project through Federal funds that will directly effect the development of IntelliDrive's eventual implementation. The State has reviewed the University's plan and has decided to incorporate a piece of hardware supplied by the University into their IntelliDrive project. The purpose of this hardware inclusion is to assure both projects are not competing with each other and to further the development of a sate-wide [SIC] IntelliDrive initiative.
********
Battelle Institute Contract - number not available.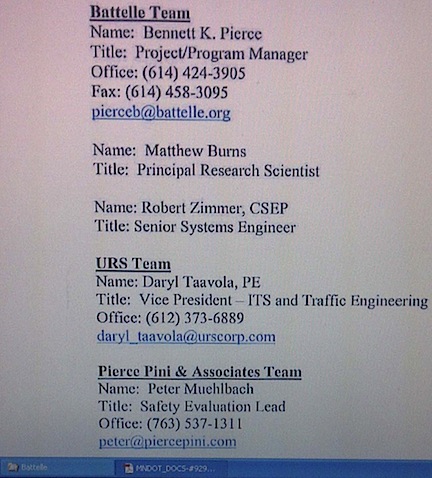 Only the photograph of the contact information is available now, due to MnDOT's reluctance to share this file on Flash drive.
Battelle Team:
Bennett K. Pierce - Project/Program Manager - Office - 614-424-3905 - Fax - 614-458-3095 - pierceb@battelle.org
Matthew Burns - Principal Research Scientist
Robert Zimmer, CSEP - Senior Systems Engineer
URS Team:
Daryl Taavola, PE - Vice President - ITS and Traffic Engineering - Office - 612-373-6889 daryl_taavola@urscorp.org
Pierce Pini & Associates Team:
Peter Muehlbach - Safety Evaluation Lead - 763-537-1311 peter@piercepini.com
********
MnDOT tracking from NAFTRACS to IntelliDrive: Sadly this is all the hard MnDOT info we have right now, because of MnDOT's rather defensive on-site data handling practices. However all the remaining elements of the program fall under the Data Practices Act request that has been slowly going through the system.
Attorney Nathan Hansen says that four different main contracts were involved, as his photo shots show SAIC, University of Minnesota and Mixon Hill folders. The laptop he was presented with had no power supply, he said, and while the documents have been "produced" the agency representative asserted to Hansen that more fees would be required to get copies of these documents. Simply copying them onto a USB flash drive was not acceptable to the MnDOT person, Hansen said. He had no time to photograph proof of it Wednesday, but he said SAIC has a cost-plus contract with MnDOT.
This new IntelliDrive/SAIC turn has actually been a long time in the works. For years MnDOT has already been trying to implement corridor tracking systems with vendor help from the military-industrial complex. Hansen got spme access the new documents in a partial response to his data request posted on his website, along with material from years prior.
Hansen heard former Gov. Tim Pawlenty talking about vehicle tracking taxes years back, which spurred him to send data requests to MnDOT about tracking systems. Four years ago, when I was at Politics in Minnesota, Hansen brought me similar documents from MnDOT about a program called NAFTRACS run by the North American Super Corridor Coaliton, which turned out to be heavily funded by Lockheed Martin. Lockheed was spearheading a program to build an RFID tag-based tracking system based on their existing "Global Information Grid" (GIG) Pentagon tracking system.
Since then, apparently MnDOT's participation in NASCO and NAFTRACS pretty much ground to a halt – and more than a year ago a GOP senator told me that RFID readers were too obnoxious to set up. He chuckled that he'd been socially engineered into buying a hybrid car which gets better gas mileage, but now the state plan was to put in GPS tracking systems to tax his cars' mileage instead. Problem, reaction, solution.
Really, if the State of Minnesota is going to enter into contracts, the Attorney General should just post all contracts on the official websites. Hansen and I got to be good friends after working years ago on this strange highway tracking agenda – as well as the other ways military-industrial contractors are reshaping Minnesota through homeland security programs. If Hansen or people like him who are actually concerned about the direction of these authoritarian programs were in positions like attorney general or judges, county attorneys etc., maybe this stuff wouldn't be so aggressive, profitable and handled in secrecy. On the whole, these issues are more about authoritarianism vs freedom than left vs right.
The issues need to be raised in the formal election process as well as at every step, including the critical last days of the legislature, entirely out of money. Both parties aren't too concerned with the drift towards spending more on greater tracking, less privacy, and more ease for law enforcement and intelligence contractors to watch our every move. From Pawlenty to Dayton, the expensive surveillance policy complex continues to unfold without pause. Do Minnesotans really need to pay SAIC right now??
*******
What is ITS?? The system called "ITS" heralded in the contracts is "Intelligent Transportation Systems" according to US Department of Transportation's Research and Innovative Technology Administration. ITS is described as: Research and Innovative Technology Administration (RITA) - United States Department of Transportation (USDOT, US DOT or DOT):
The U.S. Department of Transportation's (USDOT) ITS research program focuses on intelligent vehicles, intelligent infrastructure and the creation of an intelligent transportation system through integration with and between these two components. The Federal ITS program supports the overall advancement of ITS through investments in major research initiatives, exploratory studies and a deployment support program. Increasingly, the Federal investments are directed at targets of opportunity – major initiatives – that have the potential for significant payoff in improving safety, mobility and productivity.

ITS Strategic Research Plan, 2010-2014

On December 8, 2009, the United States Department of Transportation (USDOT) released the Intelligent Transportation Systems (ITS) Strategic Research Plan, 2010-2014. This plan defines the strategic direction for the USDOT's ITS research program for the next five years and is designed to achieve a vision of a national, multi-modal surface transportation system that features a connected transportation environment among vehicles, the infrastructure and passengers' portable devices. This connected environment will leverage technology to maximize safety, mobility and environmental performance.

Federal ITS Research Initiatives

At the core of Federal ITS research is connected vehicle research – a multimodal initiative that aims to enable safe, interoperable networked wireless communications among vehicles, the infrastructure, and passengers' personal communications devices. This research leverages the potentially transformative capabilities of wireless technology to make surface transportation safer, smarter and greener. USDOT research supports the development and testing of connected vehicle technologies and applications to determine their potential benefits and costs. If successfully deployed, this smart communications between vehicles, and between vehicles and infrastructure, will ultimately enhance the safety, mobility and quality of life of all Americans, while helping to reduce the environmental impact of surface transportation.
More information about the USDOT IPS office is at: Research and Innovative Technology Administration (RITA) page. Also see press releases.
More about Mixon Hill: Not much info is on their site but there is a page about building tracking systems on I-95. As a contractor in Kansas they are probably in a good position to join these plans for Interstate GPS-based tracking systems. mixonhill.com/services/information_technology.html
More about Battelle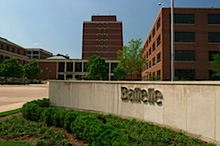 : This organization has a ton of military-industrial projects going. Their website has a huge list of things they are involved with just in National Security alone! See http://battelle.org/index.aspx // http://battelle.org/commercialization/index.aspx // and the index at: http://www.battelle.org/solutions/?Nav_Area=Solution&Nav_SectionID=4. Their stuff includes:
And total freeway tracking for MnDOT. Huzzah!
More about E-Squared Engineering: of Ashburn Virginia, dedicated to providing quality services in the Intelligent Transportation Systems" with similar contracts on news page. Interesting staff support services: Currently, E-Squared Engineering has Staff Support Services contracts with the following organizations: the Intelligent Transportation Society of America, the International Parking Institute (IPI), the Commercial Vehicle Safety Alliance(CVSA), the National Private Truck Council (NPTC), NACHA The Electronic Payments Association, and the Institute of Transportation Engineers (ITE).
More about Pierce Pini & Associates: A MN-based general civil engineering firm: ppa@piercepini.com 763.537.1311 10600 University Avenue NW, Suite 3B Coon Rapids MN. 100% Woman Owned Business established in 2003 and certified as such in the state. Pierce Pini & Associates, Inc.


More about "Stealth Company" SAIC: More than half the 44,000 employees have security clearances. This is a really pretty important contractor with an impressive aura of national security weirdness, & deliberately low public profile. Here's their official history. They actually had a Remote Viewing (ie Staring at Goats style telepathy program) sent to them in 1991 called the StarGate Project. In 2002 they launched a huge important NSA program called Trailblazer and also failed to build a new FBI case file system in 2003. See also 2007 PBS report on failed projects and corruption .
See also SAIC's expansive role as intelligence contractors in legally dubious roles in Iraq: Washington's $8 Billion Shadow | Vanity Fair. SAIC is frequently found working with Booz Allen Hamilton in weird intelligence affairs. (Vanity Fair pic of McLean VA HQ by Coral von Zumwalt) Lead: "....the dark and ruthless corporation whose power extends into every cranny around the globe, whose technological expertise is without peer, whose secrets are unfathomable, whose riches defy calculation, and whose network of allies, in and out of government, is held together by webs of money, ambition, and fear.... If there were such a company—and, mind you, there isn't—it might look a lot like the largest government contractor you've never heard of:"
CH2MHill is a major global construction company based in Colorado. Tom Maze from Iowa State is part of their group on Safety issues evidently.
URS Corp: major contractor.
*******Let's Go Out with IntelliDrive and VII: The White Papers!
The final death of the great anonymous American drive is prescribed in the following white papers. For now we'll leave this article with most of the Intellidrive white paper text, and hope for a more properly informed public debate about spending money on having SAIC evaluate a Minnesota version of IntelliDrive when potholes, bridges, and many other concerns demand major funds.
Here is the 2010 IntelliDrive Roadmap via a supporting organization IntelliDrive Task Force - ITS America's Connected Vehicle Task Force Wikispace.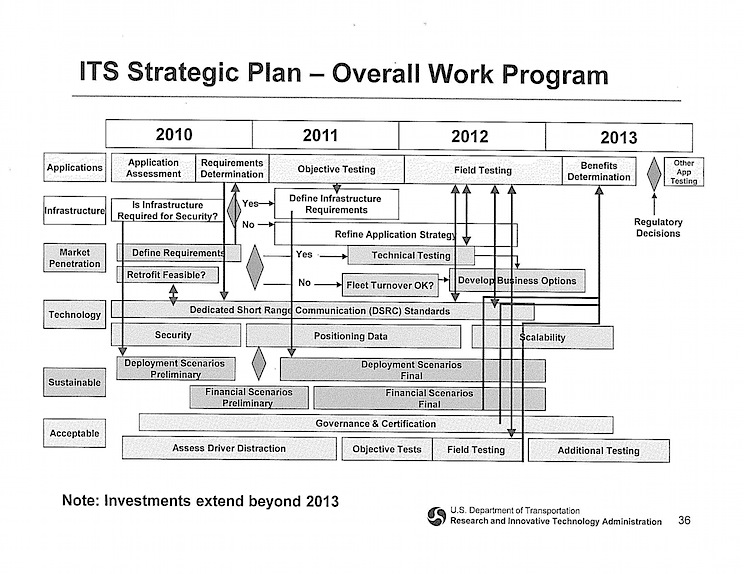 DOT.GOV RITA | ITS | From VII to IntelliDrive White paper: [The images are broken]
Purpose of the White Paper

This white Paper traces the strategic evolution of the U.S. Department of Transportation's (DOT's) plans for IntelliDriveSM research. As this White Paper was being written, in Spring 2010, DOT was embarking on the ITS Strategic Research Plan, 2010-2014 - IntelliDrive research comprises a major portion of the research program. DOT recognizes the need to provide stakeholders with an explanation of the major strategic issues that drove the development of its current plans for IntelliDrive research, and an explanation of how, and when, the research results will enable decisions regarding the future development of IntelliDrive capabilities.

The VII Vision

Launched in the mid 1990s, with roots stemming back to earlier DOT research in the 1960s, the U.S. DOT ITS Program adapts emerging technology innovations to the needs of the surface transportation community. The ITS Program initially focused on applying processes and technologies that had been developed by the defense community - such as surveillance technologies and systems engineering - to transportation systems.

In the early 2000s, it became apparent to the DOT ITS Program and its partners that the interaction between vehicles (Vehicle to Vehicle or V2V) and between vehicles and the roadway (Vehicle to Infrastructure or V2I) held tremendous potential to address the highway safety problem and other difficult transportation challenges. Building from earlier ITS research, DOT launched the Vehicle-Infrastructure-Integration (VII) Program in 2003. The VII vision was to use wireless communication with and between vehicles to achieve dramatic safety and mobility improvements.

The VII program was rebranded as IntelliDriveSM in January 2009 - largely for communications purposes. The VII name was not readily understood outside of research circles and was easily confused with the Roman numeral for seven. However, the program has also undergone changes in concept from the original vision, due to initial research findings.

The VII Approach

Fundamentally, VII was an engineering research program. As the VII Program was originally conceived, V2V was recognized as a potentially powerful technology that could address many safety issues. While V2V promised dramatic safety gains, it was assumed at the time that achievement of maximum safety benefits would require all vehicles (cars, trucks and buses) to have radio devices installed to provide the necessary V2V communications capabilities. Unfortunately, it would take 15 to 20 years for the vehicle fleet to turn over so that a sufficient number of vehicles would be equipped with the V2V technology and start to yield tangible benefits.

Because of this fleet-turnover-timeline problem with V2V implementation, the VII Program planners concluded that an alternative approach was needed. In-vehicle devices talking with roadside infrastructure (V2I) was seen as a way to achieve safety benefits more quickly and address safety issues that V2V could not. The VII research program was based on the premise that infrastructure-based radios would achieve benefits – particularly safety benefits – sooner. The program was grounded in the need for a nationwide deployment of roadside infrastructure to support the communication with and between vehicles, while radios became prevalent in the new vehicle fleet.

In addition, in the VII approach, both V2V and V2I required a dedicated short-range communications (DSRC) radio tuned to the 5.9 GHz frequency in the vehicle and in the infrastructure. The Federal Communications Commission allocated, at the behest of the transportation community, 5.9GHz for transportation safety applications. This allocation gave the VII program the key technical requirement that would be needed for ultimate deployment. The spectrum was allocated for safety purposes, but it allowed unused bandwidth to be available for other applications, such as mobility or convenience. Preliminary indications were that safety messages would use only part of the communications bandwidth. As a result, non-safety applications, such as mobility and convenience applications, could also be accommodated through the same DSRC radio.

These assumptions - to start with V2I while V2V capabilities migrated gradually, and use of one DSRC radio at 5.9GHz for all applications - were a good starting point, but many questions remained. Would V2V and V2I work technically? Could these technologies be implemented practically?

Proof-of-Concept Test

First, DOT conducted a proof-of-concept (POC) test to address the basic technical feasibility questions. The POC, conducted in 2008 and 2009 in specially designed "test beds" located in Oakland County, Michigan and Palo Alto, California, was designed to validate the technical feasibility of key components of VII. For example, the first DSRC multi-channel radios were built for the test vehicles, and the first instrumented roadside equipment was placed at the test beds. The researchers conducted basic tests to assess the communication capabilities and characteristics of the DSRC radios and the 5.9GHz band. The POC testing proved that the basic technical concept would work. However, the POC test was never conceived as the answer to all technical questions. There were practical limitations regarding the scope of the tests. POC testing included less than 30 vehicles, and they represented only one vehicle type - light passenger vehicles. The testing focused on evaluation of message exchange between partially developed "stub" applications, using draft DSRC standards.

The POC testing accomplished much of the initial work necessary to determine that the concept was technically sound and feasible. But the question of whether it could be practically implemented remained.

The Chicken and Egg Dilemma

The VII approach had a classic "chicken and egg" problem. Why should vehicle manufacturers invest in developing and paying to install in-vehicle devices (DSRC radios) with no guarantee that there would be any infrastructure-based devices with which to communicate? Conversely, why should State and local agencies invest in the installation of infrastructure-based technology with no guarantee that there would be any in-vehicle devices for their infrastructure-based devices to talk to?

In particular, there were many uncertainties about infrastructure deployment. Early estimates indicated that approximately 300,000 roadside equipment (RSE) units were needed to support initial applications at a nationwide scale. An infrastructure installation of that magnitude had obvious problems. How quickly could those units be installed? Would infrastructure installation be faster than fleet turnover for V2V? Who would pay to install, operate and maintain RSE units? These 300,000 units needed to be installed alongside roads controlled by thousands of State and local jurisdictions. How could that many agencies all be convinced that installation of roadside radios at key locations was a worthwhile investment?

Figure 1: The Three Big Dilemmas to Achieving the VII and IntelliDrive Vision - U.S. DOT Image

VII and IntelliDrive share the same vision: safety and mobility through wireless technology. Three dilemmas exist to achieving that vision.

The VII infrastructure conundrum gave rise to three big dilemmas (Figure 1):

Which is installed first: vehicles or infrastructure?
How can the vehicle fleet be equipped with DSRC radios quickly enough to realize early benefits from the technology? In other words, how can market penetration be accelerated?
How can the financial and logistical challenges be overcome to achieve sufficient infrastructure deployment?

New Technologies

In the meantime, wireless technology exploded in the consumer marketplace, and consumer mobile communications devices, including smartphones and mobile internet devices, proliferated. These technologies had significant implications for the future of VII. To support high-speed transmission of text, voice and video data, telecommunications providers greatly expanded the bandwidths available for cellular phone technology, providing 3rd Generation (3G) networks. To make the wireless mobile devices more appealing to the customer, new applications were developed, including some capable of providing location-specific information - for example, applications that locate the closest store selling a hard-to-find item, or that forecast the weather for your location during the next 60 minutes. These applications use global positioning systems (GPS) or cellular positioning technology to pinpoint the device's location. As the wireless revolution exploded, other recent information technology innovations, including cloud computing and real-time search capabilities, showed potential for application to transportation.

As the VII Program progressed from the research laboratory stage into commercial testing and marketing, it became apparent that the DOT ITS Program needed to expand the scope of the VII Program to explore the potential applications of the newer wireless and computing technologies. To better reflect the expanded spectrum of the research, in 2009 DOT rebranded the VII Program to IntelliDrive. V2V and V2I communications remain critical components of the expanded program. While DSRC remains a primary focus for safety, the IntelliDrive research program also is exploring how other communications capabilities can be used to support non-safety applications - particularly for mobility applications.

The IntelliDrive Approach

The implementation dilemmas associated with the original VII approach and the new technologies emerging in the market indicated that it was time to adapt the research program based on new information. But, significantly, the original vision remained the same; it was only the approach to achieving the vision that needed to be revised to take advantage of new opportunities.

Safety

Results of a recent high-level NHTSA analysis of the potential of V2V and/or V2I to address crash types indicate that V2V has the potential to address a large proportion of crashes involving unimpaired drivers. Specifically, up to 82 percent of all crashes by unimpaired drivers could potentially be addressed by V2V technology. If V2V were in place, another 16 percent of crashes could potentially be address by V2I technology. In imminent crash situations, V2V is uniquely capable of addressing forward collisions and lane change/merge collisions. At very high market penetration levels V2V can also address intersection collisions. V2I has the potential to address road departure and intersections crashes at lower market penetration levels. The actual effectiveness of V2V and V2I in addressing these crash types still remains to be tested.

Implementation considerations quickly emerged as key hurdles for the original VII approach based on massive infrastructure installation up front. This fact prompted the USDOT to explore alternative approaches to achieving the safety vision.

Dilemma #1: Which is Installed First: Vehicles or Infrastructure?

The information from the NHTSA report provides a compelling reason to aggressively pursue V2V technology and applications while continuing to pursue V2I. In fact, the potential is so great, that NHTSA has embraced V2V as a priority for its rulemaking research plan, and has identified this technology for possible future regulation or other action to encourage its implementation. Action by NHTSA would dramatically change the pathways to implementation and would "crack" the chicken and egg problem by firmly establishing vehicles as the path to early implementation (Figure 2).

Figure 2: The Vehicles or Infrastructure First Dilemma - U.S. DOT Image

Answering the dilemma of which comes first – vehicles or infrastructure – could hinge on a
NTHSA regulatory decision in 2013 about whether to require technology on new vehicles.

However, regulation or other government action in private markets is not something that NHTSA or any other Federal agency takes lightly. Much research, data collection and analysis is needed to support a regulatory decision. The V2V research program outlined in the ITS Strategic Research Plan is structured to develop applications, test their effectiveness and validate the results to support a regulatory decision in 2013. If the research results indicate that IntelliDriveSM is beneficial, practicable and can be tested objectively, then NHTSA will proceed with rulemaking for light and heavy vehicles. If the results are sufficiently positive but do not justify a rulemaking, then the agency may advise drivers to purchase vehicles with this technology through its consumer information program.

If NHTSA chooses to issue a regulation requiring installation of V2V communications equipment in all new vehicles, then the "Which comes first?" question will be answered definitively. If NHTSA chooses not to regulate, then other implementation approaches to achievement of the safety goal will need to be considered.

Dilemma #2: How Can Market Penetration be Accelerated?

While the potential of V2V technology was recognized in the VII Program, benefits would be delivered only when a sufficient number of equipped vehicles were on roadways to interact. Early in the VII program, it was difficult to envision a feasible way out of this dilemma. But now, a plethora of consumer electronics devices are available in vehicles. The exponential growth of the use of these devices by travelers may open up a new avenue to accelerate DSRC into the vehicle fleet.

The concept is to embed DSRC communications in aftermarket devices, such as navigation systems, so that they emit a simple "Here I Am" message (Figure 3). The "Here I Am" message would be a subset of the full V2V message. Portable navigation systems are prevalent, and many smaller consumer devices also have navigation applications. "Here I Am" messages are continually emitted when these devices are turned on, and do not require any driver interface. Safety could be significantly increased by notifying other vehicles of the location of a vehicle that contains a "Hear I Am" device.

Figure 3 – Vehicle Emitting a "Here I Am Message" - U.S. DOT Image

Aftermarket devices have access to power, communication (typically cell) and location via GPS. This basic data, plus a little more, constitutes the "Here I Am" message. The V2V message includes all of this information, plus more robust data that is available directly from vehicle systems. The differences in message content will determine the type of applications that can be supported. "Here I Am" messages will probably have limitations in their capabilities; they will likely not have access to data from internal vehicle electronic systems. On the other hand, there is much that could potentially be accomplished with these simple messages. In addition, the presence of "Here I Am"- equipped devices would provide increased early benefit to fully equipped V2V vehicles, which could sense the location of an emitting device.

The V2V research program includes testing and validation of aftermarket DSRC devices and their potential benefit for owners of both vehicles and devices. If the research shows that these devices are effective, the market penetration dilemma may be diminished. If not, then other options need to be pursued (Figure 4).

Figure 4: The Fleet Penetration Dilemma - U.S. DOT Image

DOT supports a two pronged approach to the dilemma of accelerating market penetration: test the potential of DSRC-enabled aftermarket devices and continue to advance research on technology embedded in vehicles.

Dilemma #3: How Can Financial and Logistical Challenges Be Overcome to Achieve Sufficient Infrastructure Deployment?

Again, new research results provide new opportunities. As V2V research progresses, one of the key questions under investigation is the need for infrastructure to support V2V applications.

V2V applications are inherently about communication between vehicles. Does that require any infrastructure? Initial indications from the research indicate that some infrastructure is needed to support data security. Communications security is essential for critical safety applications - but what type of communications is needed, and what is the density of infrastructure required? These questions are still subject to study and refinement. Preliminary results are beginning to emerge that seem to indicate that communications for data security will not require DSRC; other communication technologies might be used. Further research is ongoing, but if this proves out, then it may be possible to achieve a large portion of the safety vision without requiring new DSRC infrastructure (Figure 5). It is too early to know with certainty, but the results of this research may lead to new opportunities, without some of the difficulties that greater infrastructure needs would imply.

Figure 5: Vehicle to Infrastructure Communication May Not Require DSRC for Basic Functionality (Security) - U.S. DOT Image

What would that mean for V2I applications? Clearly V2I technologies have the potential to address crash types that cannot be addressed otherwise. As mentioned earlier, V2I is uniquely suited to address intersection and road departure crashes around sharp curves. If research shows that pervasive infrastructure is not needed for V2V, then V2I applications potentially could be pursued for high-crash locations, such as signalized intersections and sharp curves. In this scenario, with infrastructure deployment limited to "spot safety" applications, far fewer than 300,000 roadside equipment units using DSRC would be needed (Figure 6).

Figure 6: The Infrastructure Deployment Dilemma - U.S. DOT Image

The infrastructure deployment challenge is lessened if DSRC is not needed for basic functionality (security) of the system, but can be applied for spot safety applications – enable gradual deployment over time.

Further research is required to explore V2I application development, testing, and validation of effectiveness, and is included in the ITS Strategic Research Plan, 2010-2014. Stakeholders are particularly interested in the potential to equip traffic signals with DSRC communications to emit a frequent message about signal status - which is termed "SPaT" (signal phase and timing) - the equivalent of a traffic signal "Here I Am" message (Figure 7).

Intuitively, SPaT data appears to provide the basis for several applications that would support safety and mobility. Additionally, it may provide early benefits for infrastructure-based technologies and spur their implementation. As more traffic signals with DSRC communications capability are deployed, this data can be captured for mobility applications as a supplement to other wireless and conventional transportation data.

Figure 7: Vehicle to Infrastructure Communication with Traffic Signals Using DSRC May be Valuable for some Safety and Mobility Applications - U.S. DOT Image

Mobility

In the early stages of VII, it was understood that mobility applications that used vehicle-based communications did not need the same communications requirements as safety applications. In fact, only the most rigorous safety applications needed DSRC at 5.9GHz. Mobility applications had been a part of the original VII Program only because the spectrum could support BOTH safety and mobility simultaneously. If the DSRC radio was required for safety applications, the reasoning went, it could also be used for mobility. This was a rational approach for the initial program; however, technology innovations provided new opportunities.

Driven by the consumer marketplace, entrepreneurs have been using signals from cell phones to capture location data that could be converted into useful information for transportation applications. Other innovators are leveraging wireless equipment in vehicle fleets to capture traffic data. This data, already available, approximates the mobility data that could potentially be captured through V2I.

It now appears that the original mobility goals can be substantially realized using data from non-DSRC sources, while accommodating future DSRC data. Data from wireless sources is already being combined with data being collected by public sector agencies. Today these public sector data are collected by conventional equipment, such as loop detectors, traffic cameras, ramp meters and traffic signals. The challenge for the future is to increase the amount of data available and integrated for multiple uses. For instance, it remains a challenge to integrate data from multiple agencies to provide information across various modes or various jurisdictions within a connected region. Enhancing the quantity and quality of available data and the ability to combine data is likely to fuel new applications that could lead to revolutionary mobility improvements. Considerable research is required to understand user data requirements; to explore data quality issues related to new data sources; to understand how to integrate newer data with conventional data; and, finally, to develop applications for public sector use (Figure 8).

Figure 8: Achieving the IntelliDrive Vision for Mobility Applications - U.S. DOT Image

Achieving the IntelliDrive vision for mobility depends on the ability to combine data from multiple existing and new sources and use it in revolutionary new ways

The ITS Strategic Research Plan, 2010-2014 includes two new programs to address these research questions: the Real-Time Data Capture and Management research program, and the Dynamic Mobility Applications research program.

The objective of the Real-Time Data Capture and Management research program is to enable the development of environments that support the collection, management, integration, and application of real-time transportation data. Some of the data types that can be captured and managed include: situational safety; environmental conditions; congestion data; and cost information (derived from both traditional sources - traffic management centers, Automated Vehicle Location systems; and non-traditional sources - mobile devices, IntelliDrive applications). Data also can be collected from toll facilities, parking facilities, and transit stations. The results of the Real-Time Data Capture and Management research program will reveal opportunities for achieving greater efficiencies within our transportation systems.

Dynamic Mobility Applications is a closely related research program. This program will seek to answer the question, "What do we do with all this data if we have it?" Key objectives include development of multi-modal applications targeted to public sector managers, leveraging the abundance of new data that is possible from wireless technology. DOT will work with stakeholders to identify a few high-value applications and test them in real-world environments to assess their effectiveness. The intent is to focus on applications that are of specific value to public agencies across all modes. Consumer applications will be left to private companies.

IntelliDrive also will create the capability for location-specific messages to be relayed back to individual vehicles - for instance, traffic, weather, school zone, speed limit, or road closure information. This would make other forms of message delivery, such as variable message signs, 511 systems, highway advisory radio, etc. less critical in the future - saving local agencies money. Ensuring safe, non-distracting, message delivery methods is a critical part of the ITS Strategic Research Plan, 2010-2014.

Other Vexing Issues

In addition to the challenges described above, other vexing issues must be addressed. The POC test accomplished a great deal by developing and testing the technical foundation needed to support IntelliDrive. However, many technical issues will need to be addressed to achieve a system that can be effectively implemented and is financially feasible. Discussed below are some of the particularly difficult remaining technical issues. Research to address these issues is under way. The ITS Strategic Research Plan, 2010-2014 describes how the results of the technical research will be used to systematically resolve the issues into implementable solutions.

Data security: For IntelliDrive to be successful, data being transmitted wirelessly needs to be secure. Many questions remain around data security: What level of security is needed? What are the communications requirements? How much of what type of infrastructure is needed for secure data transmission? What are the tradeoffs between data security requirements and privacy principles?
Positioning: Positioning, or the precision and accuracy of locating a wireless device, is another challenging issue. V2V technologies require relative positioning ("Where is the other vehicle relative to me?"), whereas V2I communications require absolute positioning ("Where is the vehicle? On which road? In which lane? Where in the lane?"). Initial research indicates that relative positioning using equipment from a single GPS manufacturer may be reasonable; however, relative positioning using equipment from different GPS manufacturers may be more problematic. For V2V to work, relative positioning must be uniform and fully addressed to support safety applications.
Scalability: Another uncertainty of the IntelliDrive approach is whether these technologies, assuming they perform well in limited pilot and field operational tests, will be able to accommodate all 250+ million vehicles in the United States. The VII POC test involved only a small number of vehicles with prototype equipment. More extensive tests are needed to identify any issues for the communication network at full scale.

In addition to these and other technical issues, policy issues also remain. Many of these issues must be addressed iteratively, as technical research results inform policy options. Among the most complex policy issues are these:

Balancing technical data security requirements with privacy principles: The handling of security "certificates," the frequency of certificate renewal, the use of multiple certificates, and the handling of fraudulent messages all require careful consideration and balancing of security requirements with privacy concerns. The VII Privacy Principles have served as a basis for technical design. As the design, particularly for security, is further developed, the implications for privacy will need to be fully considered.
Certification and enforcement: The IntelliDrive concept depends on interoperability of components developed by various manufacturers based on open standards. Purchasers must be able to trust that equipment does indeed work within the system as intended. A transparent process must be in place to instill this trust – whether it is based on self certification by manufacturers or some level of testing and oversight by outside entities. This issue is especially significant for active safety applications that are intended to safeguard against a crash. There may also be some authority or operating entity involved in issuing security certificates to system users. An approach for these oversight and authority issues needs to be developed.
Funding: At present, there are many unanswered questions about the ultimate structure that an IntelliDrive system would take, and whether it would be built and operated by the public or private sectors or through a partnership. Multiple developers and operators is another possibility. Regardless, there will be a cost for building and operating the system. Funding requirements and potential sources will need to be identified and assessed to determine feasibility.

These are just a few of the particularly difficult policy issues. Narrowing policy and technical options will require an iterative process that will include discussion and balancing of benefits, costs and societal acceptance.

[......]

Achieving the Vision


Much has changed with the metamorphosis of DOT's VII Program into IntelliDrive. But what has not changed is the vision that these programs seek to achieve: dramatic improvements in safety and the potential for revolutionary improvements in mobility. A third major goal was added most recently - decreasing transportation's impact on the environment.

While the vision remains the same, new opportunities have emerged to address the three major shortcomings of the VII approach. IntelliDrive embraces a multi-pathway approach that uses DSRC capabilities for safety; and explores aftermarket DSRC devices for their ability to more quickly provide benefits through faster penetration into the vehicle fleet. IntelliDrive also takes advantage of data collected by non-DSRC devices for mobility applications.

The broader IntelliDrive approach is designed to address the three dilemmas of the "chicken and egg" impasse between vehicle and infrastructure deployment; market penetration in vehicles; and the institutional and policy issues associated with infrastructure deployment. Many additional technical and policy issues remain to be addressed, but work is under way (Figure 9).

Figure 9: Achieving the IntelliDrive Vision ― the Full Concept - U.S. DOT Image

Safety, mobility, weather and environmental applications take different paths to achieving the IntelliDrive vision, but may ultimately converge in the use of DSRC over time.

The ITS Strategic Research Plan, 2010-2014 is designed to take advantage of the new opportunities provided by advancing technology, and to do so in a way that specifically addresses the remaining research questions that need to be answered to ensure implementation of the full suite of applications that comprise IntelliDrive.

IntelliDrive is new next evolution of VII. It opens the research scope to new opportunities, while continuing to pursue the original goal of materializing the safety, mobility and environmental benefits that captivate our imaginations and motivate our work.

For more information about the ITS Strategic Research Plan, 2010-2014, please visit:http://www.its.dot.gov/strat_plan/index.htm

For more information about IntelliDrive, please visit: http://www.its.dot.gov/intellidrive/index.htm

*********

http://www.its.dot.gov/images/title_bckgnd.jpg); background-attachment: initial; background-origin: initial; background-clip: initial; background-color: initial; font-family: arial, helvetica, sans-serif;">Vehicle Infrastructure Integration (VII)

What It Is

The VII Initiative is a cooperative effort among USDOT, state governments, and the automobile industry to support development of an information infrastructure for ongoing real-time data communications with and among vehicles to enable a number of safety, mobility, and commercial applications. An implemented VII network will enable travelers to access traffic condition and routing information for multiple modes of travel, receive warnings about imminent hazards, and conduct commercial transactions within their vehicles. Transportationagencies will have access to data needed to better manage traffic operations, support planning, and more efficiently manage maintenance services. The goals of the VII initiative are to (1) assess the value; (2) determine the technical feasibility, economic viability, and social acceptance; and (3) conduct research needed to support development of a VII network.

America 's roadways have a safety and congestion problem. Vehicle crashes account for more than 42,000 deaths per year. Urban surface transportation congestion is estimated at $80 billion per year. Fifteen years of ITS research have indicated that traffic condition and roadway information can have a tangible and significant positive impact on these statistics. Furthermore, new technology, enabling active safety applications, such as advanced warnings to drivers approaching a patch of ice or merging into another car, have the potential to provide whole new levels of safety benefits.

Current Status

USDOT's VII program is divided into three phases:

Phase I - Operational testing and demonstration (SafeTrip-21)
Phase II - Research in the areas of enabling technology, institutional issues, and applications to support deployment
Phase III - Technology scanning to determine potential new technology horizons for VII

In December 2007, USDOT announced SafeTrip-21—Safe and Efficient Travel through Innovation and Partnerships in the 21 st Century. This multi-application field test of safety and congestion-reducing technologies will be launched at the Intelligent Transportation Systems World Congress in New York City from November 16-18, 2008 and then integrated into other test locations. SafeTrip-21 builds upon research into the use of information, navigation, and communications technologies to prevent accidents and alleviate congestion by providing drivers with real-time safety warnings, traffic and transit information, and advanced navigational tools. SafeTrip-21 will accelerate testing and deployment of these capabilities.

Phase II continues the foundational research necessary to determine the viability of a nationwide VII deployment decision. Significant work has been done in partnership with automakers, equipment suppliers, and State and local governments in assessing potential technology and applications. Concept testing is being conducted in Michigan, California, Virginia, Arizona, Florida, Minnesota, and New York. Privacy principles and related technical requirements have been developed. Study of other legal and institutional issues is underway, and work has begun to explore potential deployment scenarios and business models. Phase III will be an ongoing scanning activity to make sure that the vehicle infrastructure integration initiative continues to plan for and use the best available technology over time.

FHWA-JPO-08-016 ITS EDL 14086

For more information go to: http://www.its.dot.gov/vii/index.htm or http://www.vehicle-infrastructure.org/
Commenting on this Story is closed.