#Egypt! And now... Algeria? Battle of Algiers 2011 - Bonus: Musharraf Arrest Warrant!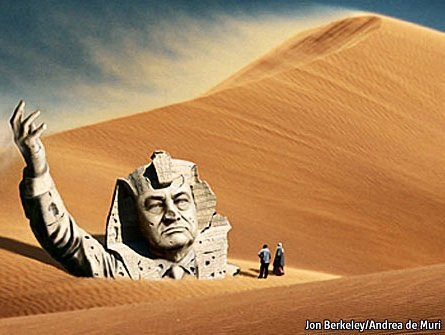 Stunning turns in Egypt - you have to hand it to the Egyptians, they filtered & neutralized all those underhanded thug provocateur tricks in a snap. Then unloaded their dictator - Old School Civilization like a boss ;-D
Update - they just posted an arrest warrant in Pakistan for ex-Prime Minister Pervez Musharraf! The hits don't stop! AFP: Pakistan court issues arrest warrant for Musharraf - for the Bhutto assassination no less!
The season of change is rolling across North Africa! It's going so fast I suspect the NGO/Color Revolution western corporate people who like to control turmoil in these nations have totally missed the boat! It's a more random insurrection than packaged "Orange" or Lebanon's "cedar" revolution. It's just a jumble of regular, decent people who have finally snapped. If everything is jumbled around, there's nothing for them to Vanguard. Total win!
Apparently this is a leader dude in Algeria calling upon people to protest - I hear words like Mukhabarat for secret police (or was it Mubarak?) - anyway this is what it's all about!

Here is one from the Egyptian Embassy in Algieria: the dude goes off in Arabic and French and totally loses his voice:

So as in Egypt, in Algeria a terrifying 'militant' combination of regular people and upright religious people are coming together to jeer at the police state - but why now? The answer region-wide has a lot to do with the economy, inflation & especially food inflation.
The Associated Press seems quite alarmed by "Militants" in Algeria today - I need to tune into AlJazeera...
ALGIERS, Algeria – Hundreds of police began taking up positions the night before a pro-democracy protest march in Algiers by militants who have vowed to defy an official ban.
The planned march on Saturday is aimed at pressing for reforms to push this oil- and gas-rich North African giant toward democracy.
The weeks-long uprising in Egypt that forced Hosni Mubarak to abandon the presidency after 30 years was bound to fuel the hopes of Algerians seeking change — as did the "people's revolution" in neighboring Tunisia. A month of deadly uprisings there pushed Zine El Abidine Ben Ali into exile Jan. 14.
However, many Algerians fear any prospect of conflict after years of a brutal insurgency by Islamistextremists that has left an estimated 200,.000 dead. There is no specific call by organizers of the protest march to oust President Abdelaziz Bouteflika.
With scattered strikes and clashes, including five days of rioting in early January, the atmosphere in Algiers has been tense.
There have been numerous copy-cat suicides, and attempted suicides, in Algeria like the self-immolation attempt by a young man that set off the Tunisian protests in mid-December.
The Coordination for Democratic Change in Algeria, an umbrella group of human rights activists, unionists, lawyers and others, insists the march will take place despite numerous warnings by authorities to stay out of the streets.
Buses and vans filled with armed police were posted at strategic points along the march route and around Algiers, including at the "Maison de la Presse," a small village in Algiers where newspapers have their headquarters.
The daily El Watan said Friday that barrages were thrown up on roads leading to Algiers, apparently to stop busloads of potential demonstrators expected to descend on the capital.
In a clear bid to placate militants, Algerian authorities announced last week that a state of emergency in place since 1992, at the start of the Islamist insurgency, will be lifted in the "very near future." However, it maintained a ban on demonstrations in the capital. Authorities offered to allow Saturday's demonstrators to rally in a meeting hall.
The army's decision to cancel this nation's first multi-party legislative elections in January 1992 to thward a likely victory by a Muslim fundamentalist party set off the insurgency. Scattered violence continues.
********
This drama in Algeria reminds me of the 1966 revolutionary historical drama Battle of Algiers by Gillo Pontecorvo, one hell of a film... The Battle of Algiers (1966) - IMDb
Part 1 of 13, it's on youtube!!!

Wild times for freedom, friends! Nothing is written in stone
Commenting on this Story is closed.