Negative Return on Investment Economy: Catherine Austin Fitts and the fake war on drugs
Catherine Fitts knows the Real Deal about the Shadow Economy, Iran Contra stock fraud, the basic structure of the prison industrial complex, and other key areas. She worked in GOP presidencies and observed all the marvelous cut-outs, pass-throughs, cartel rip-offs, overall money-laundering insanity and all the other 1980s-1990s Michael Milken-style insider classics.

After her software started mapping out relationships between mortgage defaults and money laundering (geospatial modeling rendered Los Angeles CIA cocaine operations' capital flows into rather obvious blips). The Department of Justice put a stop to Hamilton Securities and ripped off their stuff.
The theories of how these "waste of money" institutions like the prison-industrial complex are really quite well-designed cash funnels for the usual interlocking bastards. DynCorp and Lockheed Martin entering these areas has not done wonders for their transparency.
(She certainly helped Michael Ruppert get a handle on the Iran Contra cocaine flow from the financial side @ From The Wilderness and copvcia.com. Good times!)
I previously noted Fitts on the famous Jane Cat Witness Drive-By Shooting at MCTC College Next To My Apartment Diagram post of March 2006: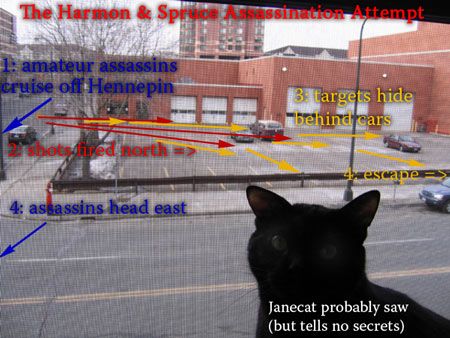 Too much drama in the LBC; or I could have had my own Zapruder film" / Narco News: Dillon, Read & Co. Inc. and the Aristocracy of Prison Profits: Part IV
and also on Another Great Moment: New York Stock Exchange chairman Grasso visits Colombia - 1999 : Narco-Dollars For Dummies (Part 3): How The Money Works In The Illicit Drug Trade:

In late June 1999, numerous news services, including Associated Press, reported that Richard Grasso, Chairman of the New York Stock Exchange flew to Colombia to meet with a spokesperson for Raul Reyes of the Revolutionary Armed Forces of Columbia (FARC), the supposed "narco terrorists" with whom we are now at war.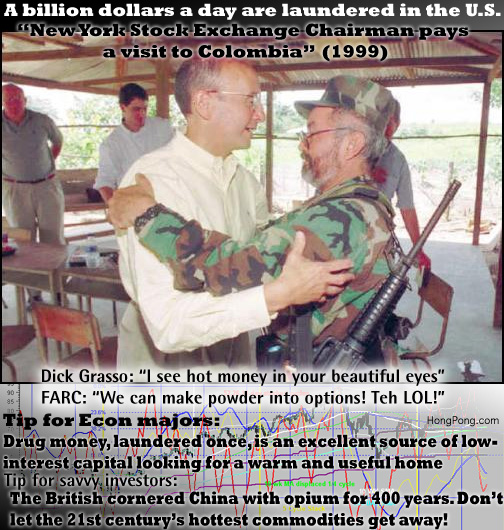 Just a brief excerpt of Fitts work:
Mapping the Real Deal: The American Tapeworm
Wednesday, 30 April 2003

The "Break It-Fix It" Subsidy of a Negative Return on Investment Economy
For several years, I have been studying and writing on the corporate and banking economic warfare model of globalization. Just from a case study of one private investor, Pug Winokur, and his investments in and with DynCorp, Enron and Harvard, examples abound.
- US neighborhoods are overrun with narcotics trafficking and HUD financial fraud while systematically worked by enforcement, seizure and War on Drugs teams supported by DynCorp and generating profits for the Harvard Endowment;

- Latin American pipelines, water and other assets are sold for significant discounts to market value to Enron and other multinational investors while DynCorp helps War on Drugs military teams move peasants off the lands;

- Russian banks and pension funds are emptied out by organized crime and laundered through NY Fed member banks while Harvard as financial advisor helps privatize Russian oil companies over to their endowment investment network;

- DynCorp personnel supplying police and aircraft maintenance are active with local mafia in Eastern Europe and practice buying and selling children as slaves which they use for sex;

- $3.3 trillion is missing from the Department of Defense and the Department of Housing Development where Lockheed, DynCorp & AMS are active managing computer systems and Harvard supplies appointees and contract services.

- Manipulation of the gold markets by the US Treasury and NY Fed member banks are led by Larry Summers, Secretary of the Treasury, and now President of Harvard and his predecessor Robert Rubin, Secretary of Treasury, and now member of the Harvard Corporation Board.
These shenanigans are well documented by a series of courageous reporters and market commentators, including Anne Williamson, Greg Palast, Kelly O'Meara, William Murphy and Chris Sanders.
This tapeworm operates globally. It has been winning at economic warfare because those opposed to it cannot see it clearly and are not yet networked globally to move people, places and capital out of its reach. My pastor, Bishop Alfred Owens, says, "If we can face it, God can fix it." Indeed, divine authority is hamstrung-- waiting for the necessary global networks to align around a common map of the real deal about global consolidation of economic and political power --- and the resulting liquidation of wealth.
This tapeworm is managed tightly by the cartels that syndicate around central banking and warfare and it has four phases:
- Phase One--Break It: Private syndicates make money destroying a place through organized crime, covert operations, warfare or a variety of both;

- Phase Two- Buy It: The profit generated from breaking it is used to buy or seize "legal control" at a discount;

- Phase Three- Fix It: Government funding, credit and subsidies are then used to "fix it" while harvesting remaining assets, including with narcotics trafficking, sex slavery and any other form of liquidating the human, intellectual, environmental and physical capital in a place:

- Phase Four—Declare Victory: Victory is then declared and a flow of foundation and academic grants funded by the "break it-fix it" profits generate awards, photo opportunities and official archives and documentations for the perpetrators to be admired for their bringing of advanced civilization to the natives.
What emerges from an investment banker's analysis of billions of transactions involved in situation after situation, in place after place, in year after year, is surprisingly simple.
We are watching a global first world economy that has a negative return on investment.
For example, in 1997 I lead an analysis of US federal expenditures and credit activities in the Philadelphia area for a group of US pension fund leaders. After analysis of the detailed data resulting from $10 billion of government reengineering and $400 billion of federal credit portfolio strategy managed by my company, the evidence was overwhelming ---the federal investment in Philadelphia had a negative return on investment. In short, government budgets were rigging profits and income for companies and people in the area. After each year of government investment, Philadelphia spent more time doing things that were fundamentally not productive and so had been paid to grow "stupider."
The deterioration in environment, culture, infrastructure and quality of life in Philadelphia that was obvious from walking around the city matched the numbers rather than the spin in the corporate news that the economy was doing well. Equity yields were falling steadily and only cooked government and corporate books could make it look otherwise. The primary thing on the rise was the smugness of the leaders of Philadelphia institutions as their success at covert management and personal "personnel benefits" grew ever stronger.
***********
See also: her column: Scoop Features: Catherine Austin Fitts - The Real Deal.
Much more recent news:
Dillon Read And The Aristocracy Of Stock Profits
Saturday, 25 August 2007
Column: Catherine Austin Fitts

I made the decision to write "Dillon, Read & Co. Inc. and the Aristocracy of Stock Profits" in the middle of a vegetable garden in Montana during the summer of 2005. I had come to Montana to develop a venture capital model to support a healthier, fresher local food supply. If we want clean water, fresh food, sustainable infrastructure, and healthy communities, we are going to have to finance and govern these resources ourselves. We cannot invest in the stocks and bonds of large corporations, banks and governments that are harming our food, water, environment and all living things and then expect these resources to be available when we need them.
Surviving and thriving as a free people depends on creating and transacting with currencies and investments other than those printed and manipulated by Wall Street and Washington to the eventual end of our rights and assets.
What I found in Montana, however, was what I have found in communities all across America. We are so financially entangled in the federal government and large corporations and banks that we cannot see our complicity in everything we say we abhor. Our social networks are so interwoven with the institutional leadership — government officials, bankers, lawyers, professors, foundation heads, corporate executives, investors, fellow alumni — that we dare not hold our own families, friends, colleagues and neighbors accountable for our very real financial and operational complicity. While we hate "the system," we keep honoring and supporting the people and institutions that are implementing the system when we interact and transact with them in our day-to-day lives. Enjoying the financial benefits and other perks that come from that intimate support ensures our continued complicity and contribution to fueling that which we say we hate.
Standing among the beautiful vegetables and flowers that Montana summer day, I was facing the futility of trying to craft investment solutions without some basic consensus about the economic tapeworm that is killing us and all living things — while we blindly feed the worm. In a world of economic warfare, we have to see the strategy behind each play in the game. We have to see the economic tapeworm and how it works parasitically in our lives. A tapeworm injects chemicals into a host that causes the host to crave what is good for the tapeworm. In America, we despair over our deterioration, but we crave the next injection of chemicals from the tapeworm.
With this in mind, I decided to write "Dillon Read & Co Inc. and the Aristocracy of Stock Profits" as a case study designed to help illuminate the deeper system. It details the story of two teams with two competing visions for America. The first was a vision shared by my old firm on Wall Street — Dillon Read — and the Clinton Administration with the full support of a bipartisan Congress. In this vision, America's aristocracy makes money by ensnaring our youth in a pincer movement of drugs and prisons and wins middle class support for these policies through a steady and growing stream of government funding and contracts for War on Drugs activities at federal, state and local levels. This consensus is made all the more powerful by the gush of growing debt and derivatives used to bubble the housing and mortgage markets, manipulate the stock and precious metals markets and finance trillions missing from the US government in the largest pump and dump in history — the pump and dump of the entire American economy. This is more than a process designed to wipe out the middle class. This is genocide — a much more subtle and lethal version than ever before perpetrated by the scoundrels of our history texts.
This case study provides a detailed example of the financial kickback machinery that makes the process go. It works something like this. A group of executives and investors start a company. Rather than build a business the old fashioned way, company profits are pumped up with government legislation, contracts, regulation, financing, subsidies and/or enforcement. This dramatically increases the value of the company's financial equity. The company and its initial investors then sell their stock at a profit. Such profits replenish contributions made to the kind of politicians who can arrange such government benefits. Such profits also fund philanthropy to foundations and universities that have large endowments that invest along side the investors. These tax-exempt organizations provide graduates to staff positions in the game, intellectual justification to attract popular support and photo opportunities which bestow legitimacy and social stature. Personnel cycle through the management and boards of business, government and academia, as real productivity falls and government deficits grow.
The second vision was shared by my investment bank in Washington — The Hamilton Securities Group — and a small group of excellent government civil servants and appointees who believed in the power of education, hard work and a new partnership between people, land and technology. This vision would allow us to pay down public and private debt and create new business, infrastructure and equity. We believed that new times and new technologies called for a revival that would permit decentralized efforts to go to work on the hard challenges upon us — population, environment, resource management and the rapidly growing cultural gap between the most technologically proficient and the majority of people. We believed that private and public capital should flow to that which was most economically productive rather than be mixed in a complex cocktail of insider deals designed to hollow out the American economy and culture.
My hope is that "Dillon, Read & the Aristocracy of Stock Profits" will help you to see the game sufficiently to recognize the dividing line between two visions. One centralizes power and knowledge in a manner that tears down communities and infrastructure as it dominates wealth and shrinks freedom. The other diversifies power and knowledge to create new wealth through rebuilding infrastructure and communities and nourishing our natural resources in a way that reaffirms our ancient and deepest dream of freedom.
My hope is that as your powers grow to see the financial game and the true dividing lines, you will be better able to build networks of authentic people inventing authentic solutions to the real challenges we face. My hope is that you will no longer invite into your lives and work the people and organizations that sabotage real change. If enough of us come clean and hold true to the intention to transform the game, we invite in the magic that comes in dangerous times.
Yes, there is a better way and, yes, we can create it.
*********
This is an interesting case...
Commenting on this Story is closed.
Tags for Negative Return on Investment Economy: Catherine Austin Fitts and the fake war on drugs