Howard Hunt admits the truth about JFK conspiracy on deathbed tape: It was the Cubans/CIA angle, the "standard" conspiracy!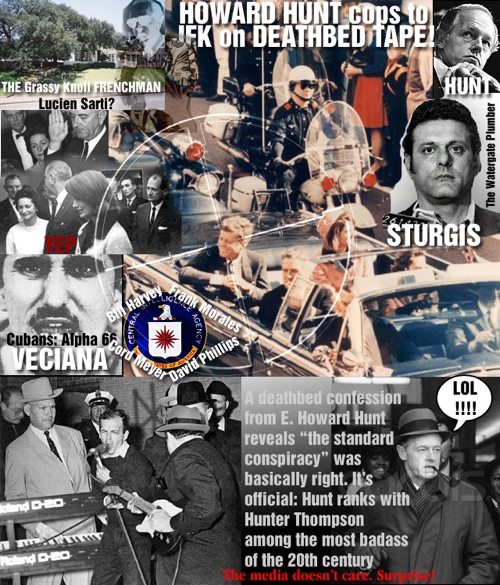 In a shocking turn, old Spymaster and Watergate plumber E. Howard Hunt admitted his role in the Kennedy assassination, and named a great many names involved, shortly before he died. His son, Saint John Hunt, made several hours of audio recordings where his father outlines the scenario.
The audio played on the venerable underground radio show Coast to Coast on Saturday, and not surprisingly the media doesn't care.
Here is the audio of 4.5 minutes of it, edited down (MP3). He will soon release the multiple hours of recordings on his website.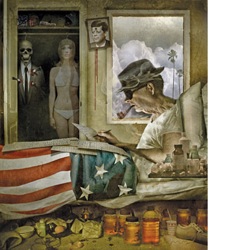 After reading the Rolling Stone article about Hunt (with really sweet illustration by Matt Mahurin at right), I sensed we might finally shake out the goodies on this one. Fortunately, there are audio recordings, not just Hunt's notes! Here's more on PrisonPlanet and OnlineJournal about this, as they're the only ones willing to touch it:
E. Howard Hunt names numerous individuals with both direct and indirect CIA connections as having played a role in the assassination of Kennedy, while describing himself as a "bench warmer" in the plot. Saint John Hunt agreed that the use of this term indicates that Hunt was willing to play a larger role in the murder conspiracy had he been required.

Hunt alleges on the tape that then Vice President Lyndon B. Johnson was involved in the planning of the assassination and in the cover-up, stating that LBJ, "Had an almost maniacal urge to become president, he regarded JFK as an obstacle to achieving that."

Asked if his father followed the conspiracy theories into the Kennedy assassination, Saint John said the elder Hunt did follow the work of AJ Weberman, a New York freelance writer, who in the early 70's first accused Hunt of being one of three bums who were arrested in Dealy Plaza. The so-called bums (pictured above) were interrogated and later released by authorities shortly after the assassination. Weberman, one of the founders of the Youth International Party, the Vippies, published photographs of the tramps and found that two of them bore striking similarities to Hunt and Frank Sturgis, also named by Hunt in the tape as having been played a role in the assassination conspiracy.
My humorous graphic should drive home the major names. I am sorry I can't credit who did that Oswald guitar thing, it's awesome and they deserve credit but I couldn't find it.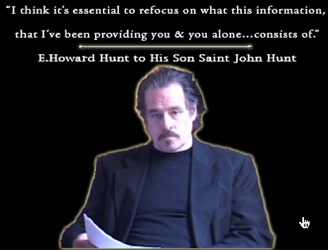 Also duly noted is that guy who mighta been G. H. W. Bush at the Book Depository: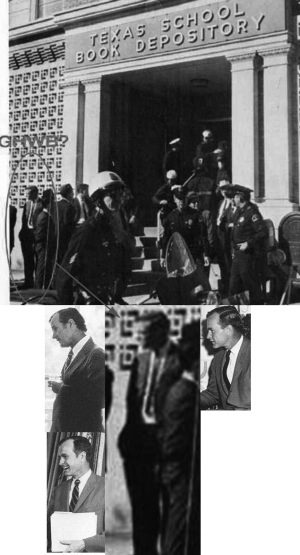 LBJ and the mystery wink from Rep. Albert Thomas (image here):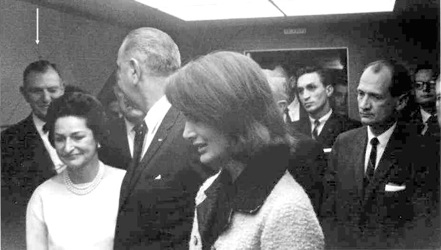 And a note to Mr. Hunt and his son: Thanks for trying to help us finally put together this most damned and ugly puzzle. It says a hell of a lot for Hunt's character that this nagged him until the very end. One hell of a whistleblower. Just amazing how it comes right in as a "centrist" conspiracy theory, like a bowling ball right down the middle...
Now that that's settled, it's on to the (related) matters of Iran-contra and Watergate!
Commenting on this Story is closed.