Oil prices at record high, Sibel Edmonds is talking. Let's roll, baby.
Wouldn't you know it, my over-laden browser finally crashed, taking with it a couple dozen interesting sites that I opened up, which have already slid off the browser's history page. However, I managed to get through most of them before it halted.
"The Deal," about a sleazy oil executive, Christian Slater, who gets tangled up in some kind of deal to traffic illegal oil, looks really sweet and I wish it was playing in town. Because we're going north of $60 a barrel, baby, and it ain't comin back down...
It looks like John Bolton may refuse to accept a recess appointment, perhaps because it would be Quite Silly to have a UN ambassador that never got approved by the Senate. But sillier things have happened. The Washington Note is still the place to look for news on it.
Iran's election happened. There's a real good user, alimostofi, posting every day about Iran on the Agonist, as well as the unwieldy nickname vsredthoughtsecondedition at DailyKos. The Lebanese Daily Star has a piece making fun of the Western media. Gordon Robison, the author of that piece, has a new site, mideastanalysis.com. But can it meet the Juan Cole standard?
(Cole's analysis of what makes a last "throe" is hilarious, as well as Ahmadinejad's usage of Bush-style political tactics. And Afghanistan's "neo-Taliban" forces are regrouping for another round.)
AmericaSedition or America's Edition? Karl Rove says there's not much difference these days. Also check out news of the apocalypse at The Boom Shelter. "What happens in Gitmo stays in Gitmo." Thanks, Rush.
The Supreme Court is less beloved than ever, by both left and right, polls show.
There were bombings in Iranian Khuzestan, which Iran blamed on the People's Mujahedin, which I believe is the same as the neo-cons' beloved MEK or Mujahedin-el-Khalq:
"It's unbelievable," one State Department official said. "It's a pretty cushy arrangement for a terrorist organization. But the Pentagon continues to see them as useful, and they seem to be playing a waiting game until the policy toward the MEK changes."
Guardian: WMD claims were 'totally implausible':
A key Foreign Office diplomat responsible for liaising with UN inspectors says today that claims the government made about Iraq's weapons programme were "totally implausible".

He tells the Guardian: "I'd read the intelligence on WMD for four and a half years, and there's no way that it could sustain the case that the government was presenting. All of my colleagues knew that, too".

Carne Ross, who was a member of the British mission to the UN in New York during the run-up to the invasion, resigned from the FO last year, after giving evidence to the Butler inquiry...
Poor Senator Durbin. Fell yet again to the Republican strategy of bitching about how someone is bitching in order to avoid talking about what's so bitch-worthy in the first place. Now we all know about how you shouldn't compare your opponent to Nazis, it's worth considering how spooky absolute power is being implemented in our system of government. This guy complains that it's the startup chime of fascism. Actually he didn't phrase it that way. I did...
The Red States got their own mega community blog. Good for them. I hope they can reach a better level than littlegreenfootballs.
Agonist:Toxic waste containers wash up in Somalia. This story about Bird Flu drugs being rendered useless by wide use in China is depressing.
The Downing Street reporter reflects on the nine months since he got the first Downing Street Memo. This focuses more attention on the "secret, illegal air war without the backing of Congress" as he terms it.
Also on the Agonist, Sean-Paul is cackling a bit about how he was already covering the airstrikes against Iraq before the War Proper started... he notes the monopoly media "in the run up to their wargasm they missed several very important stories that were sitting in their faces" Wargasm. I like it. This is in response to a big feature at RawStory about the massive pre-war Iraq bombing campaign that some people are now pondering as illegal. I am sorry I used the inherently false phrase "massive pre-war Iraq bombing campaign." As RawStory explains:
"It was no big secret at the time," GlobalSecurity.org director John Pike told RAW STORY. "It was apparent to us at the time that they were doing it and why they were doing it, and that was part of the reason why we were convinced that a decision to go to war had already been made, because the war had already started."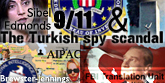 I just want to throw in this op-ed by Sibel Edmonds, the mysterious FBI whistleblower.
Over four years ago, more than four months prior to the September 11 terrorist attacks, during April 2001, a long-term FBI informant/asset who had been providing the bureau with information since 1990, provided two FBI agents and a translator with specific information regarding a terrorist attack being planned by Osama Bin Laden.

This asset/informant was previously a high-level intelligence officer in Iran in charge of intelligence from Afghanistan. Through his contacts in Afghanistan he received information that:

1. Osama Bin Laden was planning a major terrorist attack in the United States targeting 4-5 major cities;

2. The attack was going to involve airplanes;

3. Some of the individuals in charge of carrying out this attack were already in place in the United States;

4. The attack was going to be carried out soon, in a few months.

The agents who received this information reported it to their superior, Special Agent in Charge of Counterterrorism, Thomas Frields, at the FBI Washington Field Office, by filing "302" forms, and the translator, Mr. Behrooz Sarshar, translated and documented this information. No action was taken by the Special Agent in Charge, Thomas Frields, and after 9/11 the agents and the translators were told to 'keep quiet' regarding this issue. The translator who was present during the session with the FBI informant, Mr. Behrooz Sarshar, reported this incident to Director Mueller in writing, and later to the Department of Justice Inspector General.

The press reported this incident, and in fact the report in the Chicago Tribune on July 21, 2004 stated that FBI officials had confirmed that this information was received in April 2001, and further, the Chicago Tribune quoted an aide to Director Mueller that he (Mueller) was surprised that the Commission never raised this particular issue with him during the hearing (Refer to Chicago Tribune article, dated July 21, 2004).

Mr. Sarshar reported this issue to the 9/11 Commission on February 12, 2004, and provided them with specific dates, location, witness names, and the contact information for that particular Iranian asset and the two special agents who received the information. I provided the 9/11 Commission with a detailed and specific account of this issue, the names of other witnesses, and documents I had seen. Mr. Sarshar also provided the Department of Justice Inspector General with specific information regarding this case.

For almost four years since September 11, officials refused to admit to having specific information regarding the terrorists' plans to attack the United States. The Phoenix Memo, received months prior to the 9/11 attacks, specifically warned FBI HQ of pilot training and their possible link to terrorist activities against the United States. Four months prior to the terrorist attacks the Iranian asset provided the FBI with specific information regarding the 'use of airplanes', 'major US cities as targets', and 'Osama Bin Laden issuing the order. ' Coleen Rowley likewise reported that specific information had been provided to FBI HQ. All this information went to the same place: FBI Headquarters in Washington, DC, and the FBI Washington Field Office, in Washington DC.

In October 2001, approximately one month after the September 11 attack, an agent from (city name omitted) field office, re-sent a certain document to the FBI Washington Field Office, so that it could be re-translated. This Special Agent, in light of the 9/11 terrorist attacks, rightfully believed that, considering his target of investigation (the suspect under surveillance), and the issues involved, the original translation might have missed certain information that could prove to be valuable in the investigation of terrorist activities. After this document was received by the FBI Washington Field Office and retranslated verbatim, the field agent's hunch appeared to be correct. The new translation revealed certain information regarding blueprints, pictures, and building material for skyscrapers being sent overseas (country name omitted). It also revealed certain illegal activities in obtaining visas from certain embassies in the Middle East, through network contacts and bribery. However, after the re-translation was completed and the new significant information was revealed, the unit supervisor in charge of certain Middle Eastern languages, Mike Feghali, decided NOT to send the re-translated information to the Special Agent who had requested it.
I found another story about Edmonds at TomFlocco.com. However, Tom Flocco seems like he might be crazy. Consider this: "Campaign coffers profit from 911, coke and courts: FBI linguist won't deny intelligence intercepts tied 911 drug money to U.S. election campaigns":
"It's so simple," Edmonds told TomFlocco.com. "Nobody is looking at the Department of Defense aspect of the whole 911 cover-up. The FBI is citing two reasons for my gag order: to protect 'sensitive' diplomatic relations and to protect foreign U.S. business relationships."

In attempting to let the American people how close the 911 cover-up comes to home, Edmonds told us, "I will say this: the FBI is only a mouthpiece for the State Department. The State Department is the main reason for the cover-up. It has to do with foreign business relationships and who they are...Pakistan, Turkey...espionage in the State Department...preventing an investigation." 

The former FBI translator has implicated everything "from drugs to money laundering to arms sales. And yes, there are certain convergences with all these activities and international terrorism," adding "they don't deal with 1 or 5 million dollars, but with hundreds of millions."

[.....]

While only a subpoena, testimony and questioning by non-political, career prosecutors will properly answer the insider trading question, we asked Sibel Edmonds the big question anyway--given the above FBI track record implicating espionage:

Do you deny that the FBI intercepts you translated indicated that financial arrangements were in place well before the 911 attacks to both fund and profit from the World Trade Center and Pentagon "terrorism" while also facilitating the laundering of drug money into recent congressional and presidential campaigns?

"I cannot comment on that, Tom. You know I'm under a gag order," she said.
Hilarious! But kind of cheesy journalism. She could deny any crazy question. On the other hand, this Tom Flocco story about a brainwashing sex ring operating at the highest levels of government is hands-down the funniest "news" I've read in a long time.
National Security Whistleblowers Coalition. I hope that works. Lots of solid people are members.
Even more important: Mean gossip about Jared Fogle.
Was GHW Bush linked to JFK's shooting? Sure, why not?
Commenting on this Story is closed.